Leather is a very unique fabric in that it will age very well and create a very cool look. The longer you have a leather item you will start to notice the color fading and spots that will start to wear away from use. If you desire this look or hate the fresh leather look, you are in luck. Because there are ways to speed up the aging process to make your leather have more character. So today we are going over 3 ways to age leather for different outcomes.
How to Age Leather
Method 1: Rubbing Alcohol
This method is probably my favorite method as it really dulls the leather color to take on a worn look. You can also add creases into the leather to show more of a rugged look which I have done for this example.
To start, you are going to want to get a container and fill it with rubbing alcohol. Fill the container just enough so your whole item can sit in the rubbing alcohol fully.
You will want to place your leather item into the container and apply some pressure so it sits on the bottom of the container. As the leather sits in with the alcohol it will start to release some of the dye that is on it.
Allow this to continue for around two minutes. You can do shorter or longer depending on how much dye you want to take off of the leather. This will be easy to tell as you will see the alcohol turning darker the more it strips off of the leather.
Remember though since the leather is wet it will look darker than it will when it is dry. So avoid letting sit for too long or else you will lose a lot of the color in the leather.
Take the leather out and allow the alcohol to run out of the leather to avoid being too wet.
Now you can start mistreating the leather a bit. For this piece I crumpled it up into a ball and squeezed very tight then let sit for a minute. This would create crease marks in the leather that when it starts drying will show up.
I would unwrap the leather and pull on it to stretch it out. I did this a few times until I really started to see the leather stretching and showing the marks more vividly.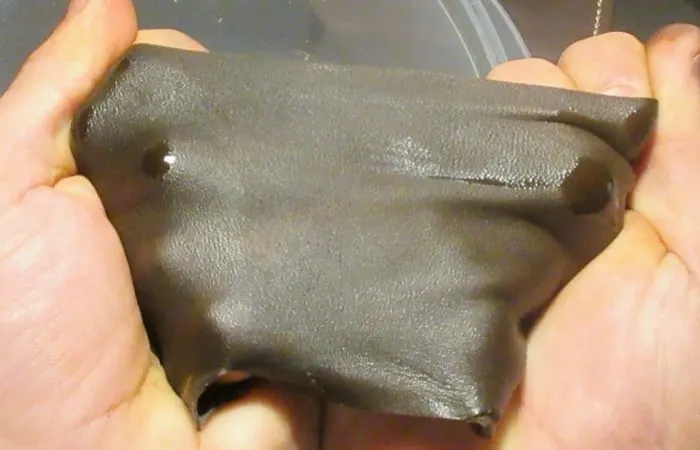 Now for thicker leather and bigger items this would be very hard but you can still apply the same technique. Take the leather and fold it, bend it and stretch it where ever you can to create these crease marks. Since the leather is wet it will be very easy to bend and mold no matter the size.
You can take your item and hit it against the ground, step on it or take a shoe brush to it. Hell you can even throw it in some dried dirt to create some dirty spots on it. These methods will result in slightly different outcomes but will all wear away the color and create unique marks.
After mangling the leather allow it to dry fully either in the sun or just air dry. I stretched my leather out and let sit overnight.
Now that the leather has dried you will notice that it has become a little rougher and this is normal.
Alcohol will dry the leather out and will become very stiff. You will now have to apply some conditioner to bring the leather back to life. Any conditioner or saddle soap will help freshen up the leather so you will want to apply all around the leather.
If you are using saddle soap, rub it in very good and let sit for a couple minutes. Then take a cloth rag and rub the leather to buff it up. This will take your worn out leather back to a fresh state.
This is the leather piece after I have rubbed saddle soap onto it and buffed it.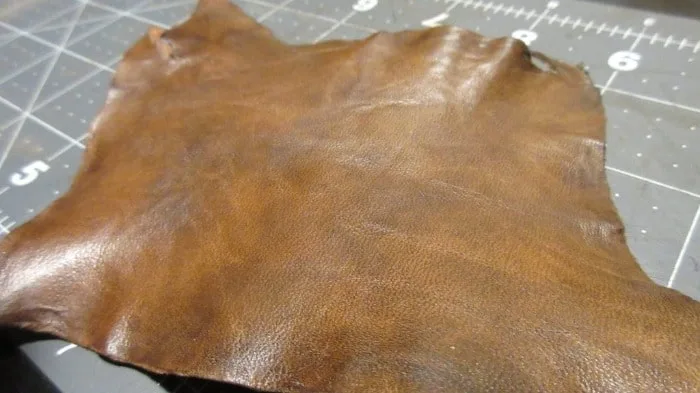 Rubbing in the alcohol
When using this method it can be very hard if the leather has any type of suede or fabric liner. It will dampen and sometimes even ruin the fabric if it is thin.
If this is the case you can apply rubbing alcohol onto the leather areas using a cloth or cotton ball and do these same methods. If you avoid soaking the fabric or suede you will easily be able to accomplish the same steps as above.  
Rubbing alcohol on top of the leather grain will help avoid a strong smell and will will not stretch out the leather as much.
Start by rubbing in the alcohol on top of the grain of leather until the finished coat is worn off.
Then do the same thing as mentioned before, squeeze, unwrap and mangle the leather a bit.
It will not have the same effect as dunking the leather but you will get some similar marks.
Once finished apply some saddle soap or oil to freshen up the grain and remove any smell from the leather.
Using sand paper can be a great alternative to create a very unique and calculated ware to your leather. It will also avoid drying out the leather which can be a plus because even when you apply conditioner it can still dry a little hardened.
Once you have some sandpaper (200 grit and up is recommended) you will want to lightly scratch away the surface of the leather. This will create scratch marks into the leather and will remove some of the dye as you sink into the layers.
Avoid putting too much pressure onto the leather as scratching past the top layer will lead to changing the texture of your leather.
You will need to apply some sealant or saddle soap once you are finished scratching the leather. When you do this it will darken the scratches making them harder to see so don't be afraid to scratch away.
Start off lightly, apply some saddle soap and see how the scratches look before applying more.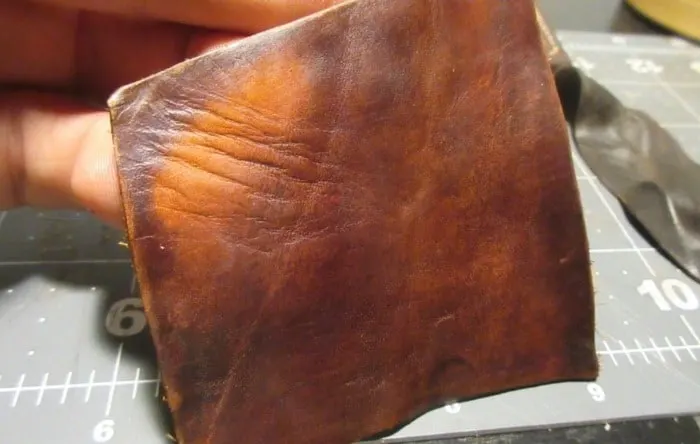 After scratching away the surface twice you can now see the marks really show up on the leather. This was helpful to test because you really can't be too sure how much the sanding will show up. This especially true when it comes with lighter dyed leather.
This look will make the leather look as if it is natural scratch marks on the hide throughout the animal's life. This is why I really like this method also since it creates a very natural look to it.
Although it tends to not look as worn as the leather that has been soaked and beaten up.  But this method can age leather without tearing away much of the dye.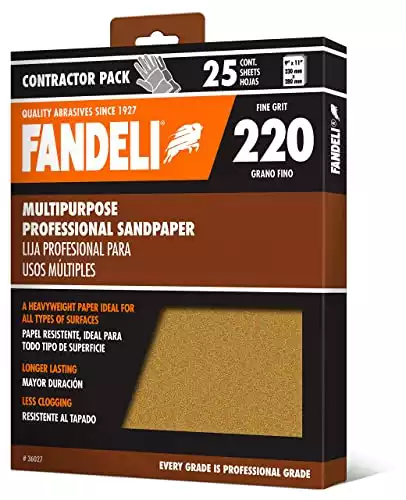 Fandeli 36027 220 Grit Multipurpose Sandpaper Sheets | Amazon
Fandeli's Multipurpose Fine Grit 220 Sandpaper Sheets are made of super heavy paper that works on all surfaces. Features high-quality aluminum oxide mineral for longer-lasting sheets, less clogging, and less waste.
Buy at Amazon.com
We earn a commission if you make a purchase, at no additional cost to you.
10/04/2023 02:01 am GMT
Method 3: Candle Wax to darken leather
This is a pretty popular way to make your leather look a bit darker. To start you will use a cheap tea candle and remove the metal and wick.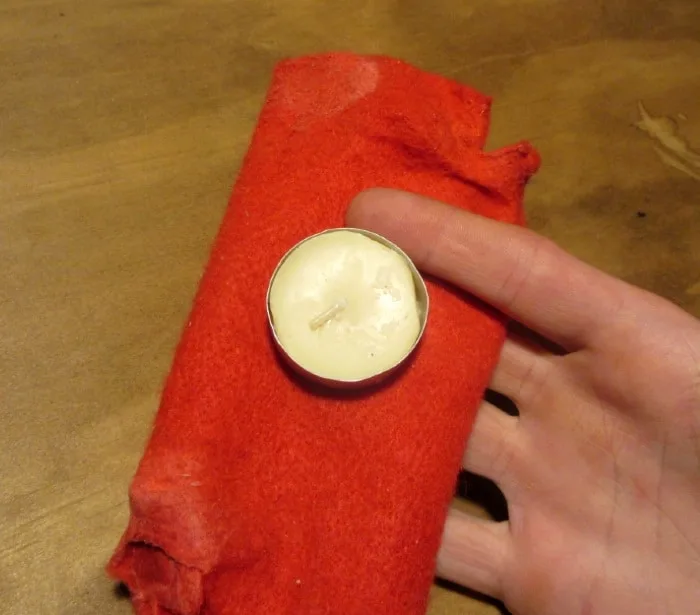 Now take your wax and rub this onto your leather where you want to darken it.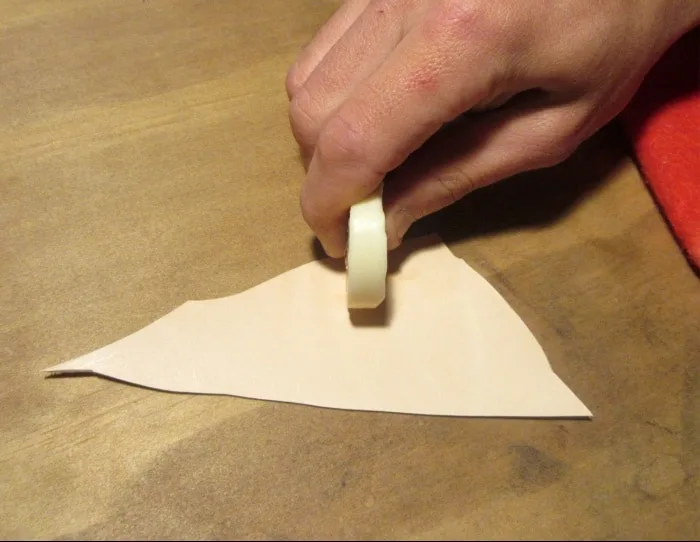 Once the wax has been rubbed in, you will want to use a felt pad/felt cloth and rub the waxed surface. This will help heat up and melt the wax into the leather. Turning a natural leather color into a darkened patina look.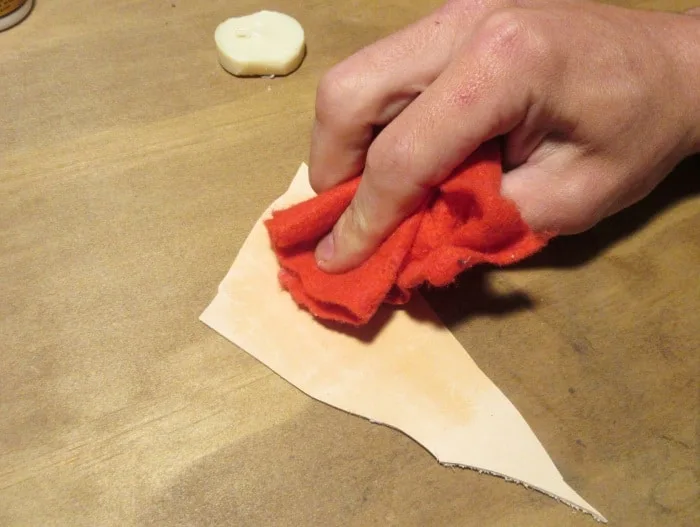 If you do not have a felt pad or cloth you can use a lighter to burn off the wax. This tends to melt the wax a bit more making the area darker but usually will turn out to a bit uneven.
Melting wax onto leather can look very cool, but does not have as much of an affect on already dyed leather. When you do this same method on a dark brown leather piece you can see it darkened it a bit but you won't have as big of a difference.
Adding antique finnish can add a really cool look to your leather item. To get the most of antique finnish you will apply this to leather that has been stamped, carved or has some sort of texture.
Unlike the other two methods this tends to pop out the textures in the leather instead of ageing flat leather. This finish will darken and create a build up around the texture which makes the leather look as if it has been around for a while.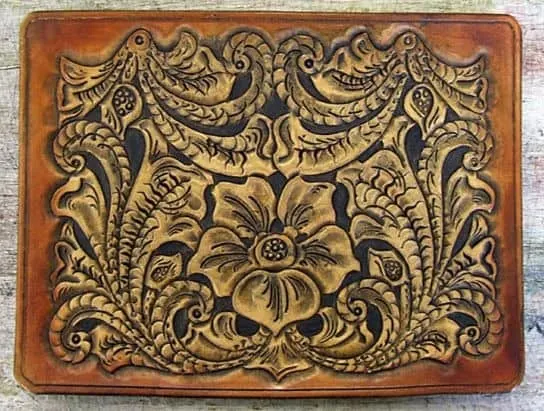 To start you will apply this thougout the whole leather piece you are using it on. After you have covered the surface you will use a cloth rag and wipe the finnish away. You will notice that the gel will be in the creases of your leather. Allow this to dry for an hour or until you feel no wet spots.
Since this is a finisher as it is you will not have to apply a sealant after you apply this gel. Your leather will now look a bit darker and will have a darkened area around any texture on your leather.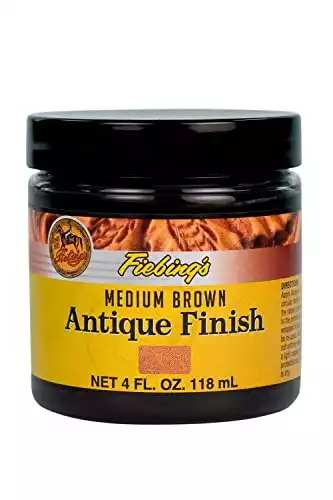 Fiebing's Antique Finish | Amazon
Popular with professional leatherworkers, this finish beautifully highlights hand tooling and embossing. Allow to dry and buff. If too thick, we recommend using fiebings tan Kote to dilute; a mixture that includes 30% - 40% tan Kote provides the best results.
Buy at Amazon.com
We earn a commission if you make a purchase, at no additional cost to you.
10/03/2023 08:51 pm GMT
You can also use antique stain which is more of a dye than the gel form. It is very helpful for recoloring old dyed leather and dries with an aged leather look.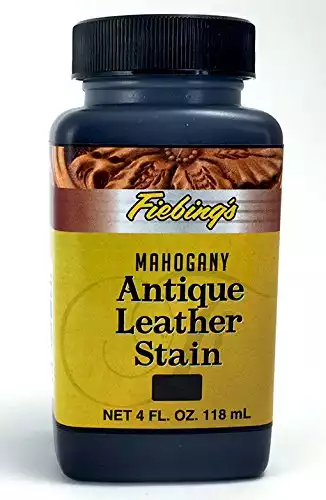 Fiebings Antique Leather Stain | Amazon
Acrylic, water-based antique finish that is fantastic and very easy to use. Gives leather an amazing antique effect in moments.
Buy at Amazon.com
We earn a commission if you make a purchase, at no additional cost to you.
10/03/2023 06:51 pm GMT
Finnished
Hope this helped give you a couple ideas to age leather to your liking. You can try these methods all together to add some extra marks to your leather. But test them out on some scrap pieces of leather before you take some sandpaper to a $500 bag.
Sanding and antique finish is a little safer to the leather than using rubbing alcohol. But it really depends on what you are trying to accomplish when aging leather.
Hope this helps take your new boring leather to an item that has been through hell and back. If you are looking to do the opposite of these, check out our guide to restoring faded leather.