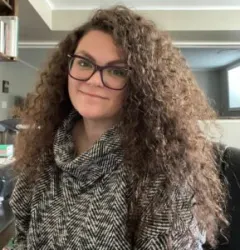 Latest posts by Candace Osmond
(see all)
Looking to make something cool using leather but need help with how to do it? Then you need a template for whatever project you want to tackle. When it comes to leather templates, you have a few different options. You can buy a template, get one free, or create your own. I made this handy guide and list to discuss the best paid and free leather templates. So, which option is right for you? I'll help you pick!
Bottom Line Up Front
I haven't done leatherwork in a while, but seeing all these amazing designs is making me itch to dust off my tools again. I really want to give the Notebook Cover Template a go! I collect leather notebooks, so it only makes sense for me to try making some covers myself.
Top 3 Picks for Free Leather Templates
Top 3 Picks for Paid Leather Templates
Where Can You Buy Leather Templates and Patterns?
There is some variation in the cost of leather templates and patterns. It always depends on the size and complexity of the design, as well as the materials used.
Generally speaking, simple leather templates and patterns can cost anywhere from $5 to $20, while more complex designs can cost upwards of $50.
Leather is a relatively expensive material, so it's important to factor that into the cost of the template or pattern. However, investing in a good quality template or pattern can save you money in the long run by making it easier to produce consistent results.
Some of the stores where you can buy leather templates and patterns include:
Where Can You Get Free Leather Templates and Patterns?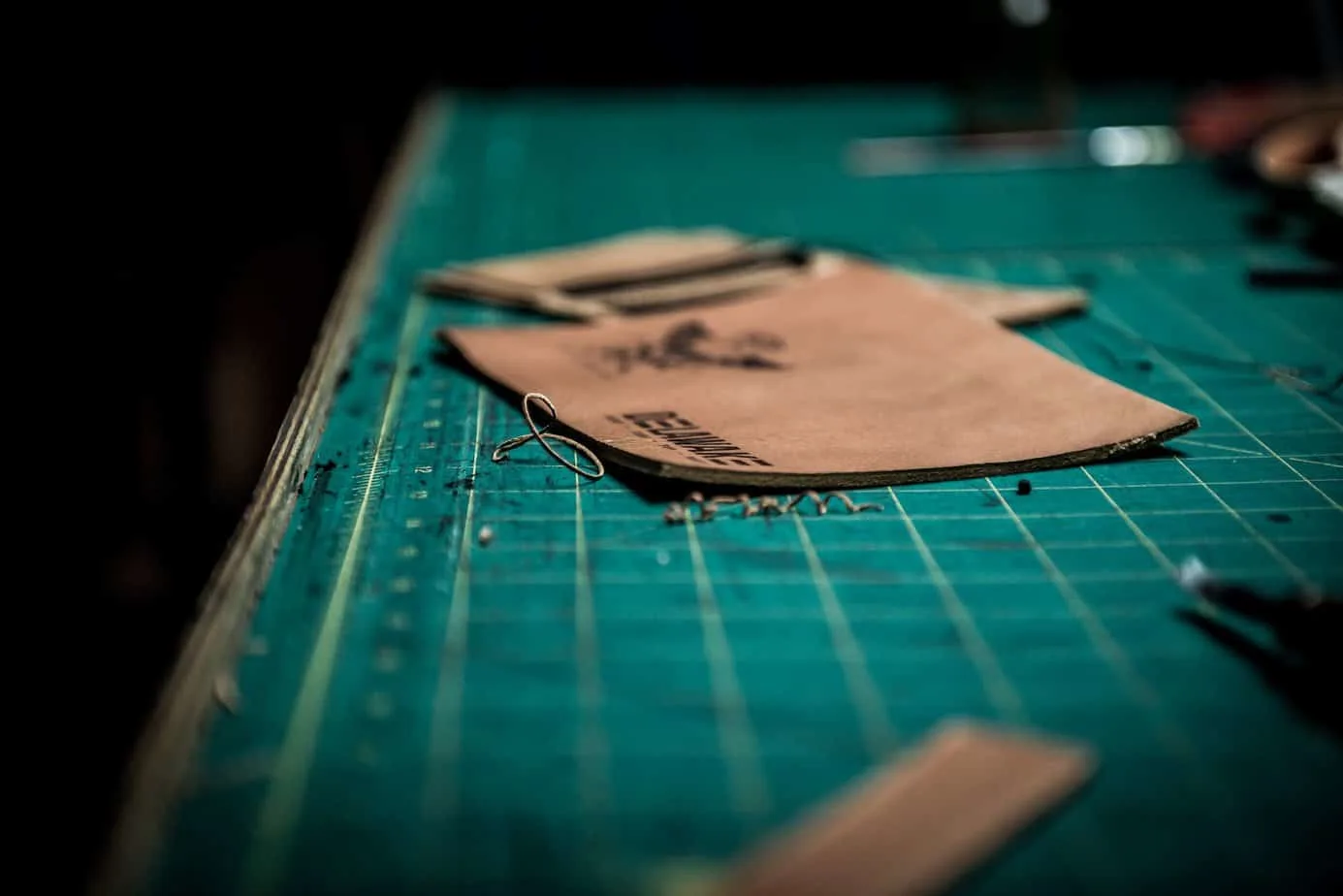 When you're searching for free leather templates online, there is some stuff you should look out for to avoid scams. Make sure that the website is reputable. Always read the fine print before downloading anything from the internet; this will help you to avoid any hidden fees or charges.
Here are some links to websites that offer free leather templates and patterns:
Best Free Printable Leather Patterns
I chose these based on they're accessibility but also practicality. Are they easy to download? Yes. Are they easy to use? Absolutely. These are perfect for beginners and experts alike.
Free Leather Wallet Templates
Any of these free leather templates would work for wallet-making. Try them out!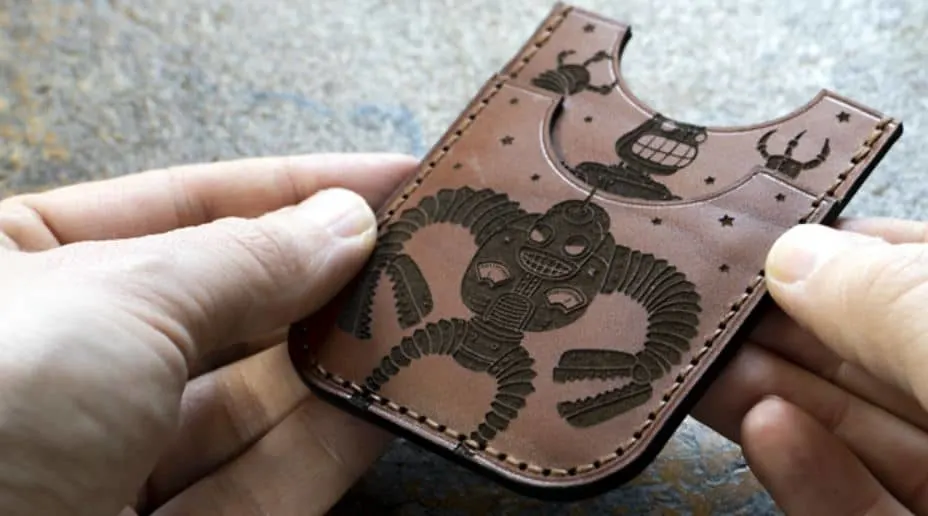 Fancy a card wallet that looks professional? This might be the perfect free template for you. This project requires a lot of tools, including a self-healing cutting mat, Aquilim 315 Cement, Dremel with a sanding bit, laser cutter, bone folder, and more. The process is straightforward if you have all the necessary tools and materials.
A small panel of leather is cut with a margin on all sides. The grain surface is masked with low-tack masking tape (optional). You cut the piece with a laser and clean the burned edges. The top edge of the wallet piece is sanded, dyed, and burnished.
The front card slot is glued to the front panel, and the front panel assembly is to the back. Hand stitching joins the pieces using Ritza Tiger Thread in .6mm size.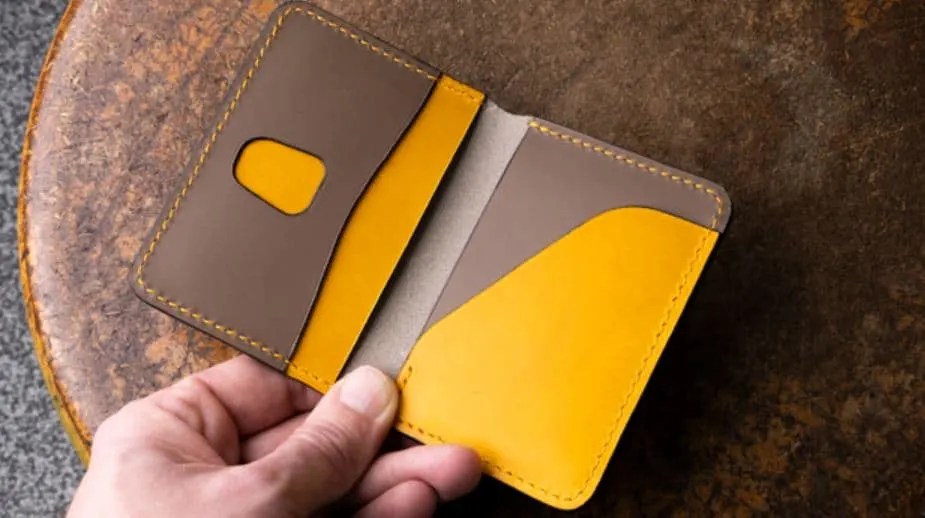 You might like this project if you want to make a small but somewhat fancy pocket card wallet. It uses Buttero Leather and many other tools, including Aquilim 315 Cement, wood slicker, stitching needles, wire clips, bone folder, and others.
A card wallet is a type of wallet designed to hold cards. While this may seem small and insignificant, it provides several advantages.
It helps to keep cards organized. A card wallet can help to prevent damage to cards. Keeping them in a wallet makes them less likely to get bent or scratched.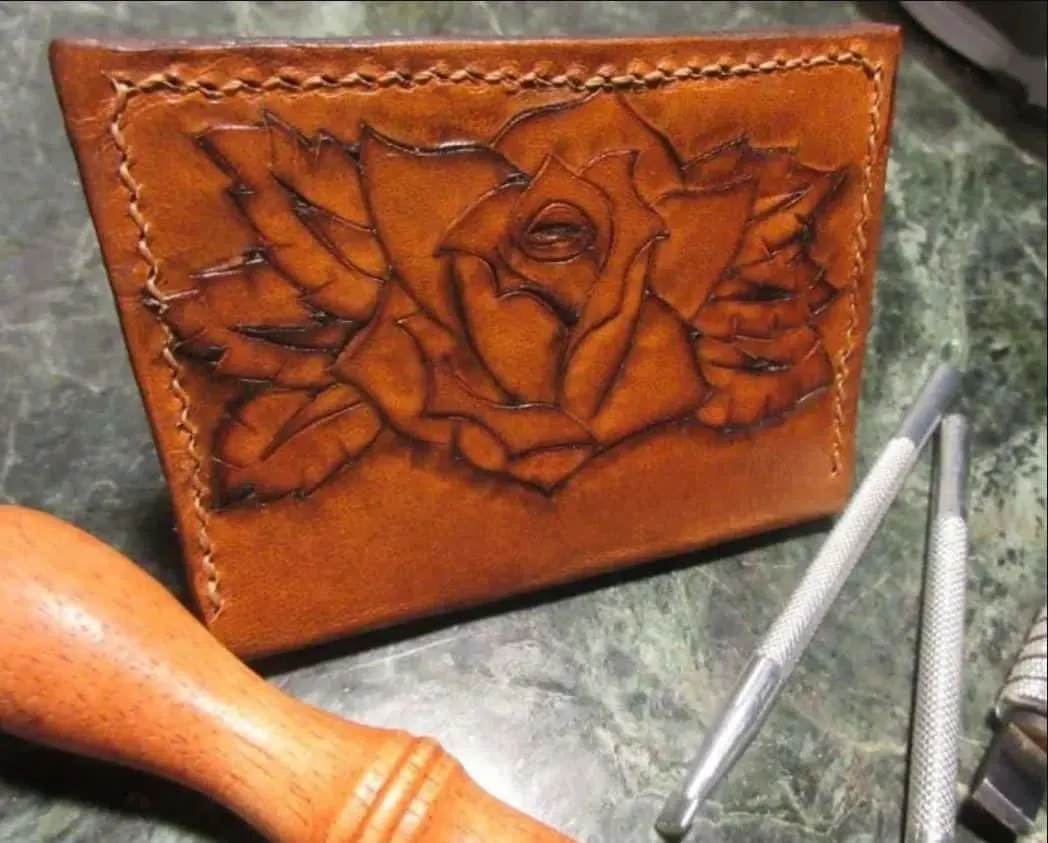 Keeping your cards organized is crucial if you tend to lose things, like yours truly. This tutorial provides a free template for your future cardholder and teaches you how to carve a gorgeous rose design on the front side. The free downloadable template is for two credit card pocket slots.
The comprehensive video included will guide you through the entire process, which is ideal for people who love visual aid when crafting. Some tools and materials needed for this project include a stamping set, chisel hole punch set, stitching groover, leather sheen, and more.
Free Leather Belt Templates
Belts are easy, but it's important to ensure those belt holes are lined up perfectly. These free templates should help with that.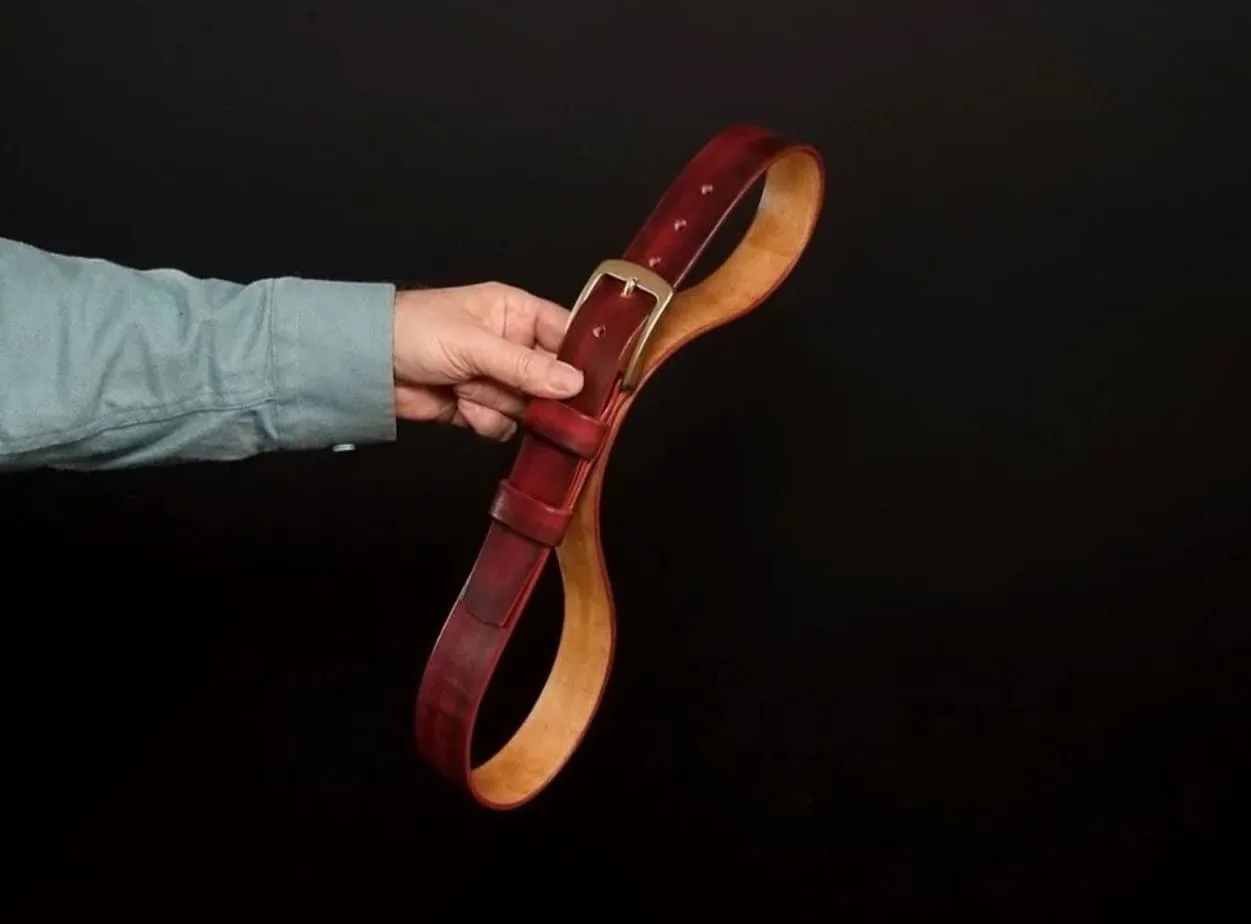 Making your own leather belt is a great way to use this versatile material. With a few simple tools and a free online template, you can create a beautiful and sturdy belt that will last for years.
This project is perfect for you when it comes to making your own leather belt using a free online template. Aside from tanned leather, this project also requires some leather glue, leather cream, a glass slicker, a cutter, needles, a mallet, and other tools and materials.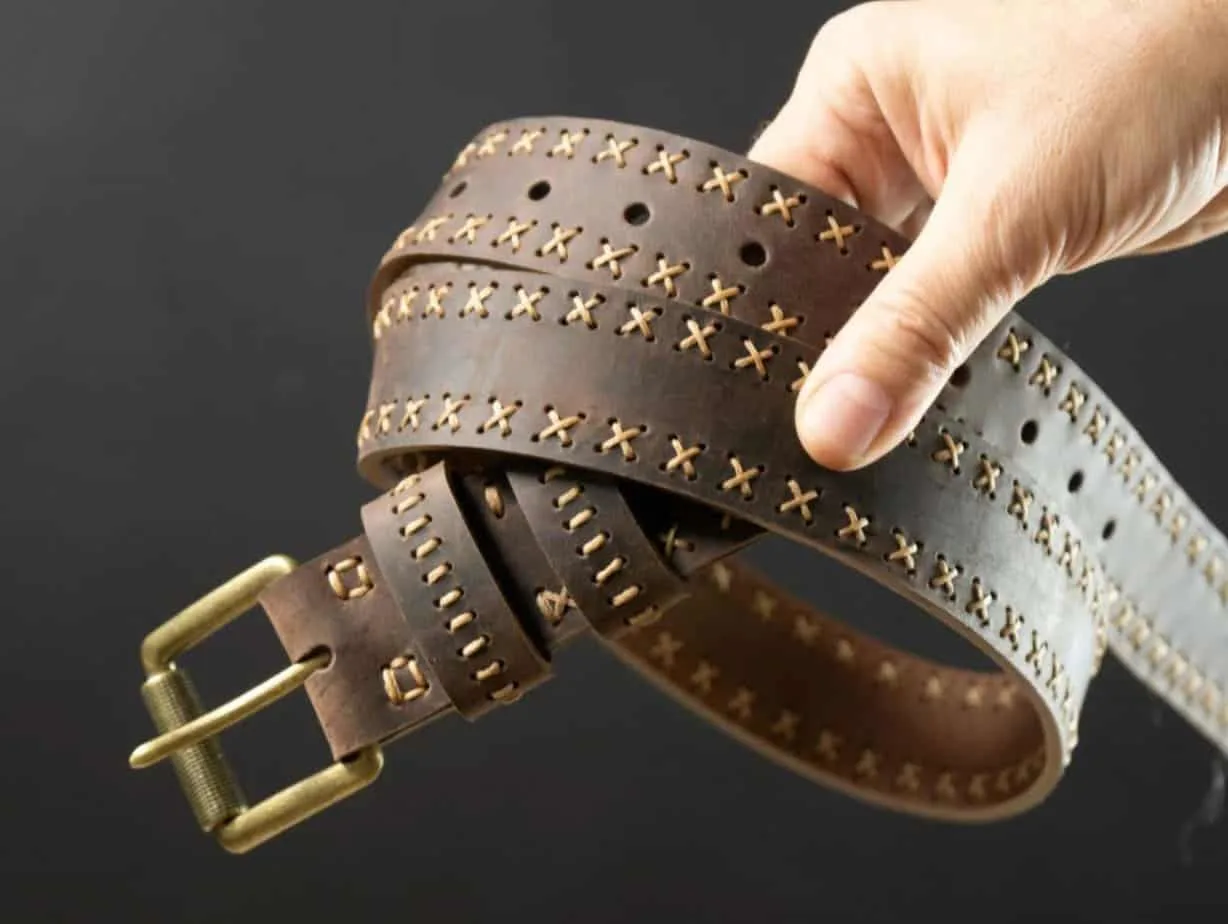 Leather is a natural material used for centuries to make clothing, footwear, and accessories. One of the most popular leather products is the belt.
Suppose you want to try and make a cool leather belt. In that case, this free template is accompanied by a step-by-step video tutorial for visual learners. You don't need many materials to make this, just some leather, polyester thread, leather blue, and edge dye. As far as tools go, you'll need a cutting pad, a mallet, needles, a hole punch, and a cutter.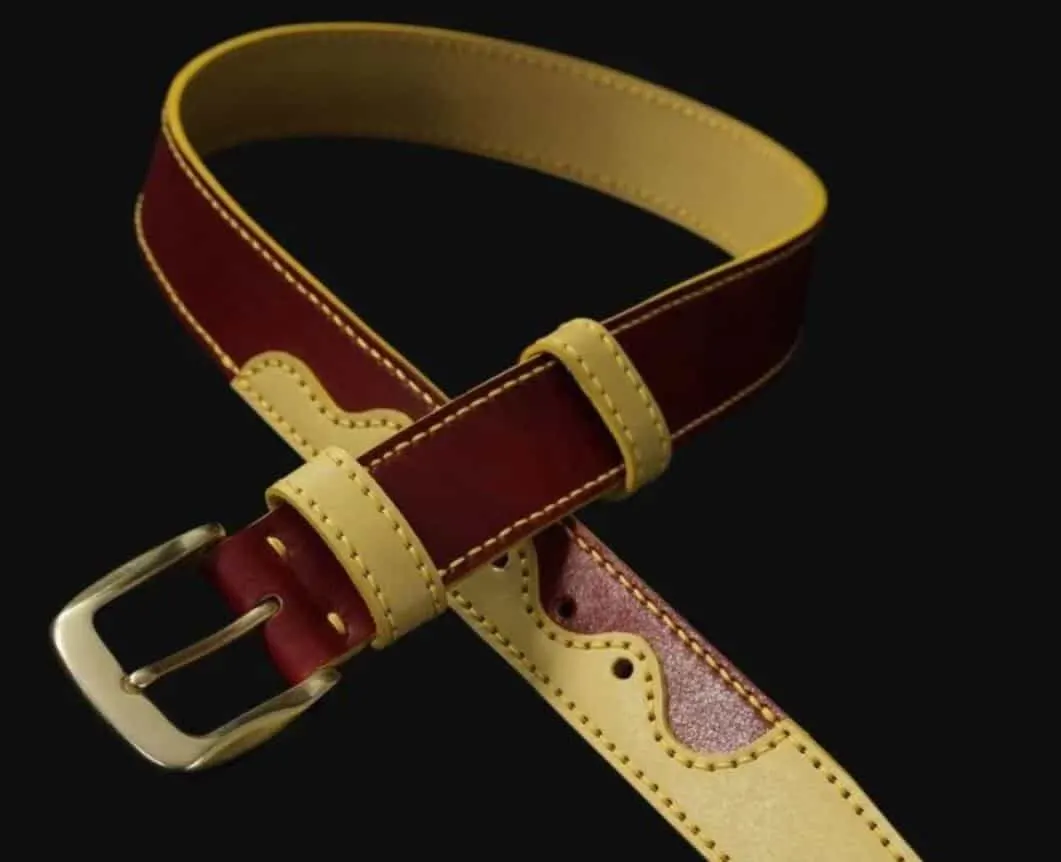 Women easily integrate a leather belt into their outfits too. A belt is a staple in any wardrobe, and a leather belt is timeless and can be worn with a variety of looks.
If you want to make your own women's leather belt, this is a free downloadable pattern accompanied by video instructions for easier understanding. The result will be a 51-inch long belt with a 1.5-inch width. Some tools include masking tape, a cutting pad, a hole puncher, and a cutter.
Free Leather Accessories Templates
I loved these random templates for various things like keychains and notebooks. If you're thinking of tinkering around with leatherwork, give these a go.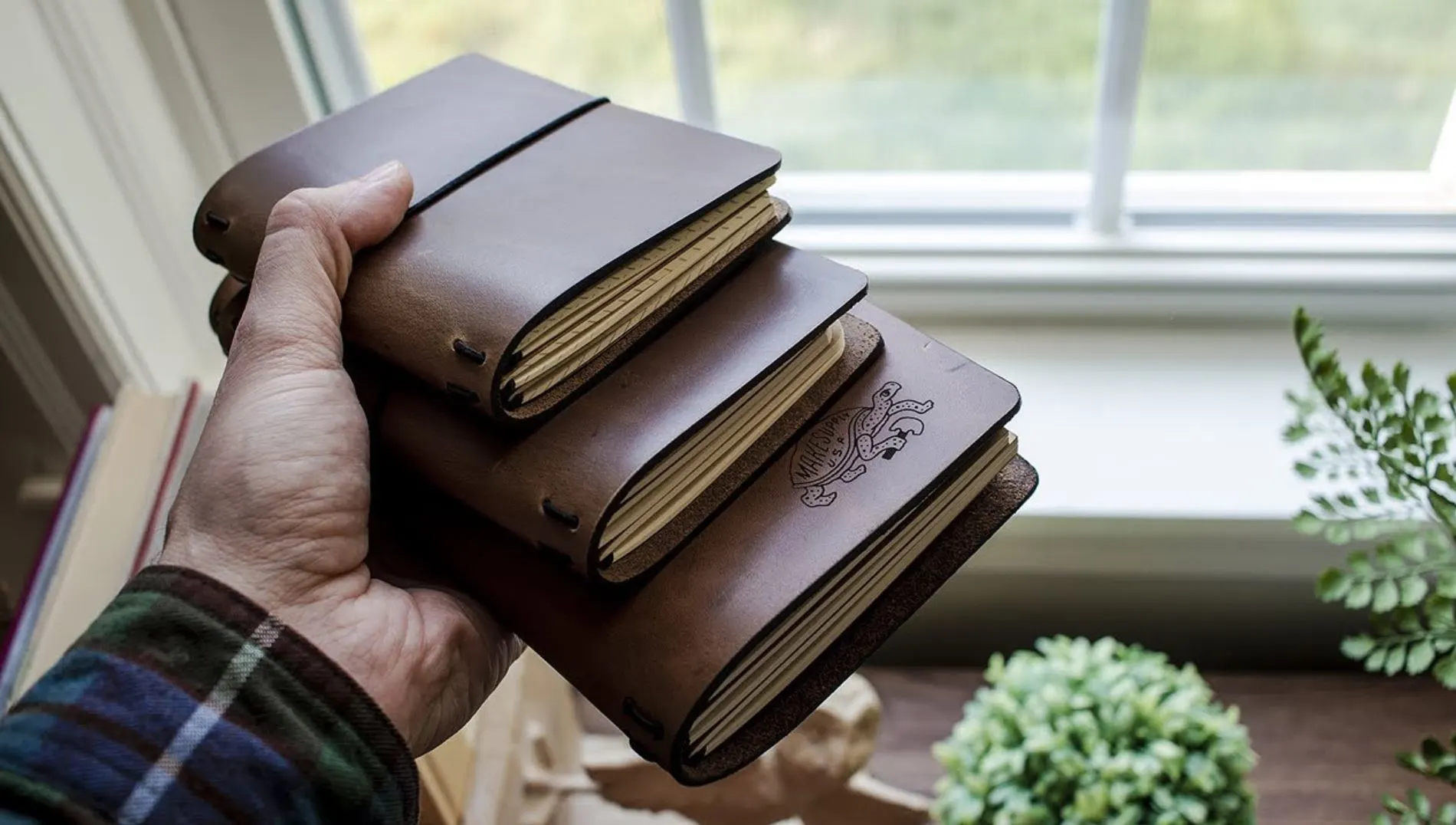 As someone passionate about books, a leather notebook cover sounds amazing! Leather notebook covers have a very vintage, expensive, and sophisticated look. It's almost like finding the diary of a ship captain from hundreds of years ago. I write about time traveling pirates sometimes, so this template got me dreaming, but can you blame me?
In terms of items needed, this project requires you to have notebook inserts (such as passport-size and traveler-size notebooks), a laser cutter, masking tape, an edge paint roller, a scratch awl, and some other tools and materials.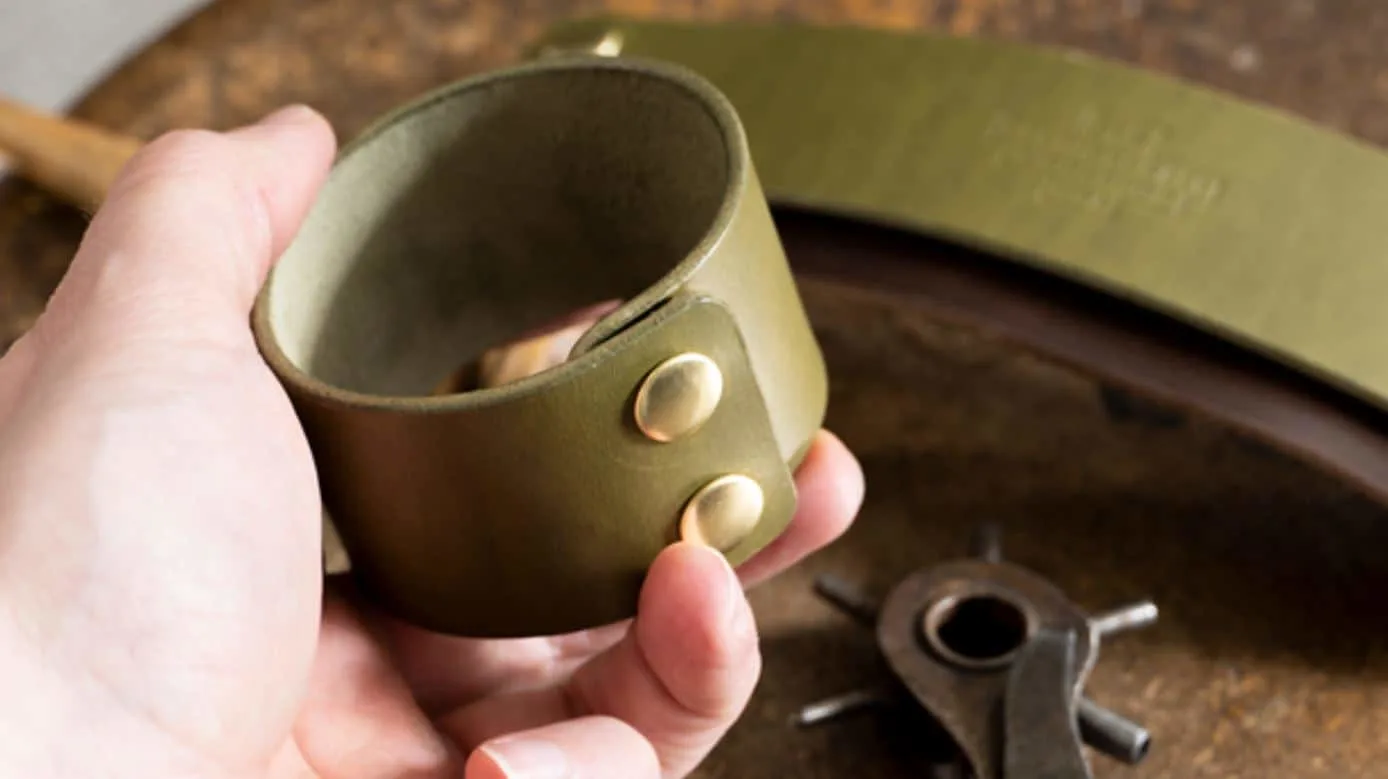 A leather cuff bracelet is a type of bracelet that is worn around the wrist. Leather cuff bracelets are usually made from cowhide or other types of leather and are often decorated with metal studs, beads, or other adornments. Try pairing a leather cuff bracelet with a simple silver necklace and earrings for a more casual look.
And if you want to make your own leather cuff bracelet, you must check out this project. It has a free pattern and a video tutorial for those who want to see how it's done.
The project uses Valdibrana Concerie Tarano Italian Vachetta Leather, but you can also use other types of leather. You need line 20 snaps, a wood slicker, a Dremel sander, card stock paper, and more.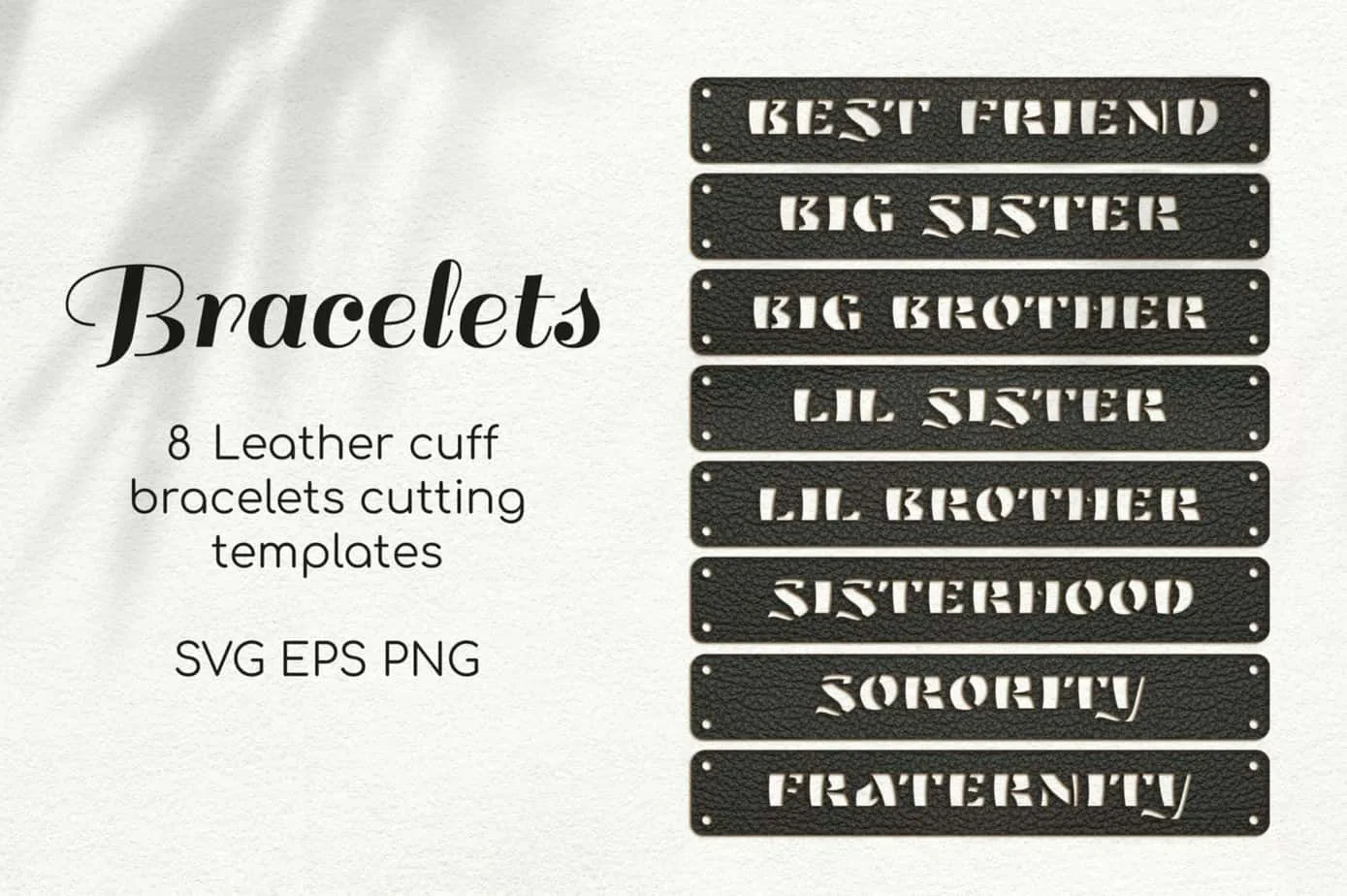 When shopping for gifts for siblings and best friends, we often have a hard time choosing. What could showcase our love for these people?
This template swoops in to save the day because it offers the tools to make a fantastic personalized bracelet for the dear friends and siblings in your life. You get eight templates without paying a cent. They are available in EPD, SVG, and PNG formats.
Free Leather Purses and Pouches Templates
I can never have enough purses and bags. So, making them just seems more practical.
Crafting your own leather satchel has several benefits. First, it lets you customize the design to suit your needs and taste. You can choose the bag's size, shape, color, and any features or embellishments you want.
Homemade leather bags are typically much higher quality than mass-produced ones. You can use only the best materials and construction techniques when making the bag yourself.
This is why this free leather satchel template tutorial is so popular. The ones who made it will even allow you to use it for leather sachets you plan to sell (as long as you don't redistribute the template.)
The project is more complex than most others in this article and requires many tools. Some items needed include a wood slicker, a strap cutter, a cork back ruler, copper rivets, copper button head studs, and more.
A map case leather satchel can be a versatile and stylish accessory. The classic design is perfect for work or travel, and the spacious interior can easily accommodate a laptop, files, and other essentials. The satchel can also be dressed up for more formal occasions. Pair it with a tailored suit for an important meeting or team event, or use it to carry your essentials.
This map case satchel pattern is great for all the situations mentioned above (and plenty of others) as long as you have the patience to make it yourself. You get a free downloadable pattern to print and use for the project. You'll also need a bunch of tools, like card stock paper, a cordless Dremel, a round hollow punch set, binder clips, and others.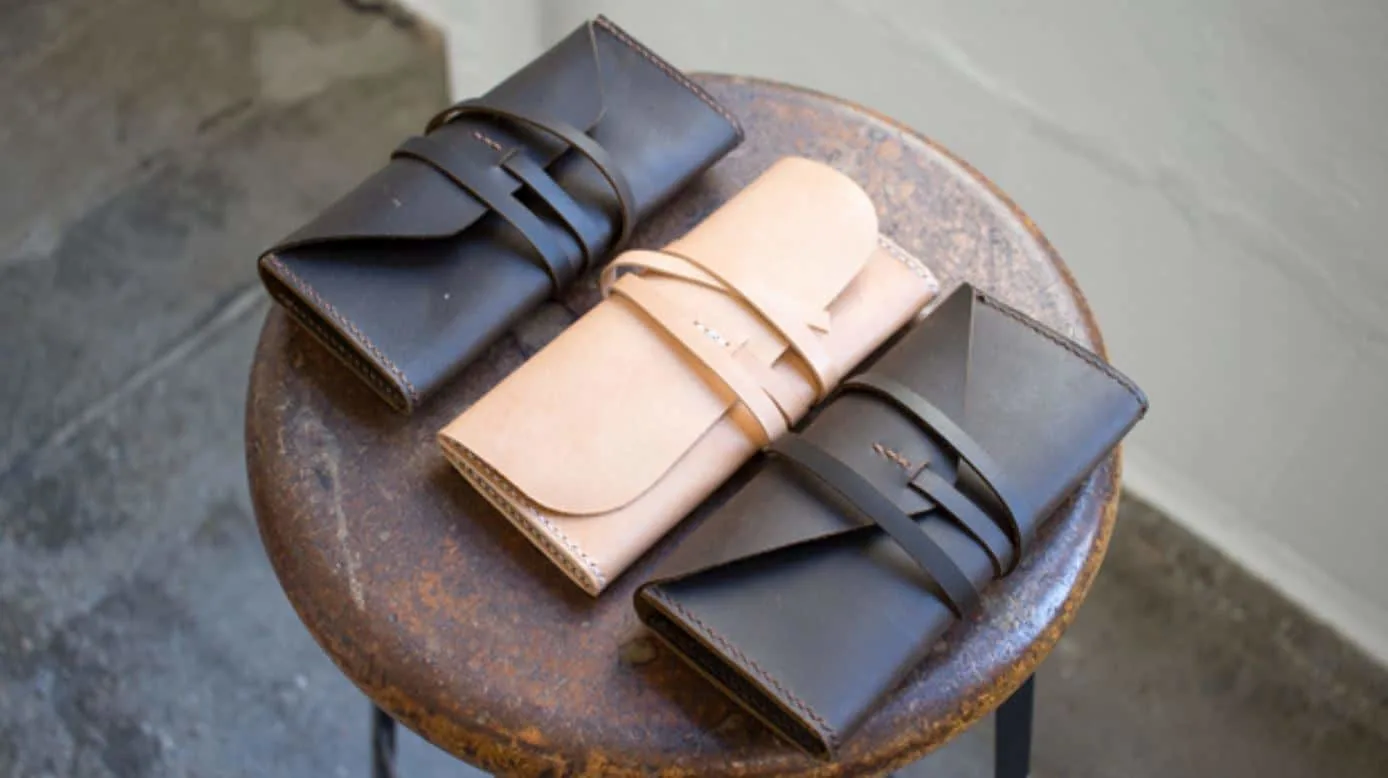 A clutch is a small rectangular purse that is typically carried by hand. It is a versatile accessory that can be dressed up or down, making it an essential part of any woman's wardrobe.
A leather clutch can be paired with various outfits, including jeans and a blazer for a casual look or a cocktail dress for a night out.
This pattern offers in-depth explanations and a template to make your own gorgeous leather clutch. The design is pretty simple, bringing two benefits to the table: you can style it with many outfits, and it's easier to make because it lacks fancy embellishments. You'll need materials that include a strap cutter tool, a Dremel rotary tool, a wing divider, a diamond chisel, and more.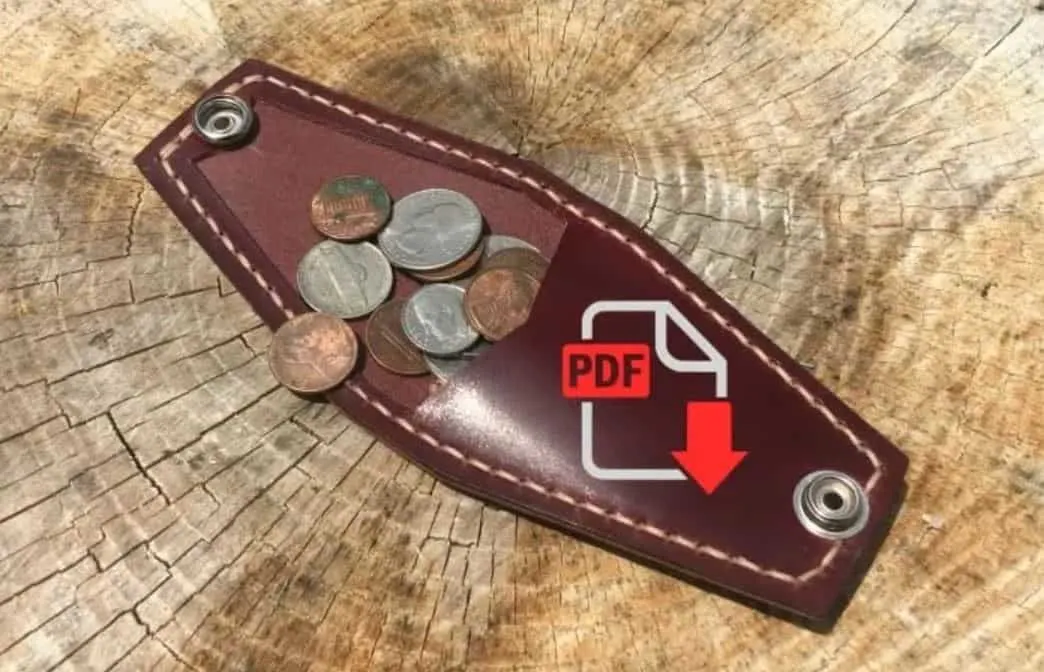 A leather coin pouch is a small bag that holds coins, typically attached to a belt. While they were once a common accessory, leather coin pouches have recently fallen out of fashion.
However, there are several benefits to carrying a coin pouch, and many people find them useful and convenient ways to keep their coins organized. One benefit of a coin pouch is that it helps to prevent loss. Coins can easily fall out of pockets or be left behind, but a coin pouch keeps them securely in one place.
If you'd like to own a stylish leather coin pouch without spending too much money on one, this template is for you. It has a video tutorial showing you how to make a pouch that's easily secured on your belt. Because of its compact nature, you can also use it to store coins inside your pocket or purse.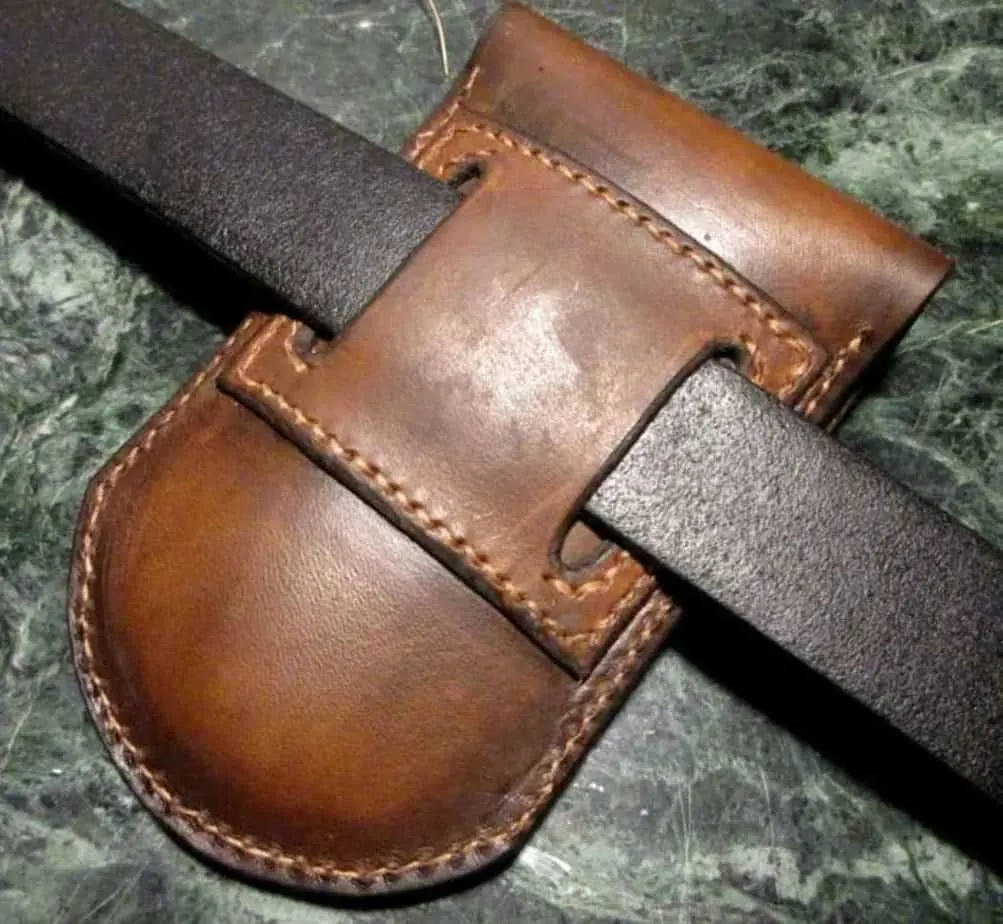 An EDC leather pouch can be a convenient and stylish way to carry your everyday essentials. While the pouch size will vary depending on your needs, it can typically hold items such as your wallet, phone, keys, penknife, and a small notebook.
A leather pouch attached to your belt can help free up your hands, allowing you to focus on other tasks. In addition, the pouch can help to keep your belongings safe and secure, preventing them from getting lost or damaged.
This free template will be very helpful if you want to make an EDC pouch to strap on your belt. It uses tanned leather and buffalo nickel alongside chisels, thread, sandpaper, and other tools.
A leather lighter holster is a keychain that can hold and protect a small lighter. While many keychains on the market serve this purpose, a leather keychain has several advantages. It is more stylish than a plastic keychain. It is more durable and less likely to break. Finally, it helps to keep the lighter clean and protected from scratches.
If you think some of the leather lighter holsters found in stores are too expensive, this tutorial teaches you how to make your own. Aside from a piece of tanned leather, you will also need a keychain ring, polyester thread, a chisel stitcher hole punch, some sandpaper, and a few other tools.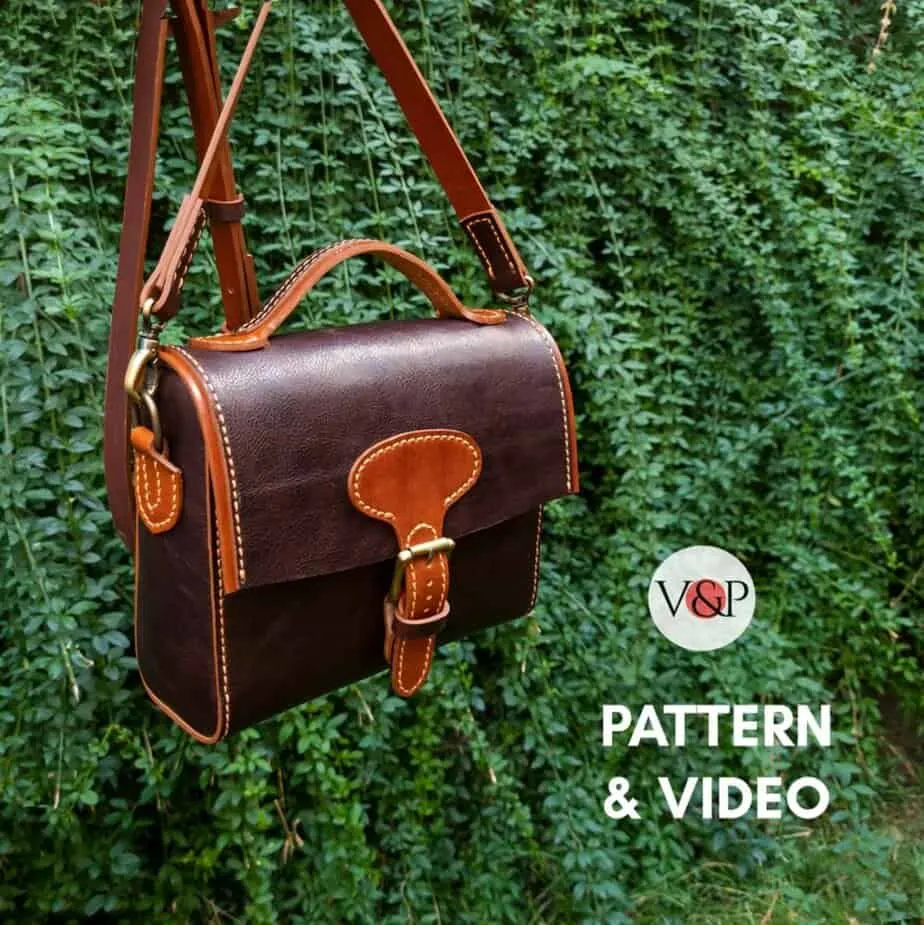 If you have a mallet, a cutting mat, a hole punch, needles, and a cutter, you can make a cool-looking vintage leather bag. This adobe shoulder bag can be used with several outfits, from casual to stylish urban ones.
You get free PDF patterns and a tutorial showing you how to cut the leather pieces and stitch them together. I like this project because it doesn't require as many materials and tools as others. You mainly need a cutting mat, a mallet, a 1.5mm hole punch, needles, and a cutter.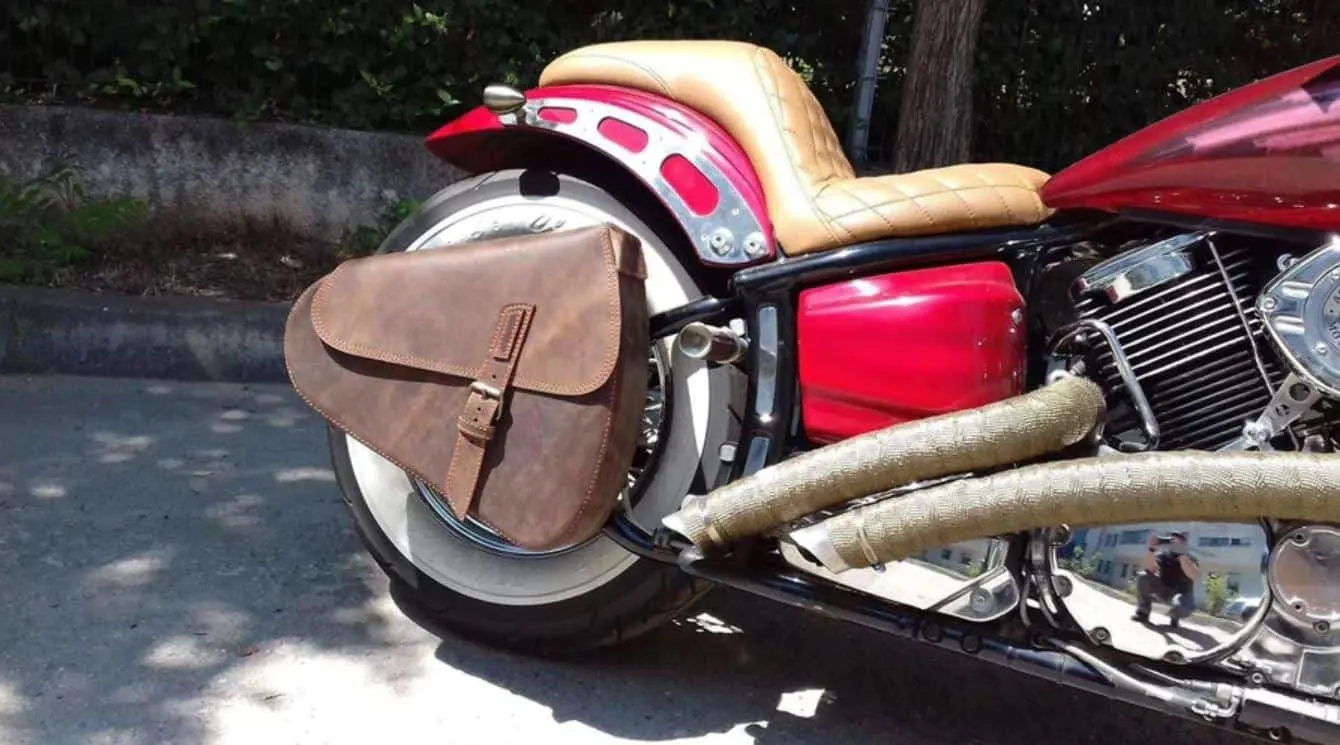 A leather bike satchel saddle bag is designed to be attached to a bicycle or motorbike. These bags are often made from leather or other durable materials, and they are used to carry items such as tools, food, and water.
Bike satchel saddle bags are a popular piece of equipment for many cyclists, as they provide a convenient way to store and transport items while on the road. In addition to being practical, these bags can also add a stylish touch to a bicycle.
This template makes it easy to make your own bike saddle. It also includes instructions to make the crafting process easier.
Best Paid Printable Leather Patterns
If you want to get serious about leatherworking and build your collection of great templates, these quality paid templates are the way to go.
Leather Wallet Templates
These wallet templates are so awesome! I love how unique they are.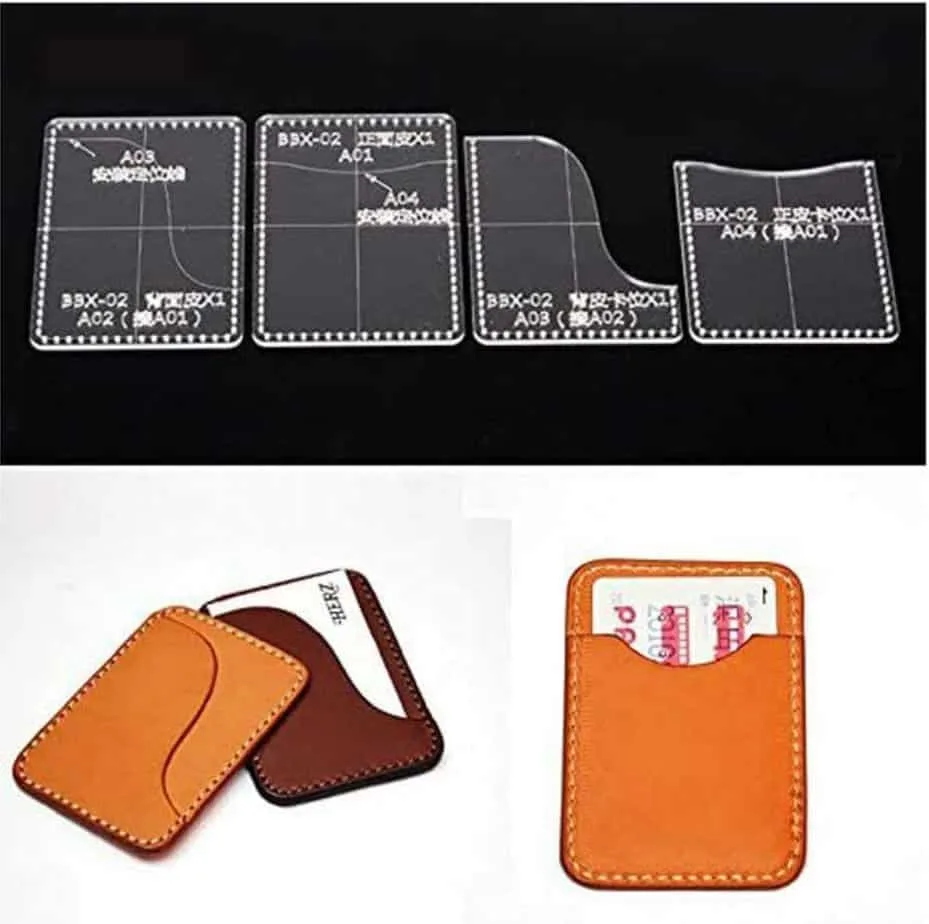 A cardholder requires no stitching or complicated construction, unlike other leather projects. You can also add embellishments like rivets or charms, but it's unnecessary. This simplicity makes a cardholder the perfect project for those just starting in leather crafting.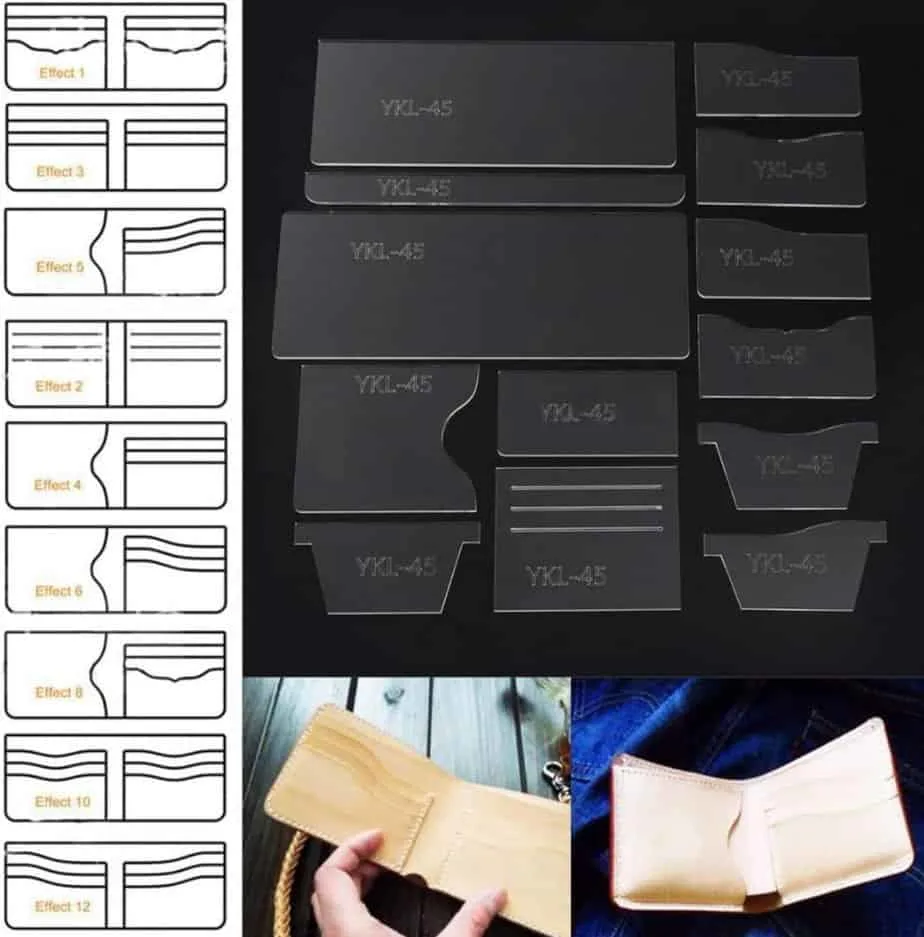 Ready to make your own badass-looking leather wallets? The template is a precise laser-cut transparent instrument that is long-lasting. It can resist a lot of wear and tear, offering the best possible optical quality and outstanding resistance to the elements. The design adheres to international standards and is appropriate for use by either amateurs or professionals.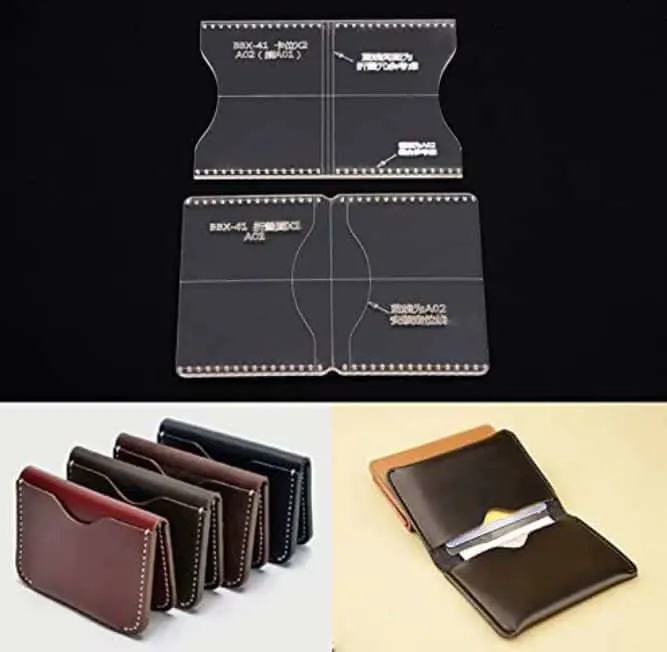 There are tons of reasons to make your own leather cardholder. For one, it can be a fun and creative project. You get to choose your cardholder's size, shape, and design, and you can add your own personal touches to make it unique.
There is a certain satisfaction that comes from using something that you have made yourself. Knowing that you created something useful and long-lasting can give you a sense of pride every time you pull out your cardholder. This is why this template is completely worth the money.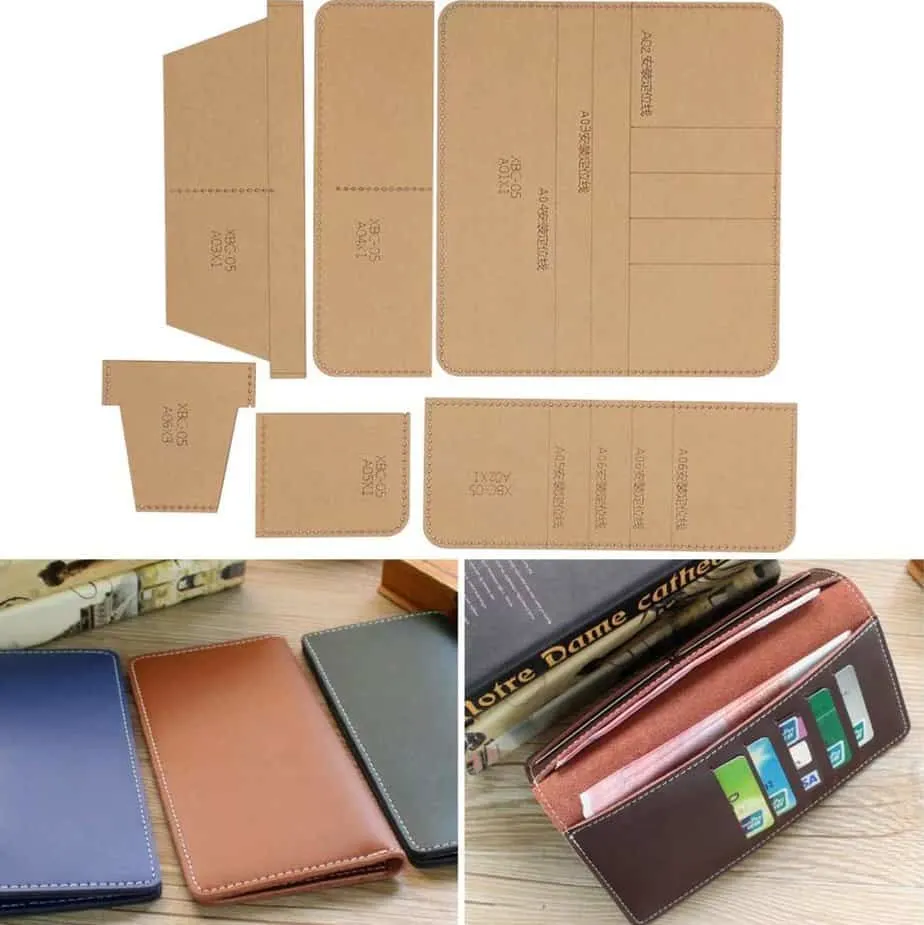 I love big wallets. They allow me to store money, credit cards, IDs, business cards, and all sorts of things that belong in a wallet and that you might randomly need at some point.
This paid template buys you six pieces to make a large wallet. The template is made from acrylic and will last a long time under normal usage. The pieces' transparency allows clean cutting, and they all come with protective paper to prevent scratches during transportation.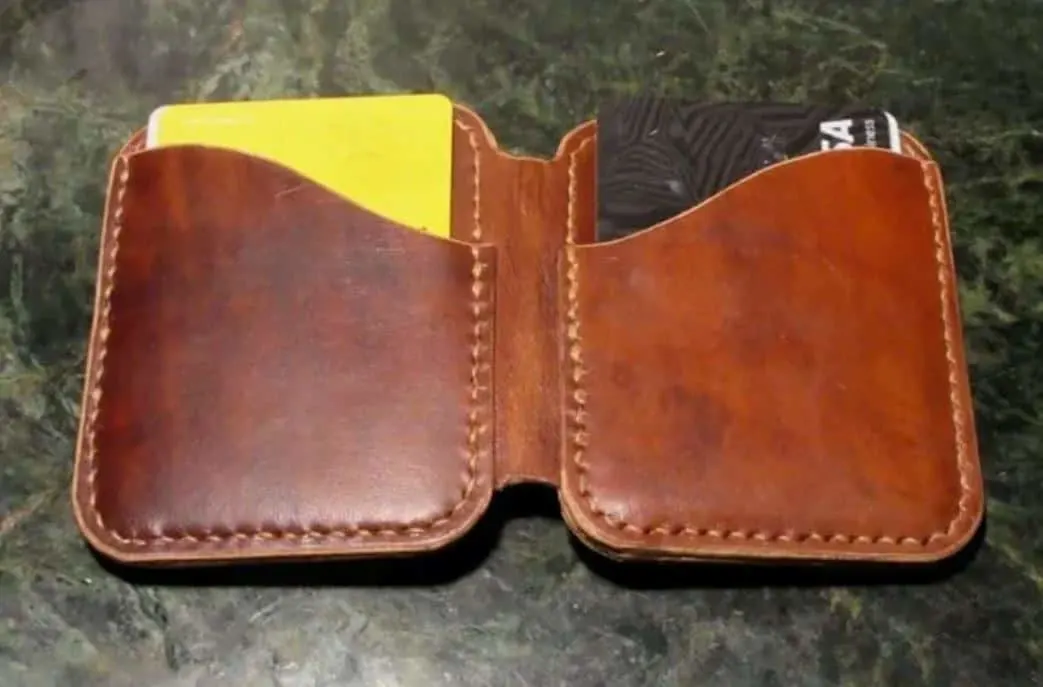 As its name suggests, a compact bifold leather wallet is smaller than a traditional one, making it more comfortable to carry in a front pocket. In addition, compact bifolds tend to have fewer compartments and card slots, making them easier to organize.
This pattern costs next to nothing and shows you how to make the perfect compact bifold cardholder that doubles as a wallet.
Leather Belt Templates
If you're making leather belts in droves for a small business or something, these paid templates are a must-have.
There are many benefits to using this belt end template when making your own leather belt straps. The most obvious is that it saves you time. If you're starting from scratch, it can take time to get the proportions of your belt strap just right.
With a template, you can simply trace the outline onto your leather and cut it out. This also ensures that both ends of your belt strap are identical, which gives your belt a neat and professional appearance. In addition, using a template helps to ensure that your belt strap is the correct width for whatever buckle you're using.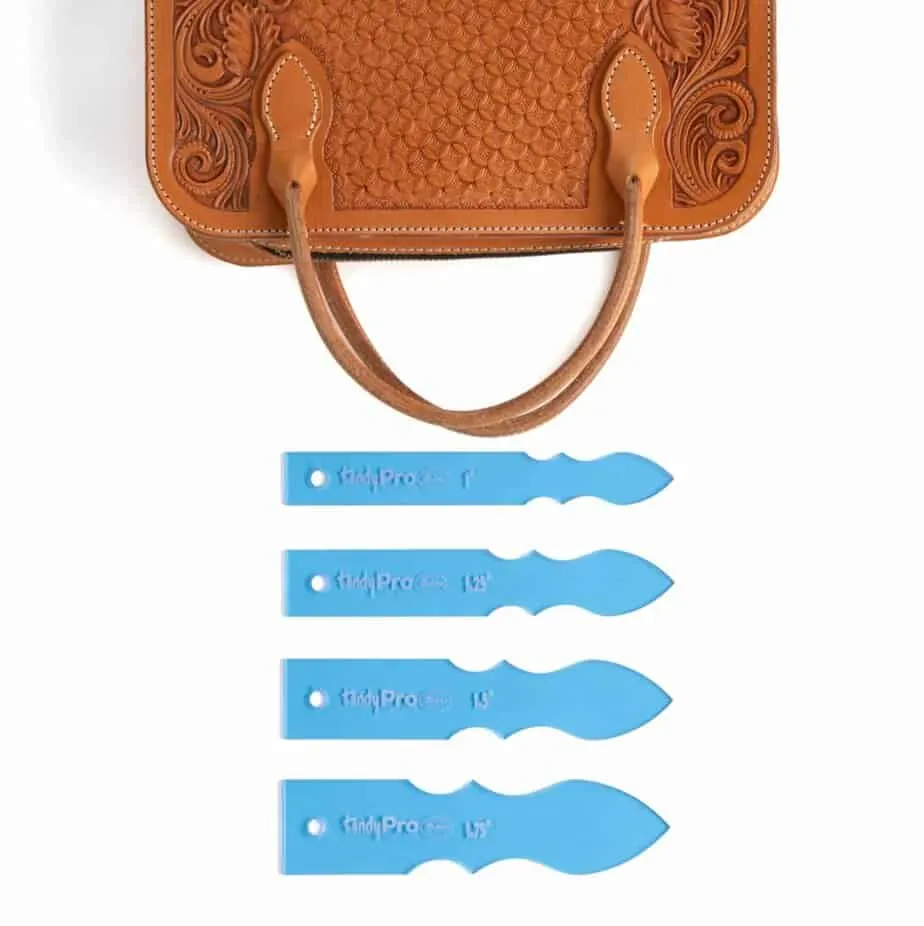 Choosing to buy templates is a cost-effective solution when you're looking to make your own leather belt straps. Not only are these templates durable and easy to work with, but you can also use them repeatedly. Whether a professional or a DIYer, these templates are very useful.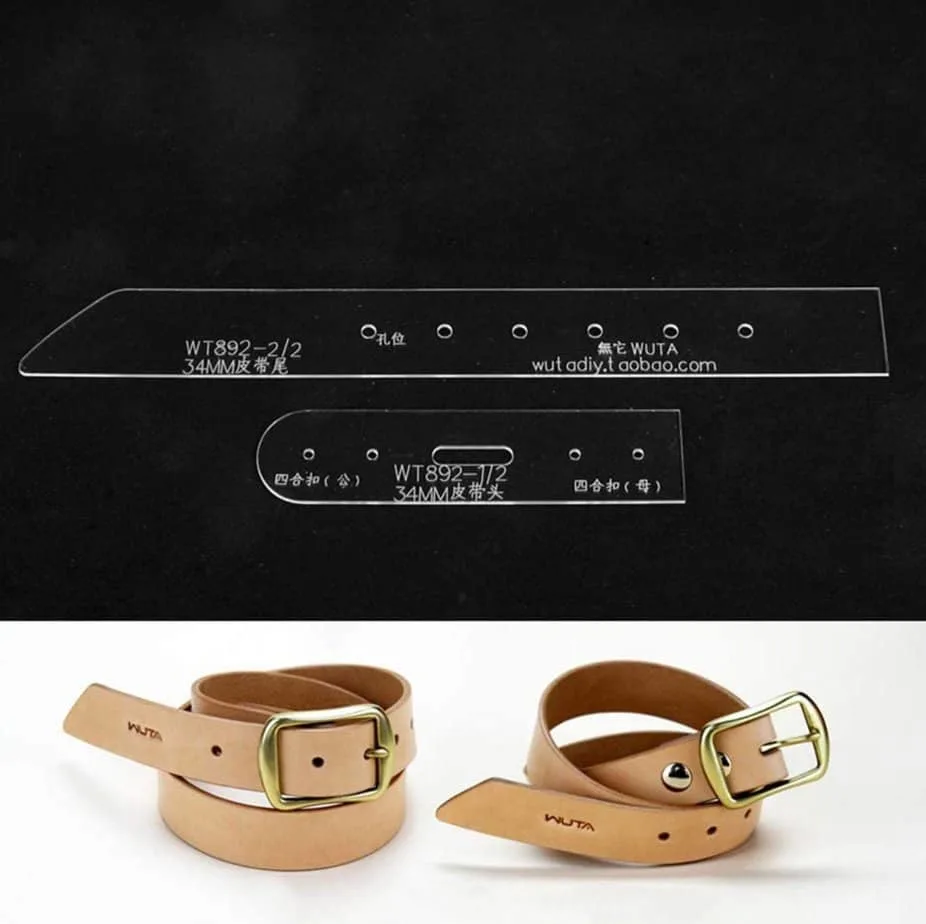 When making your own leather belt, you will need special templates for the ends. This template is perfect, so you can make belt parts with rounded or pointy ends. But this is not a template to make an entire belt; you'll still need other templates to make a complete product.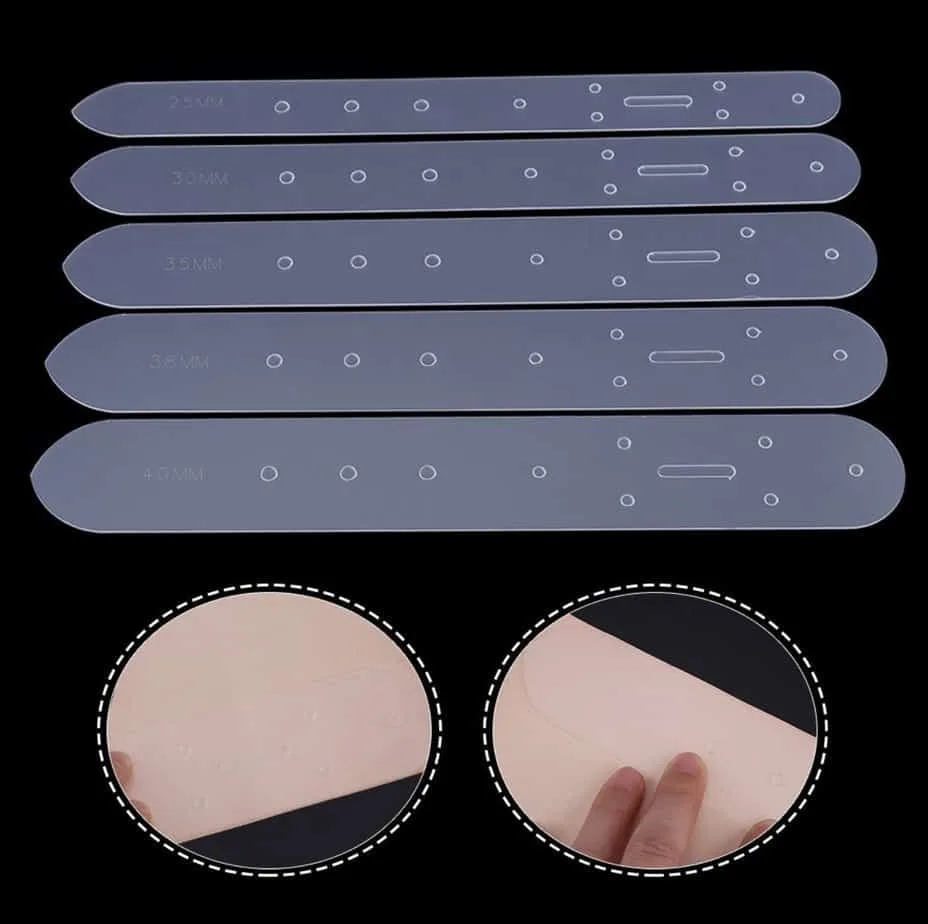 Here is another template you can use to make your own quality and stylish leather belt. It's a set of five PVC templates durable enough to withstand a lot of wear and tear. You can make belt straps of various widths, and the transparent design helps immensely with crafting.
Leather Accessories Templates
Again, if you're starting a small business doing leatherwork, these popular accessories are worth considering.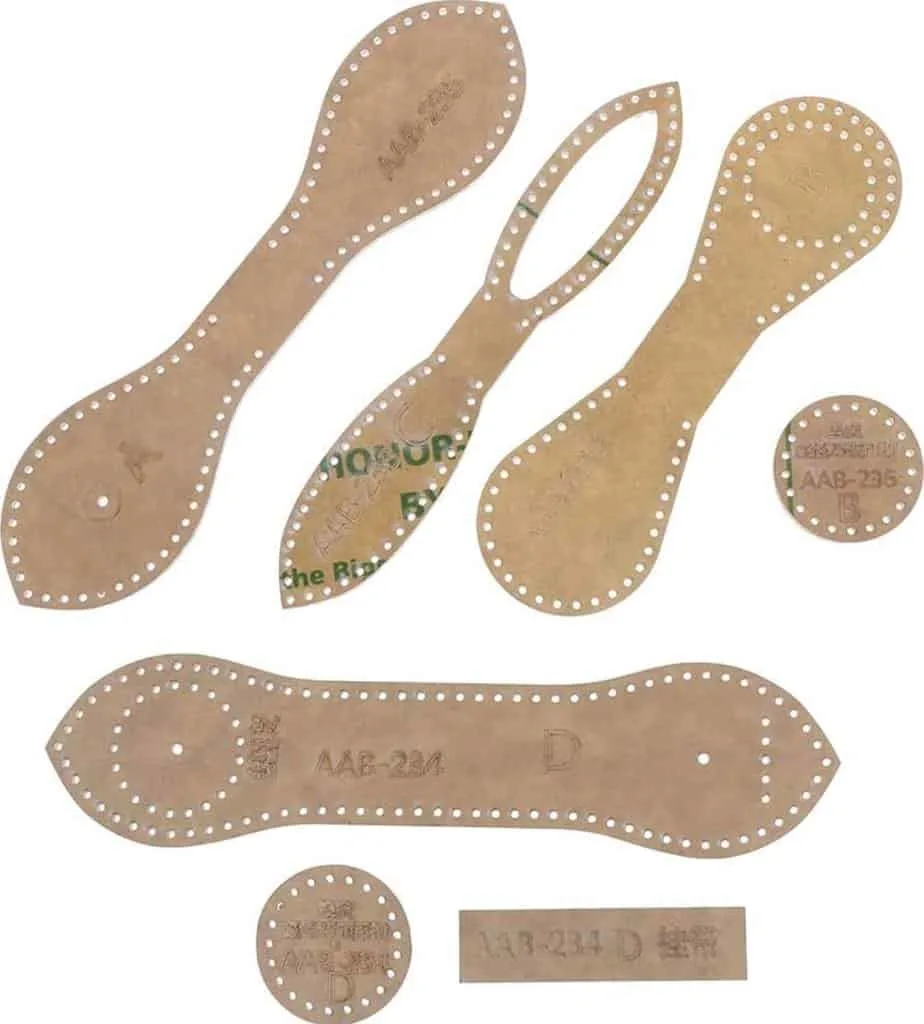 This product is a transparent, clear-colored stencil with multiple shapes that can be used to cut leather for crafts. It comes with protective paper on both sides to prevent scratching, and the user will need to peel this off. There are accurate holes on the sides of the template for marking stitching points in a fixed spacing, but users can also stitch with their own spacing. This package includes four stencils.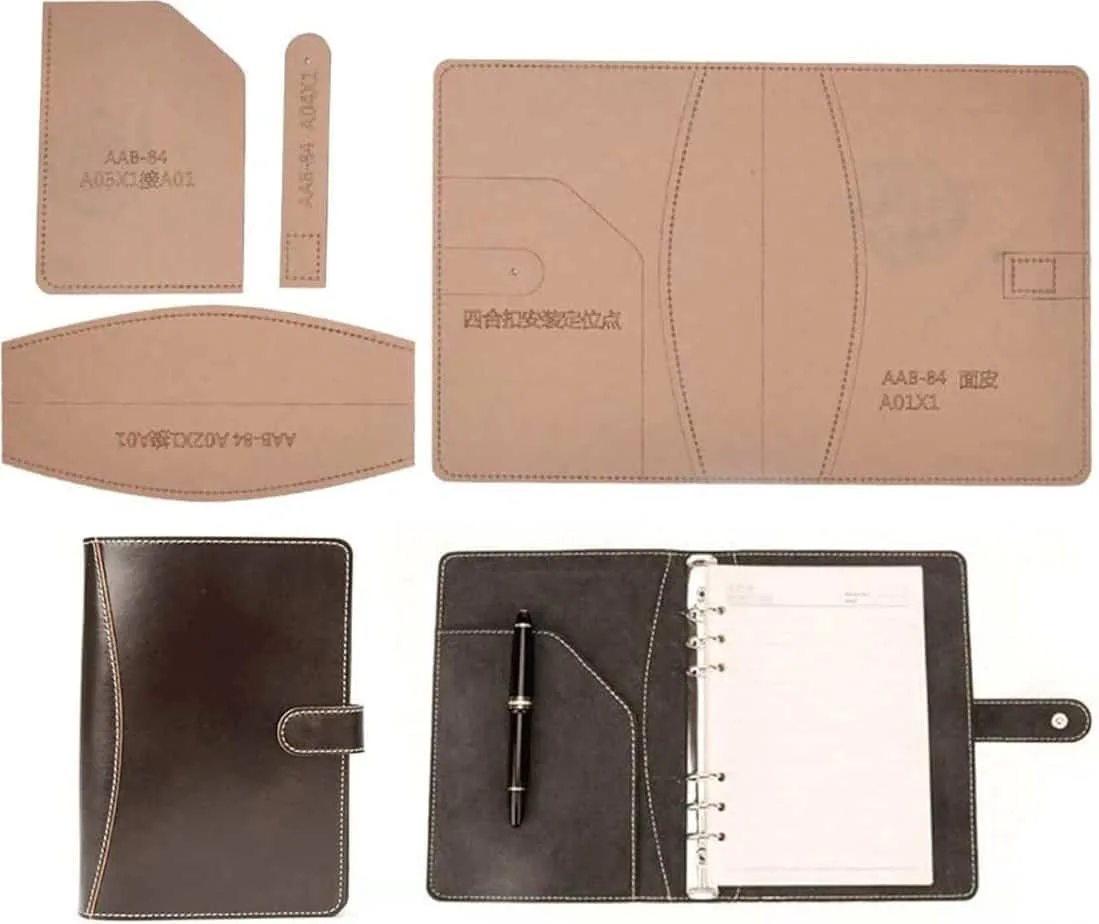 The cover template for the notebook is constructed out of high-quality acrylic material, making it extremely long-lasting. This transparent instrument is highly recommended for cutting leather pattern templates with precision and longevity.
The design adheres to international standards, is understandable and comprehensive, and can be utilized for either amateur or professional do-it-yourself projects. This pattern includes protecting paper, which can protect against scratching when transported.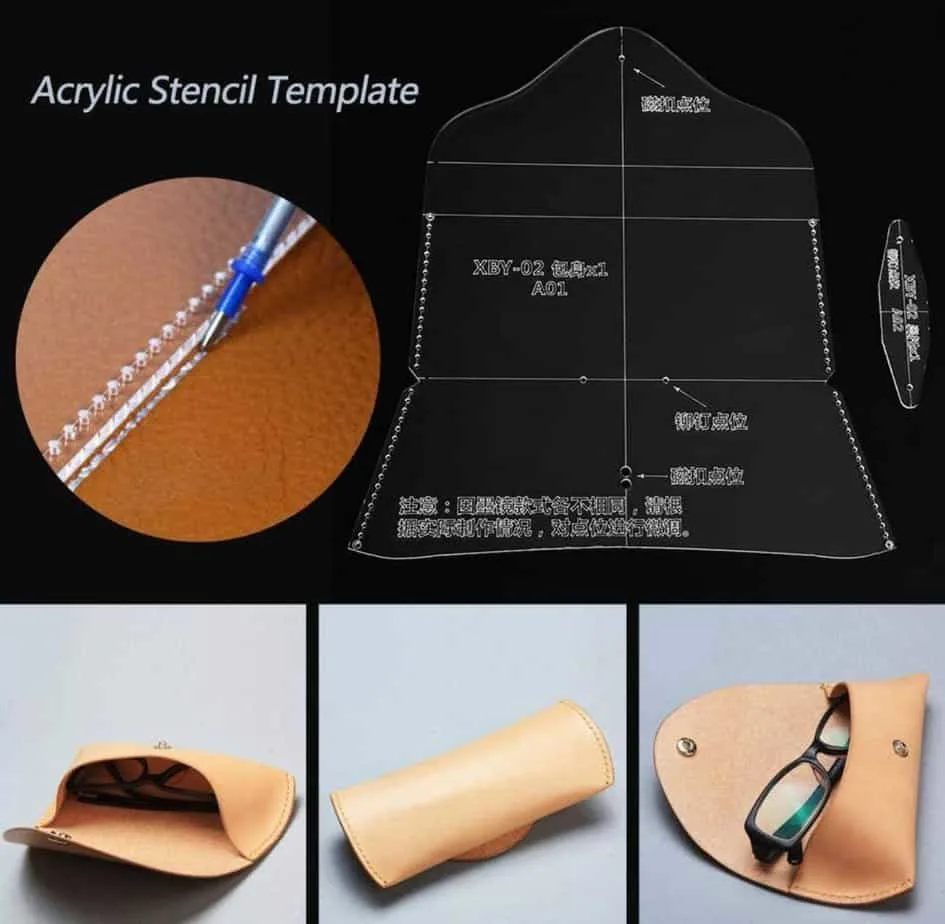 Feel like a professional leatherworker, even if you're just starting. Keep your eyeglasses safe and protected while you're not using them. This template changes how you work with leather, and it's a great buy for anyone just getting started with leather crafts. However, it's suitable for any personal DIY or professional leatherworking project.
Leather Purses and Pouches Templates
These are gorgeous, and now I want to make all of them. Definitely add these leather purse templates to your arsenal.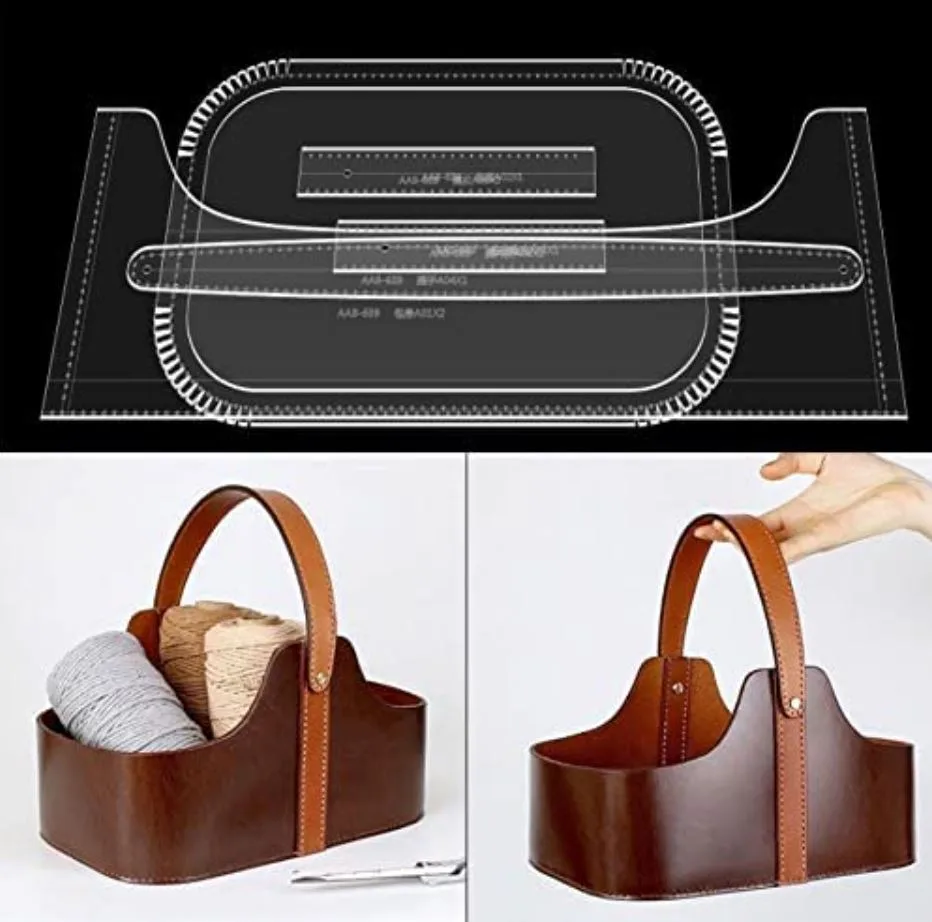 Have you ever seen a leather storage bag that you loved, but the price was just too high? Or maybe you found the perfect leather storage bag, but it wasn't the right size or style for your needs. If you're handy with a sewing machine, you can make your own leather storage bag using this leather bag template. This template is made from acrylic, a durable and sturdy material.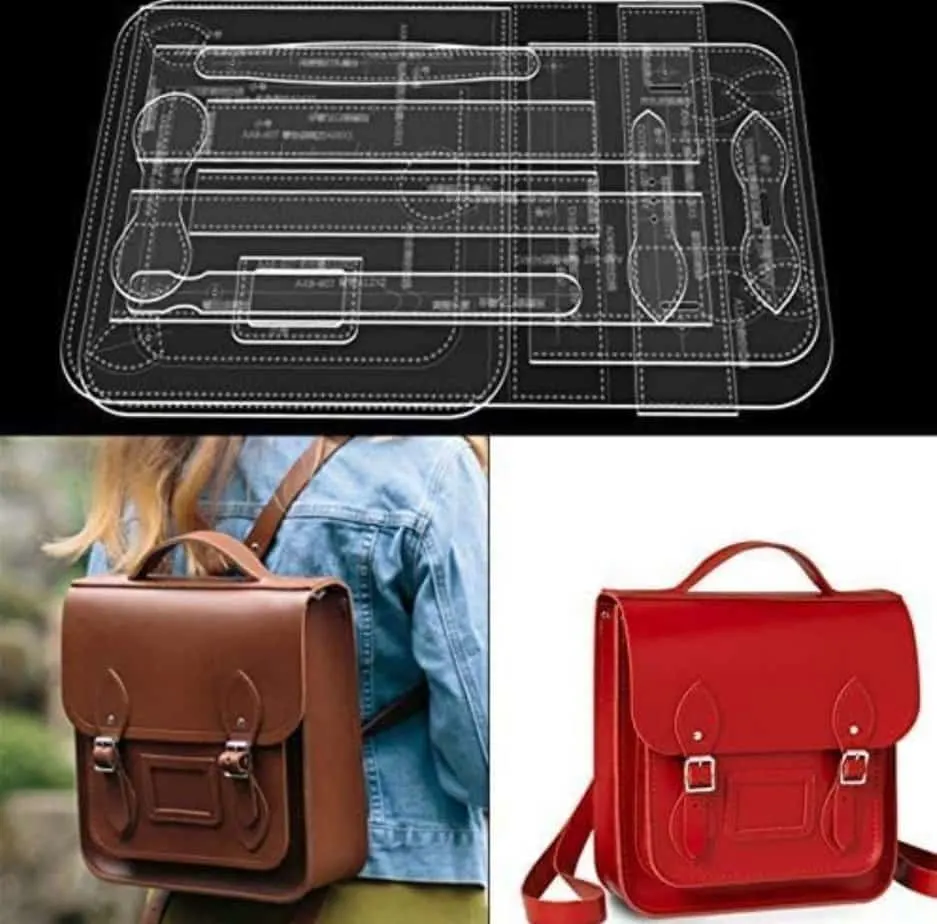 There are tons of reasons to make your own leather backpack using a special template. For one, you can choose the exact size and style of the backpack you want. You also have complete control over the materials used, ensuring that only high-quality leather is used.
Making your own backpack allows you to add personal touches that reflect your individual style. Finally, by making your own backpack, you will save money compared to purchasing a similar backpack from a store. With this template, you can make an 11.02 x 11.81 x 4.33-inch bag with leather straps and a generously-sized front pocket.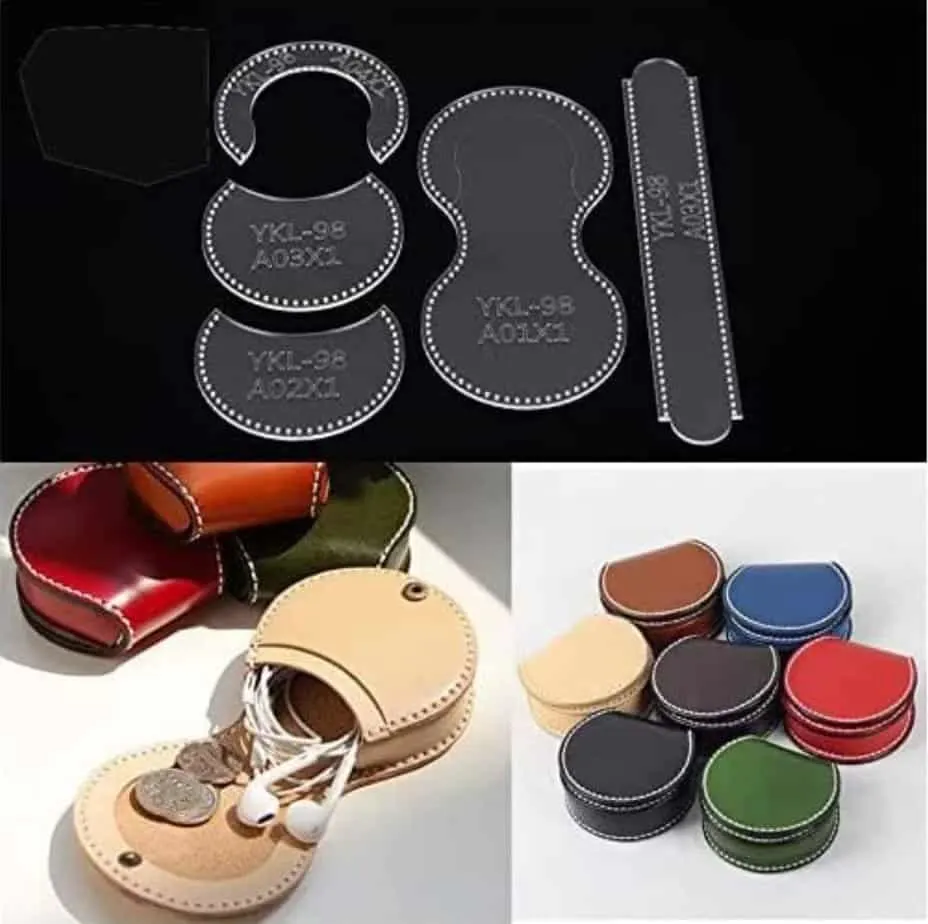 A well-made coin purse is a handy accessory to have, and there are plenty of reasons to make your own. For starters, it's a great idea to use up small pieces of leather that would otherwise be wasted. A coin purse is a must-have item if you frequently carry coins around.
It keeps your coins organized and makes grabbing a handful when you need them easy. Leather coin purses are also relatively easy to make, especially with this special template.
With this template, you only need to cut the leather to size and stitch it together. And once you've mastered the basic technique, you can start experimenting with different designs and embellishments.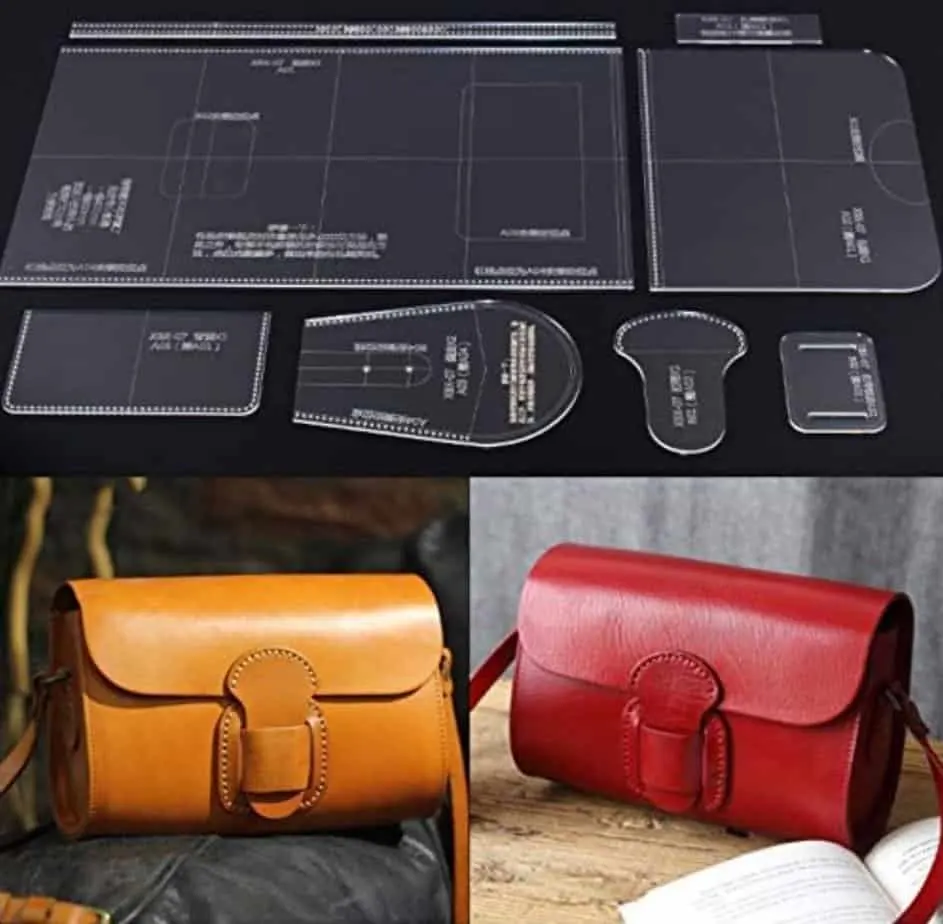 You can use an acrylic template to make your leather messenger bag! The process is actually quite simple. First, trace the outline of the bag onto a piece of thin cardstock or vellum. Then, use a sharp craft knife to cut out the template.
Next, place the template onto a piece of leather and trace around it with a pen or pencil. Once everything is traced, cut out the leather along the lines you just drew. To assemble the bag, follow the instructions with your template.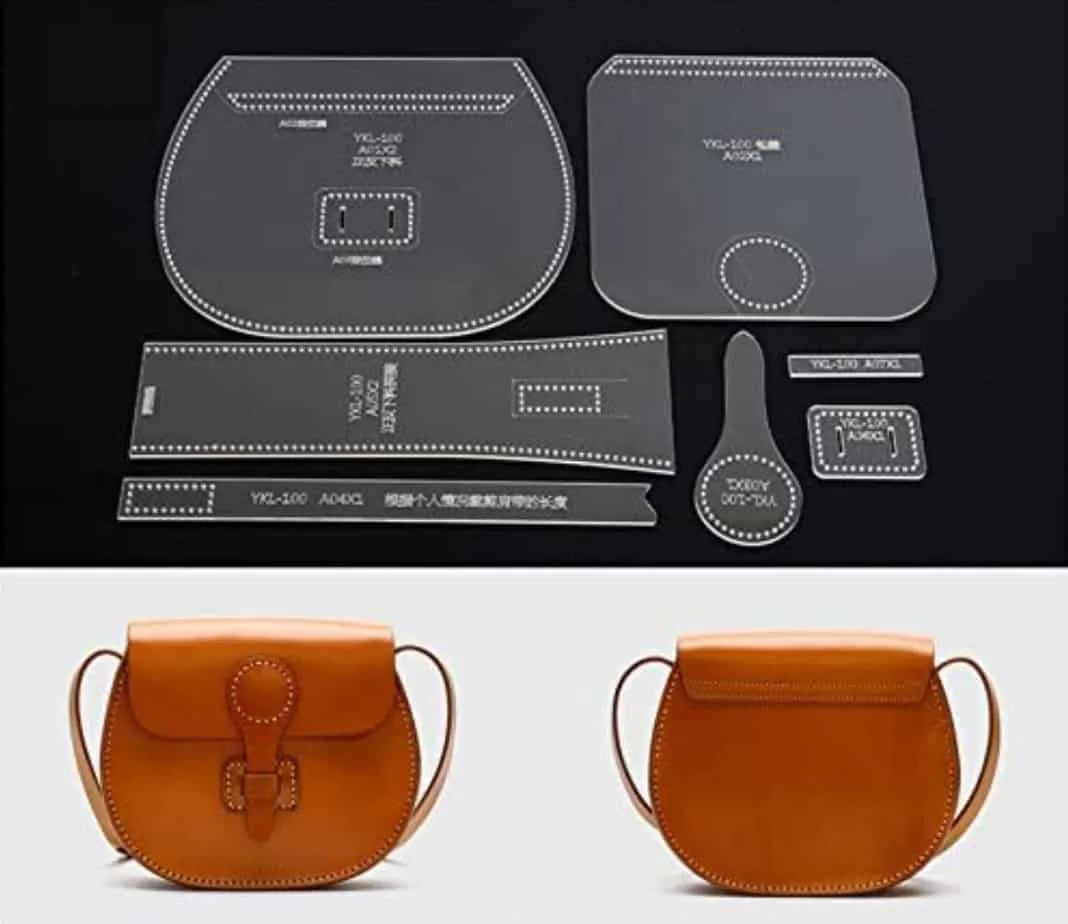 This template is for those who want to tackle a medium-difficulty project. If you're a beginner, it's probably best to start with a simpler project. But this is the right template for you if you're not afraid of doing something a little more challenging or don't want to shell out a ton of money on a leather shoulder bag.
It includes seven transparent acrylic templates to make all the bag parts. After that, all that's left is to sew them together.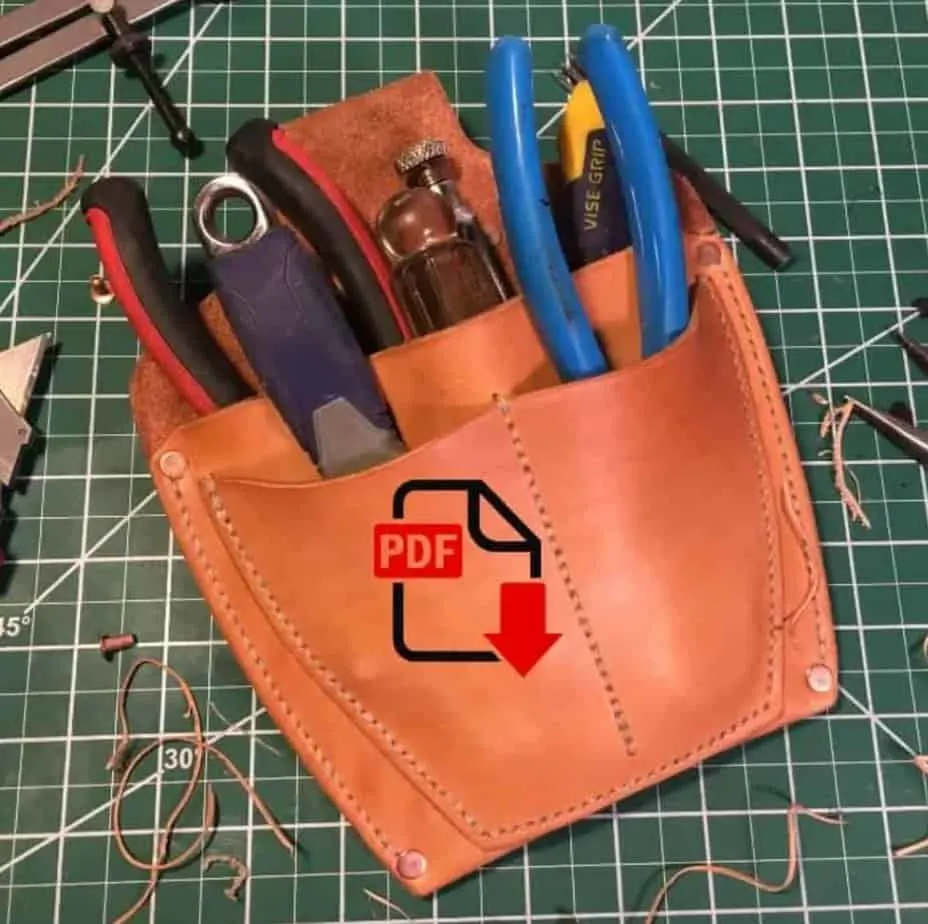 Leather has been used for centuries to create all objects, from saddles and footwear to clothing and accessories. Today, it remains a popular choice for high-quality, durable items. Leather tool pouches are no exception. Made from tough leather, these pouches are built to withstand years of heavy use.
The material is naturally water-resistant so that it won't absorb moisture like fabric or paper. And it's also resistant to tears and abrasion, meaning that it won't fall apart easily if it's dropped or scraped against a hard surface.
For these reasons (and many others), this tutorial is perfect for those who want a nice and practical small leather tool pouch. The project uses tanned leather, and you can use it to make sellable pouches!
Basic Leather Working Tools You'll Need
You will need a few basic tools to get started when working with leather. The first is a cutting tool, such as a rotary cutter or sharp knife. This will be used to cut the leather into the desired shape.
Next, you will need an awl or other piercing tool to make holes for stitching. Finally, you will need thread and a needle (or a sewing machine, if you prefer). Leather is durable, but it can be tough to work with if you don't have the right tools.
Awls
Awls are one of the most important tools for working with leather. They are used to punch holes for stitching, as well as to mark lines and curves. A good awl will be sharp and strong, with a point that can pierce through even the thickest leather without breaking.
It is also important that the handle is comfortable to hold and gives good control over the blade. Cheap awls are often made from low-quality materials and can quickly become blunt or break altogether. This not only makes the work more difficult, but it can also damage the leather.
Knives
With a sharp knife, you can make clean, precise cuts that won't damage the leather. On the other hand, a dull knife is more likely to tear or damage the leather. It can be dangerous to use a dull knife – you're more likely to slip and cut yourself. So if you're working with leather, make sure you have sharp knives. It'll make the job a whole lot easier – and safer.
Needles and Strong Thread
The needles need to be sharp enough to pierce the leather, but they also need to be strong enough to hold the thread securely. A thread that is too weak will break easily, and that can be frustrating when you're trying to sew something together.
In addition, it's important to use a thread that won't rot easily, as that can cause problems down the road. Finally, make sure your stitches are small and even. Leather is a sturdy fabric that can tear if you're not careful.
Burnisher
A burnisher is a tool that helps to smooth and shine the leather. It's made of a hard, smooth material like bone or agate, and it's used to rub the surface of the leather. This process helps to remove any dirt from the surface of the leather, and it also helps to seal the pores of the leather, preventing moisture from entering.
In addition, burnishing gives the leather a beautiful shine. With a burnisher, it would be easier to achieve the same level of shine and smoothness.
Rivets and Riveter
Rivets and riveters are an essential part of working with leather. Rivets provide a strong, permanent connection between two pieces of leather, and riveters ensure that the rivet is properly secured.
Riveting is a very important step in the leatherworking process, and it's crucial to have the right tools for the job. Without rivets, creating lasting, durable products would be very difficult. And without riveters, it would be nearly impossible to properly secure the rivets.
Hole Punch
Any leatherworker will tell you that a good hole punch is essential for working with leather. It makes it easy to create evenly spaced holes, but it also helps to prevent the leather from tearing. A high-quality hole punch will have a sharp cutting edge that can easily penetrate the leather and a sturdy construction that can withstand repeated use.
On the other hand, a cheap hole punch is likely to blunt quickly and may even break if used too often. A hole punch with a long handle can provide greater leverage, making it easier to create clean holes in thick leather.
FAQs
Question: What's the Best Place to Get Leather Templates?
Answer: There are loads of websites that offer free or purchasable leather templates. Some names include Vasile and Pavel, Amazon, and Maze Leather.
Question: Can You Reuse Leather Templates and Patterns?
Answer: Yes, leather templates and patterns are mostly reusable, especially if made from materials such as acrylic.
Question: What Is the Best Leather for Making Wallets?
Answer: Top-grain leather is commonly used to make wallets. It's a high-quality type of leather and is more durable than other leather types.
Final Words on Leather Templates
If you're looking to buy leather templates and patterns, I've provided a few recommendations. However, plenty of great resources are available online if you're looking for free options. I've also listed some basic leather working tools needed to get started. If you want something easy and fun to do, try the Notebook Cover Template! It'd be great for yourself or even a gift.
Remember that buying leather products can be quite expensive, so making your own is a great way of saving money and improving your crafting skills. And take a look around our site for even more awesome leatherworking tips and advice!