When sewing leather you will need stronger and more durable leather than average cloth thread. So deciding what type of thread to be used when sewing leather will depend on size, color, material and way of sewing. These factors will help decide the type of thread used for sewing leather projects.
Type of thread used for sewing leather
When sewing leather you want to have a strong thread that can hold leather together under pressure. This is why there are two popular threads that should be used when leatherworking: Bonded Nylon and Polyester.
Nylon is the most popular due to it being cheap, easy to use and great strength. Polyester looks and feels like nylon but is more durable due to its UV and mildew resistance.
Both of these threads come either waxed or non-waxed. If you are using a sewing machine you should avoid the waxed thread since it can clog and jam the machine.
Pre-waxed thread will help stiffen to avoid stretching, be more water resistant, rot resistant and will stay intact longer due to its bind.
These two are most common because the same size linen, hemp, cotton and cord thread will not withhold the same amount of strength. A good test for your thread is to wrap some between your fingers on both hands and try to split the thread by pulling it apart. This will be very hard or impossible if you have good thread.
I will always prefer pre-waxed thread to ensure a worry free seem and an easy glide through holes. If you plan on using a machine you can always apply your own wax over top of the thread which will help prolong the life of your seem as well.
Artificial Sinew is another commonly used thread that works well with leather. But this thread is more of a ribbon style, wide body look that doesn't look too good with fine leather crafts.
When using a sewing machine there are polyester and nylon thread that are on spools for easy use with a machine.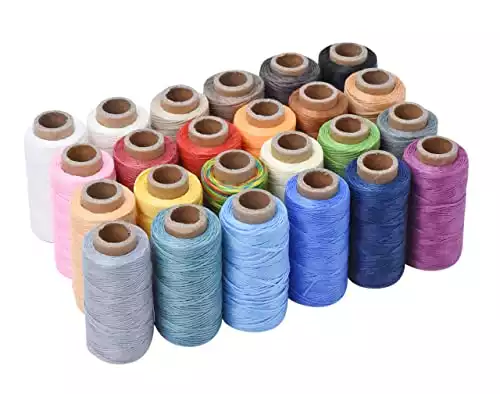 Polyester thread | Amazon
Leather sewing thread made from braided polyester; Lightly coated; Durable, sturdy, and pliable; Colorfast and will not fade or bleed; Lightweight, smooth surface, and comfortable to touch; Waterproof and fits indoor and outdoor use.
Buy at Amazon.com
We earn a commission if you make a purchase, at no additional cost to you.
10/03/2023 08:21 pm GMT
Size of thread
The size of your thread should match with how thick your leather is. It is common that as you move up toward heavy leather you will need to increase the size of your thread as well.
Since heavier leathers will be used for more abuse prone items such as sheaths or saddles, it is good to know that the thicker the thread, the more pressure it can handle.
Sizing measurements will vary whether you use Nylon or Polyester thread and you can use this guide above. But since most thread is measured in millimeters it would be beneficial to focus on the converted numbers.
It is recommended that for lightweight leathers when making wallets, linens, and small bags etc. you stay around a 46-138. These sizes are also able to go through most sewing machines without problems.
Medium weight leather should range from 138-554 for items similar to belts and suitcases. You will also need a commercial style sewing machine if you plan to use a machine.
For heavy leathers you can expect to anywhere around 207 and up. These will be used for items you that will take a heavy abuse like boots and saddles. These will not fit in a sewing machine unless you have a heavy duty with walking footer to guide the leather.
For a good idea of what these leather sizes look like, an average dress shirt will use #33 – #46 equivalent size thread. While most sewn zippers on leather items will use around a #69 – #137 size thread.
This is just an average and depends on how you want the thread to look on your item. I use around a .50mm on most of my projects but for heavier leather I use a flat .80mm.
The abuse of the leather can also be taken into account to help decide what type of size to pick. So even though a wallet and a sofa cushion might have the same size leather, the sofa will be sat on, stretching and contracting needing a heavier thread than the wallet.
When hand sewing, the thread will be rated around 2-7 and this refers to the amount of cord that are twisted and waxed together. This is why leather thread is much stronger due to multiple cords being bonded together to create a strong roll.
Color and Shape of the thread
This is all more of a creative preference towards your project but could make or break a project easily. Since there are many different colors out there to be used it is really all on the crafter and what they think looks good.
While using a white color on a blue wallet could pop out the extra details, using a dark brown with blue leather could make the item look "dirty". If you have the option to buy a few different colors it could help you get an idea of how different color contrasts sit well with the leather dyes you have.
I tried to stay safe when buying my first few rolls of thread. So this will be black, white and a lite brown or coffee color for me. I have used a coffee color for a lot of my projects because a warm/liter brown to me goes with a lot of different colors. Plus it seems to keep a leather look throughout the whole project regardless of the color of the dyed leather.
In saying that I also do usually stick around a lite brown to dark brown color dye as vivid colors don't appeal to me as much. If you have a handful of colors it is very easy to take the leather and just check with each one to make an easy decision.
This is some thread I just bought at a .45mm size and coffee color.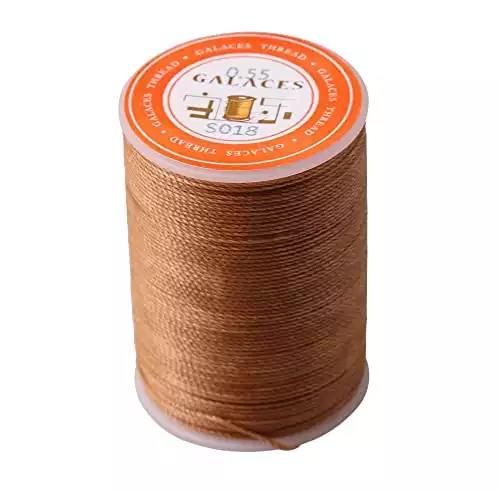 There is not only color that can change the look of the thread but also different shapes. These are considered cord thread or flat thread and can create a very different look from each other. The first time I ordered thread I got flat and was very upset because of its wide look. Now I do not mind it and actually like it depending on the project but each style has its own look to it.
So we help this helped you pick out some leather for your next project and gave you a better idea of leather stitching thread! Check out the different types of leather to use and avoid in your next project.