Best Leather Working Tools for Experts and Beginners
Perhaps you've recently discovered you've got a knack for leathercraft, or you want to start making leather creations for the very first time. To help you get into the art of leathercraft, we've composed a helpful guide that lets you know about all the best leatherworking tools.
I'll explore why quality leather tools are important and give you some suggestions for great leatherworking tools you can buy based on their overall function, quality, and price. Are you ready to be skilled in this craft? I can't get enough of it.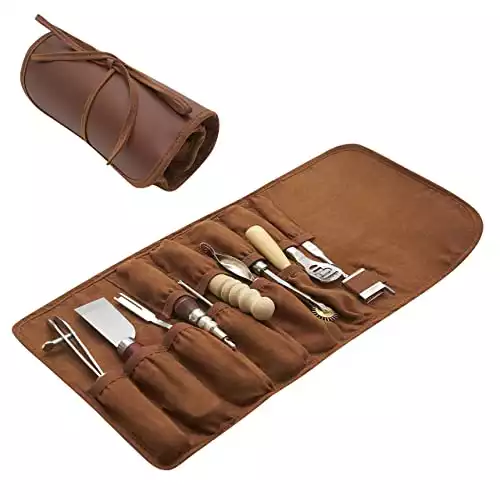 What to Expect from This Helpful Guide?
In this short section, I'll break down everything we're going to discuss in this guide. Leatherworking tools are important for quality leathercraft pieces, which is why I'll take the time to discuss each category in detail. Feel free to skip ahead to the sections you need most.
The Importance of Good Leather Working Tool
In our first section, I'll give you a rundown on why good leatherworking tools make a difference in your art.
What are the Most Common Leather Working Tools?
A great number of leatherworking tools are important for creating even basic pieces, but in this section, I'll narrow it down to just a few. We recommend you have more tools in your arsenal than this, though.
Things to Consider When Looking for Leather Working Tools
I'll give you some key points to look for in the product descriptions of leatherworking tools. Reading the fine print can make the difference between buying a quality tool and a fake.
The Best Leather Working Tools
The last section will be the longest, where we break down categories of different leatherworking tools and discuss each. I'll also give you our suggestions for the 11 best leatherworking tools.
The Importance of Good Leather Working Tools
When to comes to selecting the leatherworking tools you're going to equip yourself with, we always recommend quality over quantity. It's better to have one high-quality knife or awl over 3 low-quality ones (but that doesn't mean you have to invest in the best of the best.)
Quality tools let you avoid frayed edges and clumsy markings. A lot of the time, simple mistakes in beginner's leatherworking can be fixed with a knife that has a sharper blade or a sturdier metal point on their awl.
Most Common Leather Working Tools?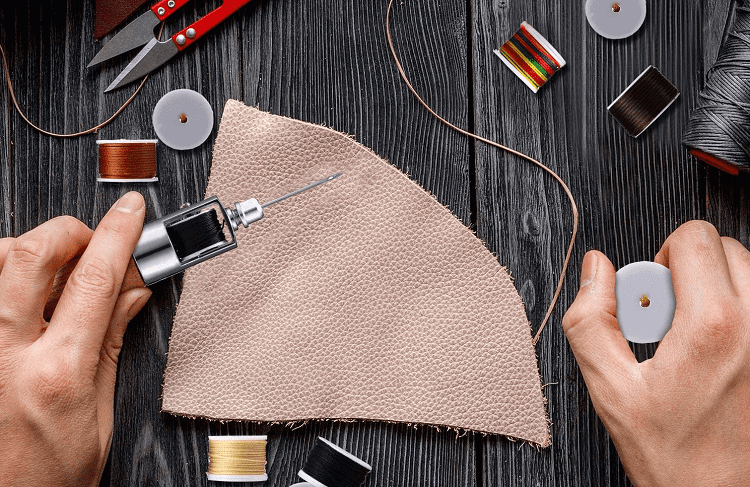 If you're completely new to leathercrafting, you don't have to go out and spend a fortune on 100 different leatherworking tools. If you're building your beginner's toolbox, these are the tools you'll need the most. Start out with these and see which tools you enjoy using the most!
Sharp Knives
Quality Awls
Needles and Strong Thread
Sturdy Hole Punch
Riveter and Rivets
Burnisher
What to Consider when Looking for Leather Working Tools
In this part, I'll dissect the different areas of leatherworking tools that we recommend inspecting before you buy. When we say you should choose "quality leatherworking tools," I'll show you what we mean by "quality."
Quality
Choosing a leather working tool based on quality can be very easy in the modern age of the internet! These are the steps we take when we're determining if a tool is worth putting in the checkout cart or not:
Check to see if the tool you're interested in is from a popular brand with lots of customers.
See if there are any online reviews or videos talking about the product to give you a rundown of the pros and cons.
Check the prices of similar products from competing brands to see if the price is in the normal range.
Check what materials were used to create the leatherworking tool.
If you're buying in-store, pick up the tool to see if the parts fit together correctly.
Good Grip
A lot of leatherworking tools nowadays have an easy-grip handle. You'll need to press down hard with certain leatherworking tools, or hold them for a long amount of time, which is why a comfortable handle is important. Choose an easy-grip or rubber handle that doesn't hurt your skin or make your hand sore.
Sturdy Handles
Speaking of handles, the handle of your leatherworking tool shouldn't wiggle around. We like to see tools where the handle is so firmly attached to the blade/opposite end that wiggling the blade around doesn't loosen it inside the handle. Loose tools can be a hazard when some of them are very sharp!
Sharp Blades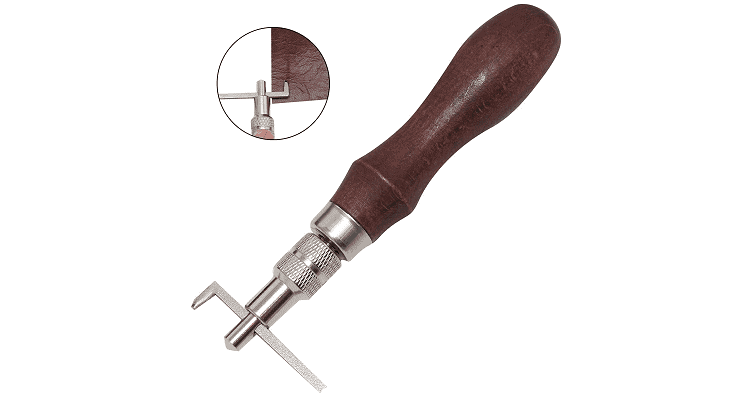 Sharp blades keep your edges crisp and neat in leatherworking. Also, dull blades can be dangerous to work with because there is more of a chance the blade will slip while you're cutting with it, and you'll accidentally cut yourself. Better safe than sorry with this one!
Ease of Use
Many leather working tools are manually used without any electricity. They should be very easy to work with! This is a wonderful aspect of leathercrafting-the tools requires practice to be a master with them, but they do not require a lengthy instruction manual to understand how they work.
Warranty
Very few leather working tools are expensive enough that manufacturers list a detailed product warranty on their website. This is a good thing and a bad thing. The good thing is you won't have to buy a pricy tool.
The bad thing (or, the inconvenient thing) I'll say is you'll have to send most companies an email about their product warranties if you're curious about them; however, this won't always be the case.
What are the Best Leather Working Tools?
Next, we're very excited to discuss all the main types of leatherworking tools. These are the best leatherworking tools, and though you won't need all of them to start with, you can collect them as you perfect your craft. Each tool does something unique, which is why each of them is worth the mention.
Awls
Awls in leatherworking are used for poking holes through the leather. Poking holes lets you string thick, sturdy lacing through it to fasten pieces of leather together or make designs. Though these leather working tools are an integral piece in the toolbox, they usually aren't very expensive at all.
Awl Haft-This is a great leather awl handle for beginners because you'll be able to switch out and fit awl blades in one handle. This way, you'll only have to pay for 1 handle and then as many individual blades as you need.
Collar Awl-This long-bladed awl is for making saddles. It allows you to poke holes through thick pieces of leather and tie them together by weaving thick lacing through them.
Curved Awl-This awl has a curved hook that is perfect for undoing stitching and making tighter stitches.
Diamond Tip Awl-As their name implies, these awls come to a diamond-shaped point that makes smaller holes in leather compared to other awls.
Lacing Awl-These awls are used as a needle pulling thread because you use them to pull lacing through pieces of leather.
Needle Awl-Working like a regular needle but stronger, needle awls also pull lacing through the leather.
Saddler's Harness Awl-This awl is also used to make saddles by poking holes through leather with its long diamond-tipped blade.
Scratch Awl-This awl has a lot of variances because it is one of the most popular types of awls. Coming in all sizes, these awls have a blade that is used for puncturing leather.
Burnisher and Slicker Tools
When you cut into leather and have an exposed edge, that exposed edge is going to have individual, straggling leather fibers hanging off it. What do we do? We fuse the leather fibers around the edges together with heat! We can accomplish this by using a burnisher or slicker.
Burnishers and slickers are important leatherworking tools because we use them to create enough friction that heat is produced on the leather's edge. The friction heat makes seamless edges in your leatherworking projects, which makes the finished product more durable and more appealing.
Plastic Burnisher-This type of burnisher heats up fast when you move the rounded tip back and forth across a leather surface. Be careful not to rub the burnisher on the leather too hard or too fast or you can leave burn marks behind.
Wood Burnisher-This burnisher can be slightly much more expensive than plastic burnishers depending on the type of wood. Leatherworkers will oftentimes prefer wood burnishers because they give leather edges an even finish.
Glass Burnisher/Slicker-If you're worried about burns marrying your leather, glass burnishers and slickers won't keep their heat in as long as other types of burnishers. Some of these look beautiful and they are beginner-friendly.
Brass Burnisher-This fancy burnisher quickly heats up and can become too hot if you aren't careful. Brass is also the heaviest material.
Exotic Wood Burnisher-These burnishers can be more expensive, but they aren't always. Some examples are ebony, rosewood, and cocobolo wood burnishers.
Box Slicker-These types are slickers are like wood burnishers, only they are a rectangular prism instead of cylindrical. Some leathercrafters prefer to work with a flat edge.
Power Burnisher Machine-People who leatherwork frequently sometimes prefers to have a machine with burnishing mounts and a motor to make the burnishing process easier. A machine like this one lets you get projects done more quickly.
Water Spray Bottle-How did this item get in here? It's easier to make exposed leather fibers around the edges of your work fuse together with heat if they are wet first. Spray the edges with a water spray bottle before you start!
Cleaning and Conditioning Supplies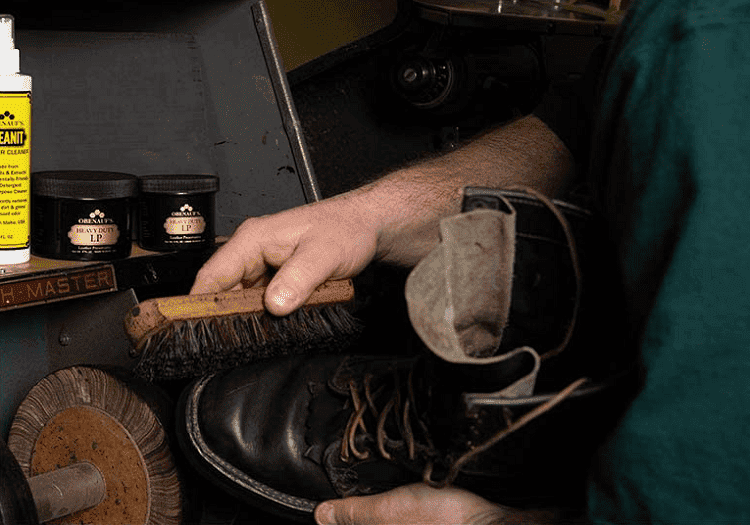 After working hard on a leathercraft project, there are easy steps you can take to keep your leather creations in top form. These cleaning and conditioning products keep your leather shiny, sanitized, and crack-free.
Leather Cleaner-This product is sprayed on a leather surface and then wiped off to clean away dirt, dust, and grime that may have built up. Use caution to make sure the leather cleaner you have is for the type of leather you made your project with.
Leather Conditioner-After cleaning, apply a leather conditioner to keep the leather deeply moisturized. This prevents cracking and will help keep the leather shiny.
Leather Oil-Since leather is skin and needs to be hydrated, applying oil made for leather keeps your creations in "healthy" condition for a long, long time. This also helps keep the leather from cracking, too.
Creasing and Folding Tools
Leathercraft produces beautiful pieces of art, and to make these art pieces even more beautiful, a lot of people like to have a creasing tool to put decorative creases in the edges of the leather. Heavy-duty leatherworking projects might need you to fold the leather, and it's much easier to do this with a metal point.
You can use the creaser or folder to make a firm indent of a line in the leather to act as your guiding line to fold by. Smooth folding processes for thicker pieces of leather will keep them from cracking or stretching too far.
Creaser/Folder-These tools are thin, flat pieces of metal that can either be heated or used on their own to mark a line into leather. You can fold along that line or use it as a decorative crease. You can also fray the edges of leather pieces creatively using these tools.
Creaser/Embosser Machine-These machines allow a heated creaser tool to mark a line into leather for you, for practical or aesthetic reasons. People who make their money from leatherwork often buy these.
Knives and Blades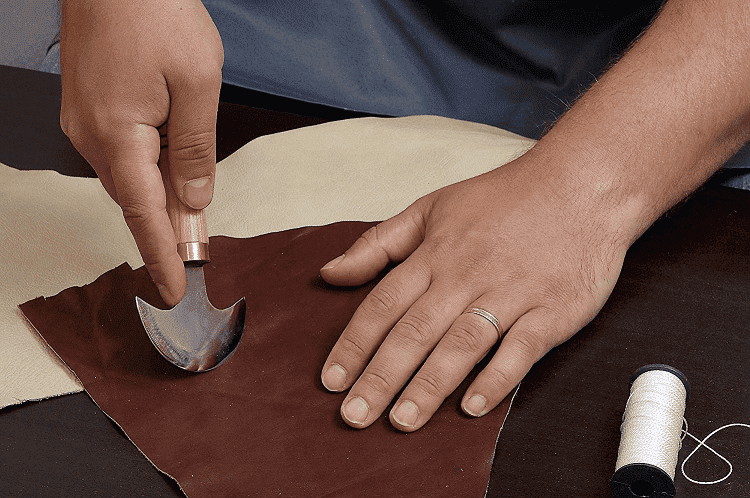 As you may expect, knives and blades are used for cutting leather. You almost always have to cut something in a leathercrafting project, which is why it's essential to have a quality knife in your toolbox. We've talked about this above, but it's very important to have a sharp blade (that you keep sharpened) and a sturdy handle when it comes to knives.
Utility Knife-These knives, which you may be familiar with, are a knife we recommend for beginners. These knives are inexpensive, you can find them everywhere, and most come with replaceable blades.
Round Knife-This knife, which you'll find has a ½ inch circle blade, is useful for detail cutting your thick, rough, and tough leather pieces.
Swivel Knife-The indented finger rest in this knife allows you to easily control where you cut for intricate detail work in leatherworking. You'll find the chisel-edged blade isn't easily controlled at first and requires practice.
Flat Knife-Long and flat with either a flat edge or angled edge, these knives give you careful precision and many years of use with regular sharpening.
Bevel Point-This knife gets its name from its beveled edge, which offers optimal depth-control while cutting. It is good for neatly cutting away edges and tapering.
Curved Lip-Shoemakers will recognize this knife that is often used in shoemaking/repair because its "curved lip" makes it easy to trim the soles of shoes.
Trimming Knife-Think of little details when you think of this knife that can be bought with either a curved or flat blade. Anything to do with the thread or small details would benefit from the use of a trimming knife.
Curved Blade Trim Knife-These knives are very similar to the one listed above, but they're better for fine detail work that involves making lots of rounded edges.
Straight Knife-This knife has a blade pointing straight that is used for precision cutting. These knives are great for deep, clean lines.
Shoemaker's Knife-Another knife used to work on the soles of shoes, this knife can either be curved or straight. Use this for cutting, shaping, scraping, and cleanly trimming soles.
Rand Knife-Yet another knife for cobblers making the soles of shoes, this knife is particularly handy for crafting heels in shoe soles.
Channel Knife-This is another specialty cobbler's knife that is used for cutting the insole of a shoe's sole.
Paring Knife-These small knives, commonly found in the kitchen, can be angled, straight, or rounded. For making leather book bindings, this is the knife you want.
Rotary Cutter-These knives have a blade at the end like a circular saw that can easily slice curved lines into leather.
Safety Gear and Other Tools
It's no surprise when working with so many pointy objects (some of which run on a motor) that there is a level of hazard and risk involved in leatherworking. Instead of letting that deter you, we use these pieces of safety gear and other tools. Preventing accidents before they happen with the proper equipment is always the way to go.
Cut-Resistant Gloves-As the name implies, these gloves will help prevent you from accidentally cutting into your fingers when using awls, knives, and other tools. They are thick and protective.
Strap Cutters-You mount this tool on a table to cut long, even straps of leather. You can make the straps skinny or wide, which is useful for belts, tassels, and more.
Leather Scissors-These scissors will help you cut pieces of leather easily, though they are not as precise as blades.
Leather Working Edgers and Bevelers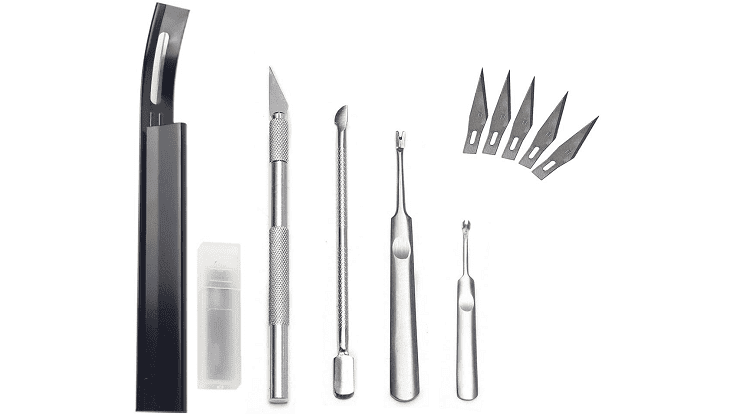 Most leathercrafters prefer most projects to have rounded edges that appear soft instead of harsh and squared-off. Practically, this means your leather creations will be easier to burnish and won't be pointy. Aesthetically, the rounded edges are pleasing to look at. Most of those in the craft view this tool as a necessity.
Leather Bisonnette Edge Beveler-This fancy-sounding beveler has a hole in the top of its metal rod that is sharp on all edges. You can soften the edges of a leather piece from all angles due to its sharp, circular blade.
Leather Push Beader-This tool impresses or depresses a design into the leather that looks like 2 straight lines with a dot in between them.
Leather Common Edge Beveler-This beveler has a prong-shaped blade at the end that is sharpened for edging away from the sharp corners on leather.
Leather French Edge Beveler-These bevelers have a rectangular, sharp scooped edge for skiving and gouging leather.
Leather Wheel Beveler-This beveler is similar to a pizza cutter in that it is a circle-shaped blade attached to a handle. It's used for making decorative markings in leather.
Leather Working Glues and Adhesives
Sticking pieces of leather together is sometimes crucial in the leathercrafting process. Usually, leathercrafters permanently bind pieces of leather together with lacing that is sewed through holes made by an awl.
Before that, it can be helpful to glue pieces of leather together to hold them in place while you work. Consider how the consistency (while wet and dry) of the glue you choose will affect the overall project.
Glue Spreader-For an even spreading of glue across a leather surface that isn't messy or gloopy in any area, we recommend this inexpensive plastic tool. Simply put glue on the side of the applicator for spreading and apply an even layer where you need it.
Glue Pot-These keep your glue for drying up when you need it out for big projects or a lot of little projects. With an airtight lid, glue pots make it easy to keep glue the right consistency.
Leathercraft Cement-This is like glue but specifically made for leather. Leather cement is stronger than glue, but it can be dangerous to breathe in the fumes continuously.
Finishing Tools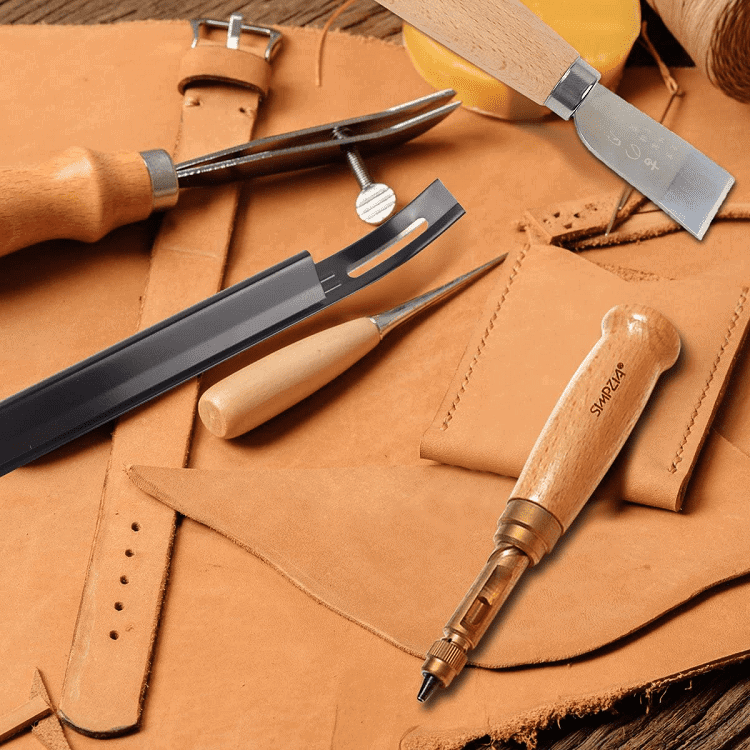 Finishing tools add the finishing touches to your leather projects. These leatherworking tools make your finished pieces more aesthetically pleasing and more resistant to absorbing moisture.
Sandpaper and Sanding Blocks-These inexpensive, easy-to-find finishing tools can create a unique texture on the edges of leather when used to smooth them down. It can be easier to use a sanding block as opposed to sandpaper because they are easier to grip.
Beeswax-This will make leather shiny and help prevent moisture from damaging leather by seeping in past the surface. In place of leather conditioner, you can use beeswax.
Burnishing Gum-This product protects the leather fibers along a cut edge by sealing those fibers and leaving the edge shiny.
Metal Files-These work in the same way as sandpaper because you use them to file down edges and other surfaces of leather to the desired texture.
Leather Working Hardware Fasteners
To connect 2 pieces of leather together, you'll need to fasten them somehow. These leather fasteners can either be removed later in the leatherworking project or left in for decorative purposes.
Rivets and Setters-These work much like pins, because one rounded side has a needlepoint that sticks into the back of another rounded piece.
Snap Setters-These tools help you set fasteners into place and then snap them together with a mallet or hammer. This is important for precision in aligning your fasteners.
Snap Removal Tool-If you place a snap fastener down the wrong way into the leather, this tool will help you get it out with ease so you can redo the fastening.
Grommets and Eyelets-These protect the insides of holes made by awls so that the continuous motion of rope being pulled through them does not wear away the edges.
The Best Leather Working Tools
We've covered the basics when it comes to the different types of leatherworking tools, so now we'd like to give you our favorite recommendations for some of the best. These leatherworking tools will prove to be useful in your leathercraft and have many different applications.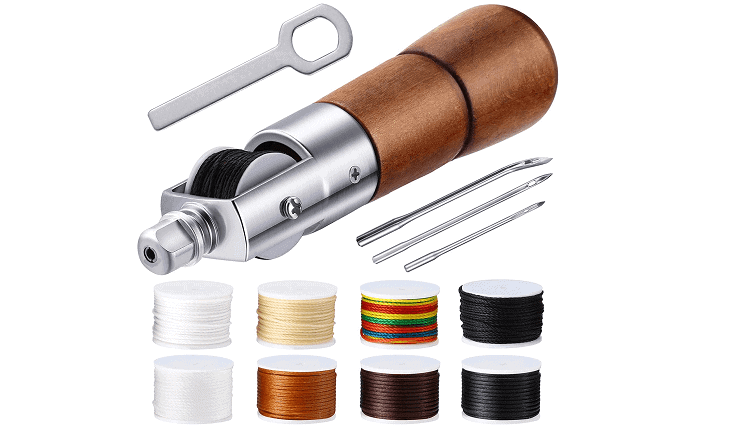 Features
This leather sewing awl kit has 3 needle points for stringing through various thicknesses of thread/poking holes of various thicknesses through the leather. The part under where the needlepoint attaches holds one of the 8 different spools of thread included.
Material: Wood, metal, and thread
Price Range: $23-$33
Warranty: Please contact seller directly
Best Feature: Includes 12 vital pieces
What It's For
This leather sewing kit has all the pieces you need to sew pieces of leather together.
How to Use It
String your thread through the eye of one of the needle points once you have attached it to the handle. Poke holes through the leather with the sharp tip so you can sew as you work.
12 Pieces Leather Sewing Awl Kit | Amazon
12 Pieces leather sewing awl hand stitcher with craft accessories set, hand awl tool, 3 sizes needles and 8 colors replacement spools of thread stitching awl tool kit for leather fabric supplies
Buy at Amazon.com
We earn a commission if you make a purchase, at no additional cost to you.
12/02/2023 12:42 am GMT
Pros
12 pieces
Colorful thread options to choose from
3 different needle tips
Cons
Not ideal for heavy-duty jobs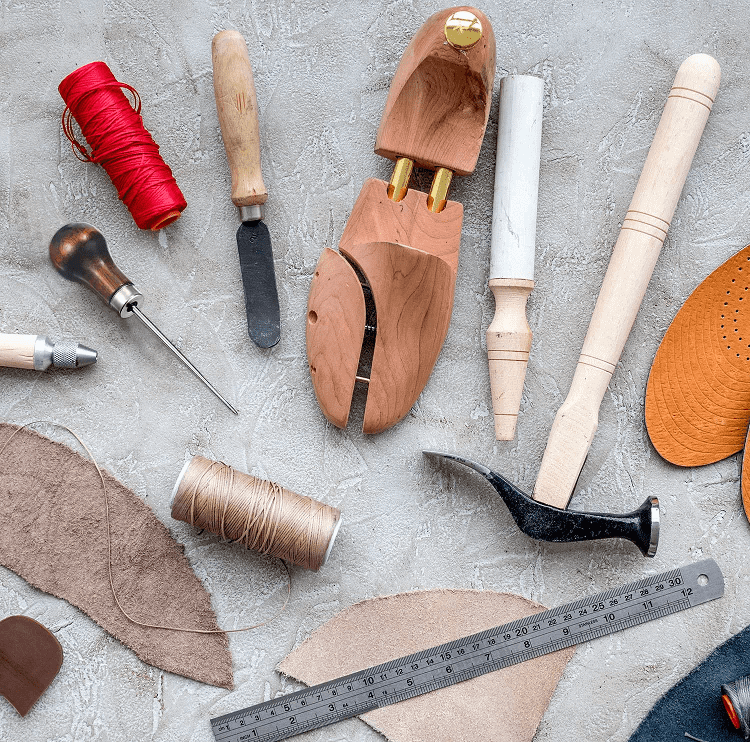 Features
This 4-pack of scratch awls includes 4 identical awls. All the awls have a sharp tip and rounded wooden handles.
Material: Wood and metal
Price Range: $5-$9
Warranty: Please contact seller directly
Best Feature: Easy to use
What It's For
Scratch awls are used for puncturing holes in pieces of leather.
How to Use It
Grip the scratch awl by the wooden handle and use the pointed end to puncture a piece of leather in the desired place.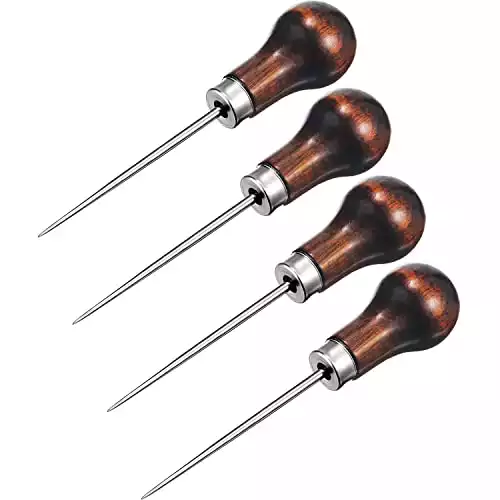 Pros
Easy to use
4 in a pack
Inexpensive
Cons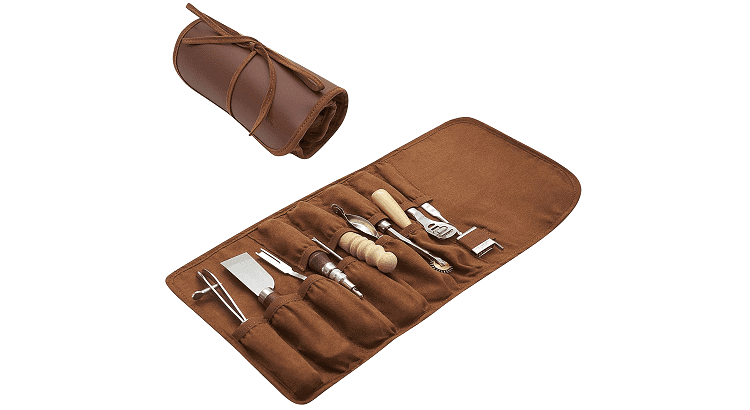 Features
In this 11-piece leatherworking tools kit that comes in a brown roll-out mat, you'll receive a u-shaped leather groover, a skiving knife, a scratch awl, a 4mm overstitch wheel, a stitch marking wheel, a burnisher, a V-shaped leather edge beveler, a French shovel, a stitching groover, an edge creaser, and a leather knife with blades.
Material: Wood, metal, and fabric
Price Range: $25-$35
Warranty: Please contact seller directly
Best Feature: Roll-up carrying case
What It's For
Each tool is dissected in the earlier sections, so please refer back to it if you're unsure how to use something!
How to Use It
Please use the guide above for help with each tool in the kit.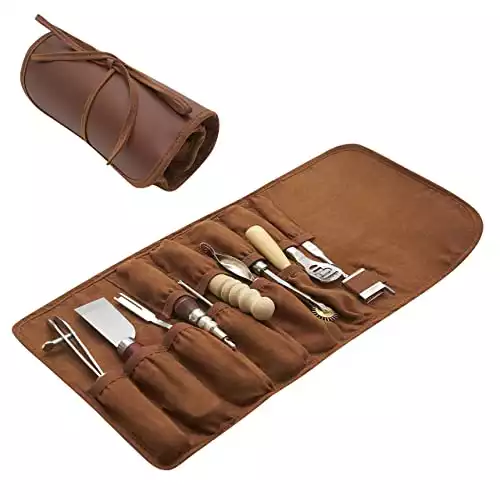 Pros
Roll-up carrying case
Variety of tools
Inexpensive for value
Cons
Only 1 type of leather awl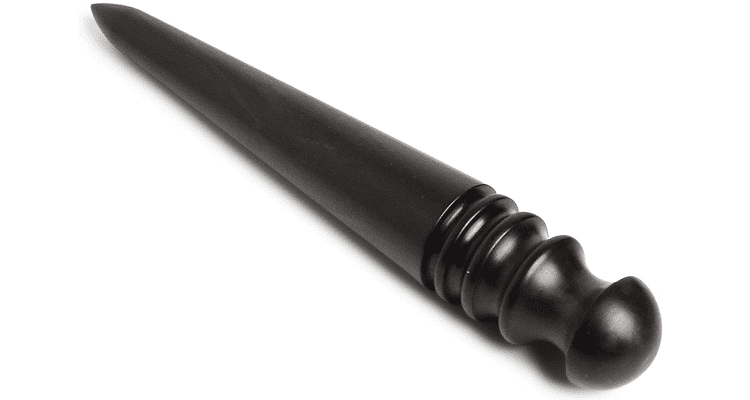 Features
This leather burnishing tool is made entirely of wood and has a beautiful design.
Material: Wood
Price Range: $8-$16
Warranty: Please contact seller directly
Best Feature: Professional design
What It's For
This leather working tool is for fusing the rough, straggling leather fibers on the edges of your leatherwork together.
How to Use It
Use the rounded tip to create heat friction against the edge of the leather you wish to burnish.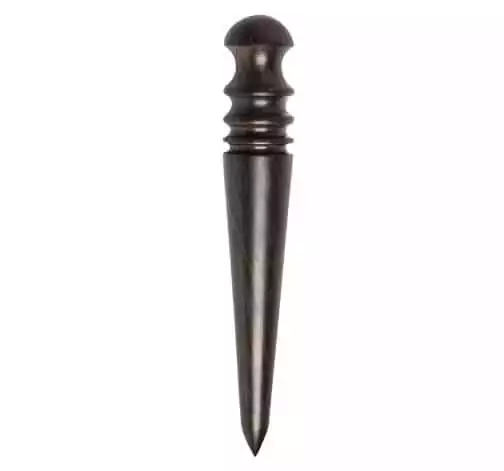 Wood Leather Burnisher Tool | Amazon
All-purpose burnishing tool features 4 grooves that accommodate leather edges of varying thickness, tapering to a point to finish holes and tight corners. Add sleek, professional edge finishes to belts, holsters and saddles.
Buy at Amazon.com
We earn a commission if you make a purchase, at no additional cost to you.
Pros
Easy to use
Beautiful design
Inexpensive
Cons
Gets hot faster than glass, which some people find hard to control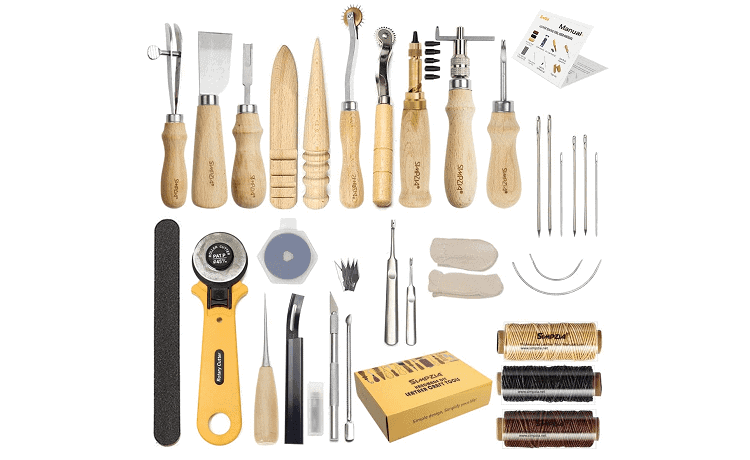 Features
This incredible leatherworking kit comes with a total of 35 pieces. If you're completely new to leatherworking, it includes all the basic pieces you'll need to get started and be prepared.
Material: Wood, metal, plastic, and thread
Price Range: $38-$48
Warranty: Please contact seller directly
Best Feature: All-inclusive kit
What It's For
Every tool in this kit contributes to leathercrafting quality pieces.
How to Use It
In the sections above, we break down how to use each piece in this kit. Please use it for reference if you feel lost!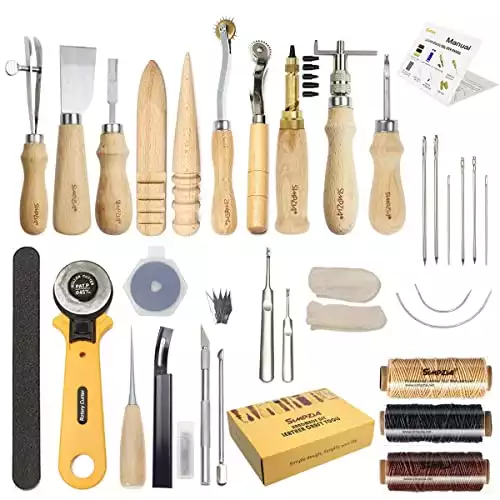 Pros
An incredible number of leatherworking pieces
Quality set
Tools offer variance with multiple needles, colors of thread, etc.
Cons
Pricier compared to other items on the list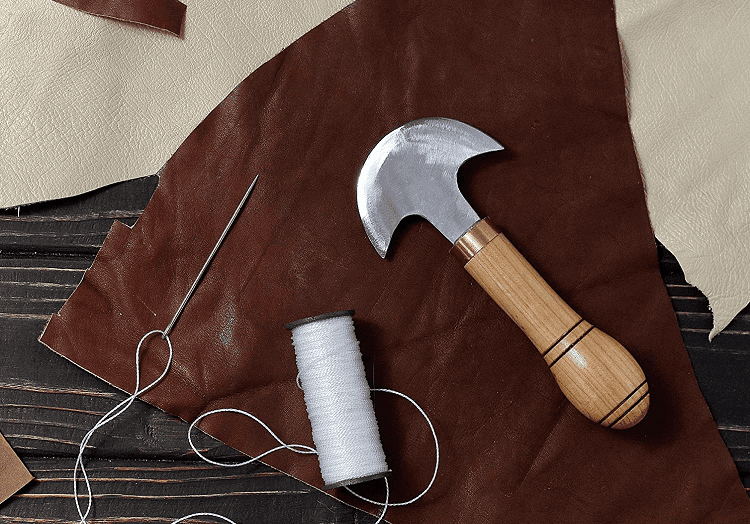 Features
This round knife features a very sharp rounded blade made of carbon steel and a sturdy handle made of oak wood.
Material: Carbon steel and oak wood
Price Range: $23-$33
Warranty: Please contact seller directly
Best Feature: Great quality
What It's For
This high-quality round knife is used for cutting deep, intricate, and often curved lines into thick pieces of leather.
How to Use It
Gripping the handle, use the blade to cut into the leather where you need to make detailed, curved cuts.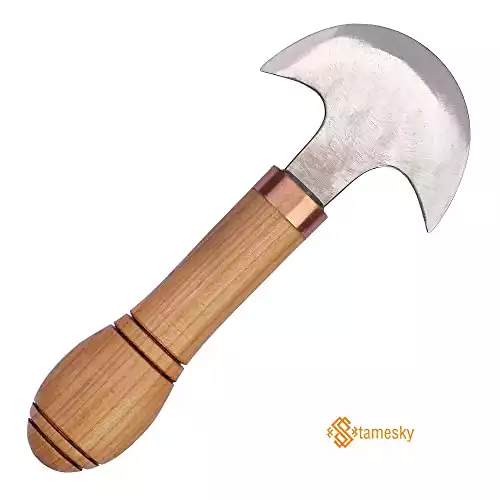 Round Leather Knife | Amazon
Their rounded, double-edged knife is the main tool that you may need for your leather crafts. It can be used for any type of leather cuttings.
Buy at Amazon.com
We earn a commission if you make a purchase, at no additional cost to you.
12/01/2023 05:57 am GMT
Pros
High-quality
Simple to use
Eco-friendly handle
Cons
Heavier than some of the other tools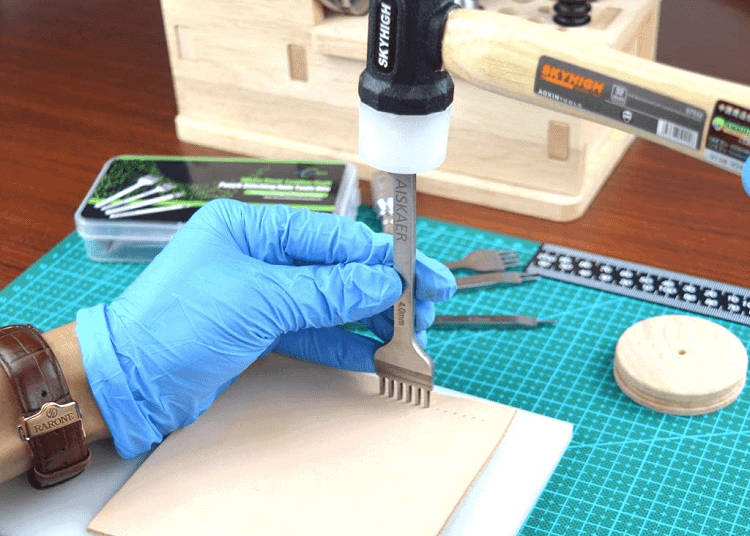 Features
There are 4 white steel, pronged pieces in this set that are all different. 1 piece comes with 1 prong, another 2 prongs, another 4 prongs, and the last 6 prongs.
Material: White steel
Price Range: $5-$15
Warranty: Please contact seller directly
Best Feature: 4 different pieces in a set
What It's For
Use these tools for making pronged holes in your leathercrafting to mark your place. There are easy measurements to follow on the tools.
How to Use It
By gripping the handle, puncture the sharp edges into the leather where you want to mark spaces.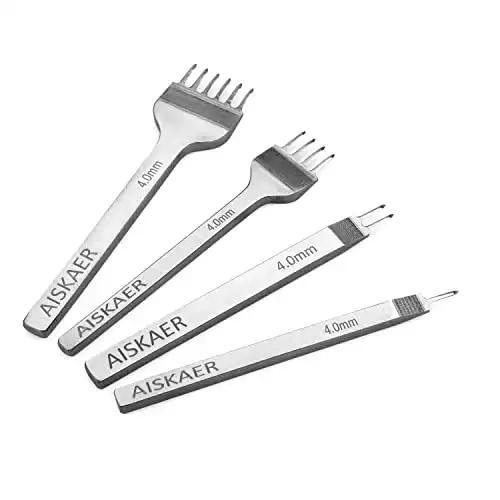 Chisel Stitcher Hole Punch | Amazon
Made of white steel, is a durable and useful leather craft tool.100% white steel material, non-inferior stainless steel. Each product's surfaces are coated with a rust preventive oil before shipping.
Buy at Amazon.com
We earn a commission if you make a purchase, at no additional cost to you.
12/02/2023 03:40 am GMT
Pros
Variety in the set
Easy to use
Durable
Cons
Not everyone likes to mark their pieces of leather in this way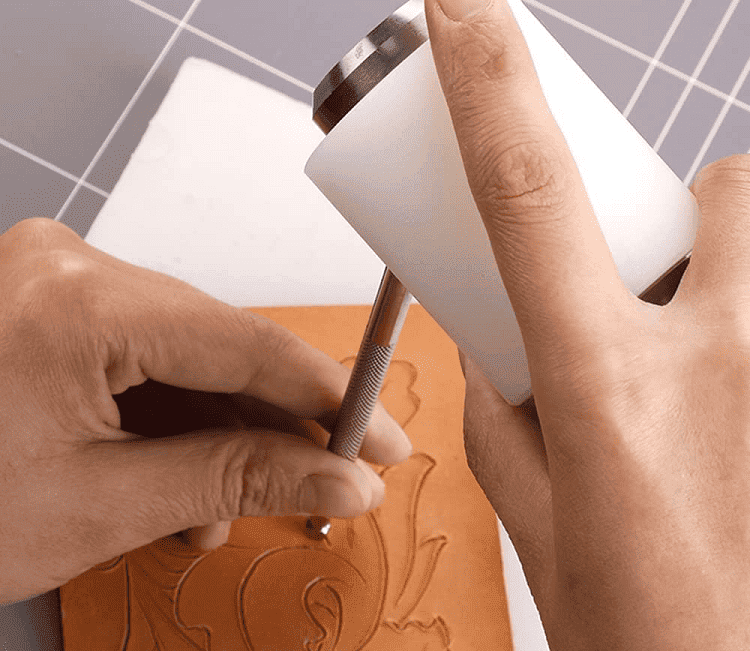 Features
These are 2 hammers with nylon heads for leatherworking. You'll get 1 T hammer and 1 vertical hammer.
Material: Wood, nylon, and stainless steel
Price Range: $15-$25
Warranty: Please contact seller directly
Best Feature: Nylon ideal for hammering in leatherworking
What It's For
This is used for pounding fasteners into place so pieces of leather stay together. These fastenings can be pulled out later or left in.
How to Use It
Use the head of the hammers to hit one end of a fastener into its other end so they can find leather together.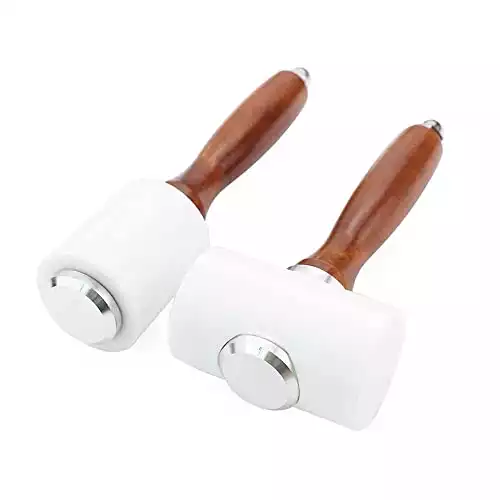 2 Pieces Leather Carving Hammer | Amazon
It is made of sturdy and durable stainless steel construction with a wooden handle. The quality nylon is very comfortable to use. Perfect for DIY leather craft printing or cutting. Suitable for the professions and amateurs.
Buy at Amazon.com
We earn a commission if you make a purchase, at no additional cost to you.
12/01/2023 05:20 am GMT
Pros
2 hammers
Great choice of materials
Easy to use
Cons
Some may not like vertical hammers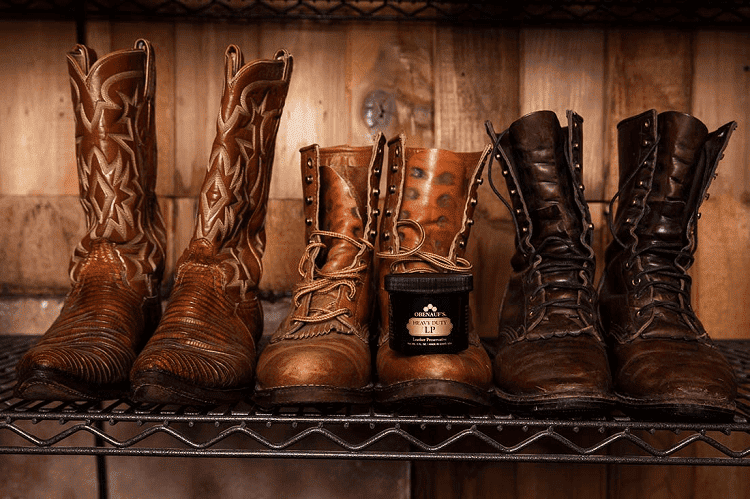 Features
This is a leather conditioning cream that is made from beeswax, which is a natural material that's great for leather. This product can be bought in 4- and 8-ounce containers.
Material: Plastic and beeswax-based conditioning cream
Price Range: $9-$20
Warranty: Please contact seller directly
Best Feature: Beeswax
What It's For
Use leather conditioner to keep leather hydrated, which will keep it from cracking.
How to Use It
After you've used a leather cleaning product on a piece you've created, rub conditioner into the surface of the leather. Allow it to dry on its own.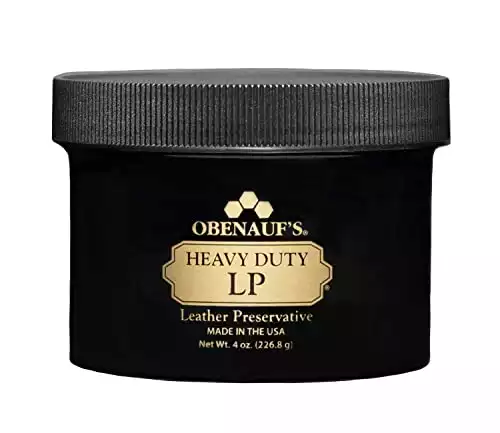 Pros
Simple to use
Affordable
Made from natural beeswax
Cons
Features

This is a bar of sealing wax for leather that is solid and does not come in a container, making it an eco-friendlier choice. The wax is non-toxic.
Material: Non-toxic wax
Price Range: $4-$12
Warranty: Please contact seller directly
Best Feature: Eco-friendly
What It's For
You use this wax to seal the edges of leather, making them smoother.
How to Use It
Rub the surface of this bar of wax against the surface of the leather's edge that you want to smooth over.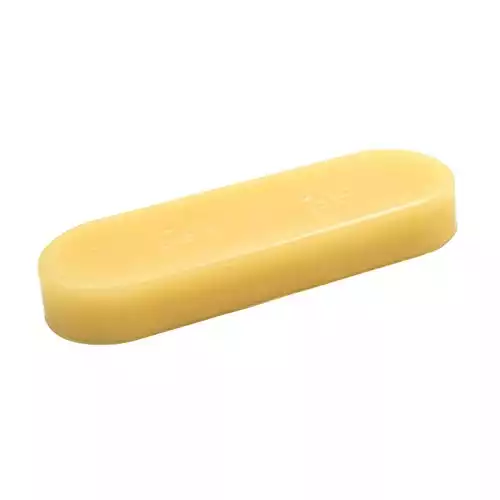 Pros
Eco-friendly and nontoxic
Inexpensive
Easy to use
Cons
The nontoxic wax used is not specified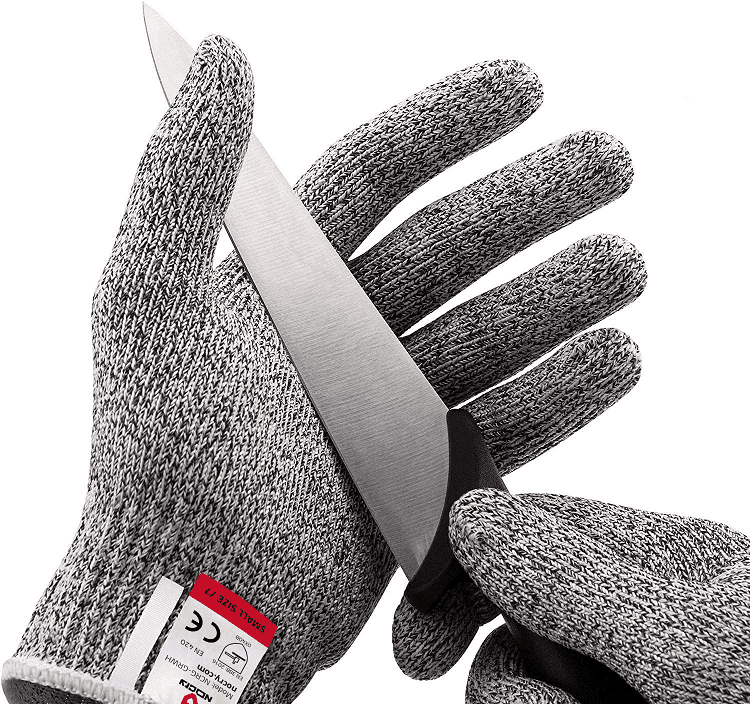 Features
This pair of gloves, which can be bought in multiple sizes and colors, is made from a mix of strong materials. They have one of the best cut-resistant ratings for their material you can buy.
Material: Polyethylene, spandex, and fiberglass
Price Range: $8-$15
Warranty: Please contact seller directly
Best Feature: Strong mix of materials
What It's For
You wear these gloves that are 4X stronger than leather while you are leatherworking. The strong materials prevent you from being cut by leatherworking tools.
How to Use It
Securely slip both gloves onto both hands.
NoCry Cut Resistant Gloves | Amazon
The NoCry cut resistant gloves let you handle all your knives - the giant one, the normal one you use for everything, the super tiny one and the one with the weird holes in the middle - confidently. Without injuring yourself.
Buy at Amazon.com
We earn a commission if you make a purchase, at no additional cost to you.
12/01/2023 06:38 am GMT
Pros
Highly cut resistant
Customizable options
Affordable
Cons
It can be harder to move your fingers in gloves
FAQ
Question: What Do You Need to Work with Leather?
Answer: There are a variety of tools including awls, burnishers, knives, bevelers, and more that you'll need for leatherworking. We describe all the basic leatherworking tools above, but you won't need them all when you're starting out.
Question: Where Can I Find Leather Working Tools?
Answer: You can find leather working tools online and in hardware stores. It's easier to compare prices online than in-store.
Question: What is a Leather Groover?
Answer: A leather groover is a sharp leather working tool that makes grooves instead of cuts into pieces of leather.
Wrapping Up the Project
It's time to wrap up this project discussing the basics of leatherworking tools and the best leatherworking tools you can buy online. Although, you really can't go wrong with the Leather Working Tools and Supplies-11 Piece Set of Professional Leather Tools Kit because it's an all-in-one set.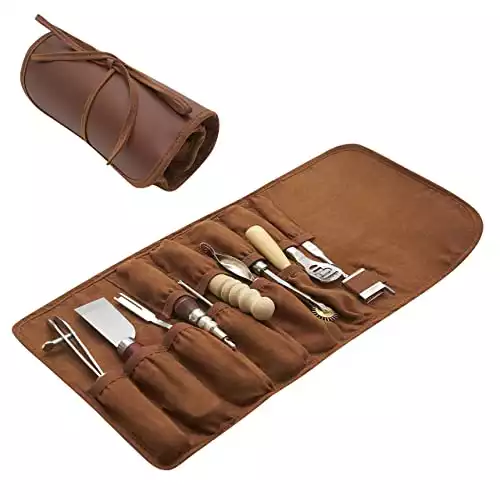 If you have any more questions about leatherworking tools or input from your experience, please leave us a comment in the section below! For more leatherworking guidance, check out our guide on how to darken leather!