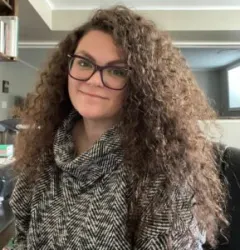 Latest posts by Candace Osmond
(see all)
Have you gotten into the hobby of sewing leather by hand? Do you want to? We're here to discuss how to find the best leather awl available for the project you want to do. We're going to run through different leather awl types and what they do and talk about what to look out for in a quality leather awl.
Then, we'll discuss our top 6 favorites that make the leather awl based on quality, ease of use, and performance. We're fascinated by this handy tool for your sewing kit, and we're sure you will be, too.
Best Leather Awls at a Glance
Okay, we want you to look over our favorites before we dive into anything else. These are our top 6 choices for the best leather awls with the reasons listed for what makes them best. Whether you're a beginner or starting a heavy-duty project, there's a leather awl for everyone!
Best Overall: 12 Pieces Leather Sewing Awl Kit Hand Stitcher with Craft Accessories Set
Best for Heavy Use: 5 Pieces Sewing Awl Kit
Best for Beginners: Cosmos Pack of 2 Gourd Shape Leather Craft Tool
Best for Small Projects: Tandy Leather Craftool Scratch Awl 3217-00
Best Bargain: General Tools 818 Hardwood Handle Scratch Awl, Steel
Best Set: Tec Unite 4 Pack Wooden Handle Gourd Shape Scratch Awl Tool
What is a Leather Awl?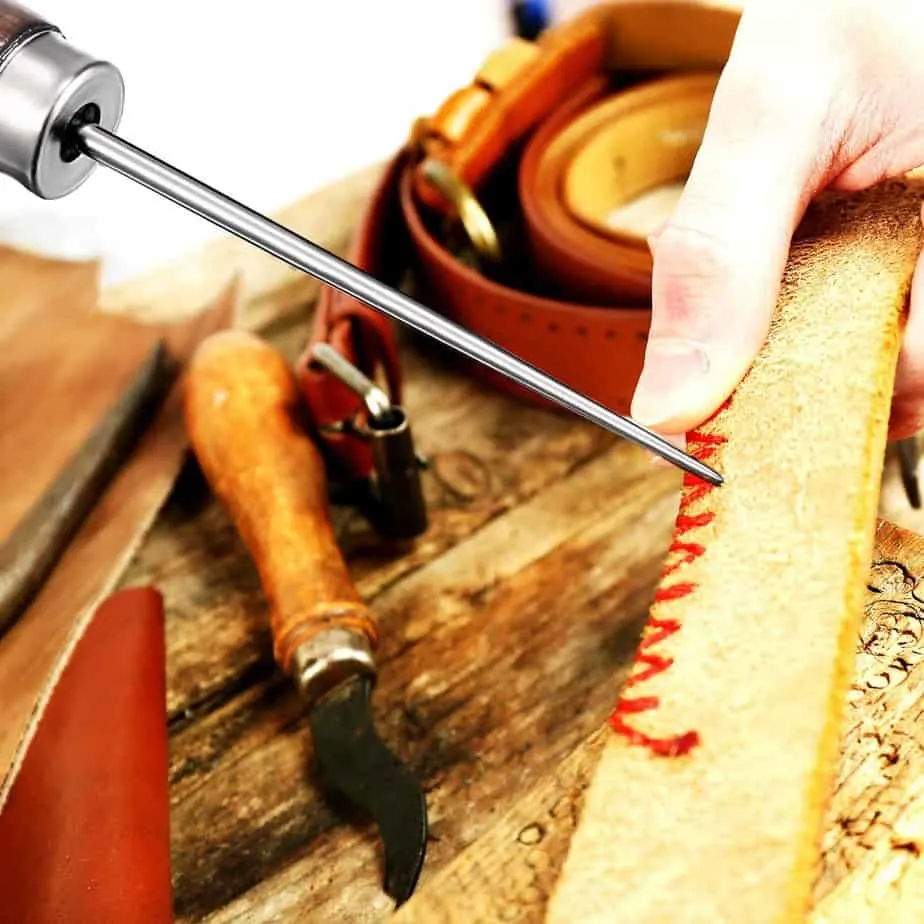 A leather awl is a sharp and relatively small tool that people use to puncture leather. Leather awls are used to punch holes in leather so that you can go back through the holes with thread later on for sewing. It has a pointy needle with a handle at the base so you can grip it without trying to hold onto a thin piece of metal. There are many different kinds of leather awls, and some can even have a thread for you as you make holes in leather, so we'll go over all these different types below.
How Does a Leather Awl Work?
Leather awls work very simply. The metal needle is sharp enough and thick enough to make holes through tough leather.
Leather is a notoriously difficult material to work with when you want to sew it, but this tool makes sewing leather by hand much easier than it had been before its invention.
All that needs to happen for a leather awl to work is for it to puncture leather or make a mark on the surface of leather if you are using it for measuring.
Types of Leather Awls
Not all leather awls are the same, but we don't want you to get overwhelmed by your choices if you're new to this.
That's why we're going to break down 7 different styles of leather awls so that you can make an informed choice. After all, one kind is probably best suited to the particular project you have in mind.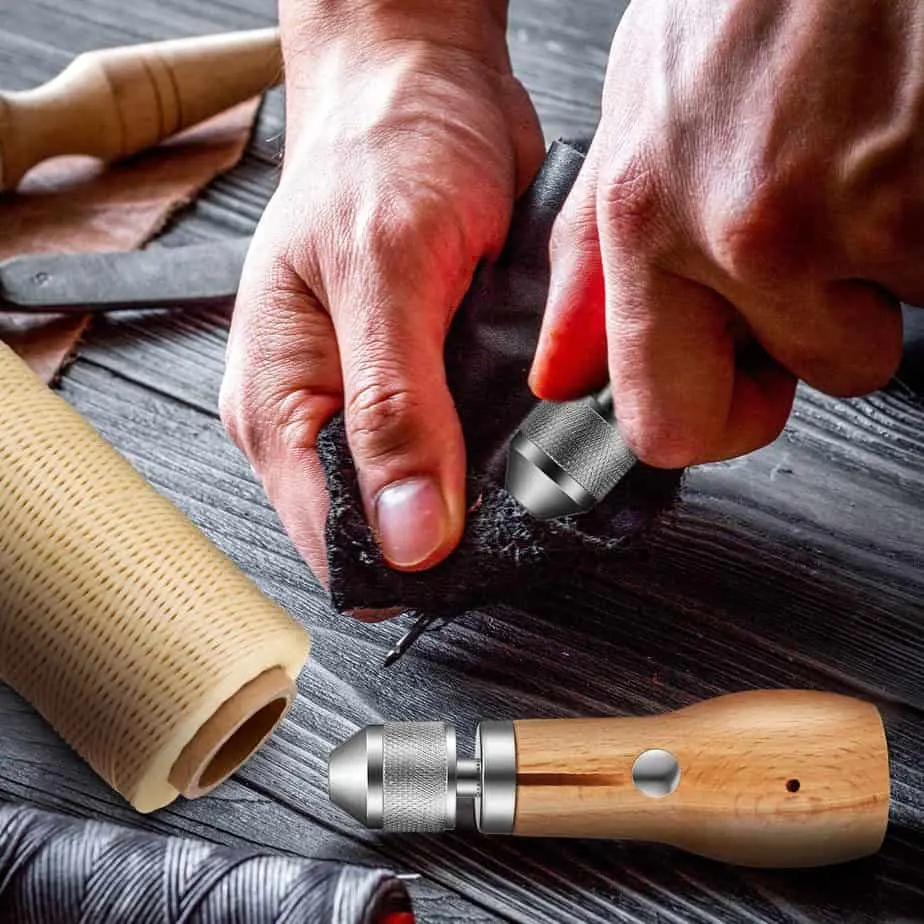 Scratch Awl
What it is: An awl that is used for measuring
What it does: Marks increments you want to measure with the pointy end of the needle
The Diamond Awl
What it is: An awl with a diamond tip instead of a regular point
What it does: Punctures holes in leather with the diamond point
Curved Awls
What it is: An awl with a curved needle-like a hook
What it does: Detail work, undoing stitches, and molding edges
Saddlers Harness Awl
What it is: A thick awl without a traditional handle
What it does: Punctures holes into leather
Leather Stitching/Speed Stitcher/Sewing Awl
What it is: An awl you feed the thread through to sew with
What it does: Allows you to puncture holes in leather and sew at the same time
Lacing Awl
What it is: An awl with a slightly curved point
What it does: Let's you make holes in fabric bigger as you work on lacing projects
Collar Awl
What it is: A very sharp awl with a hole at the end to feed the thread through
What it does: Punctures very tough leather and allows you to sew
Can You Use a Leather Awl for Other Textiles?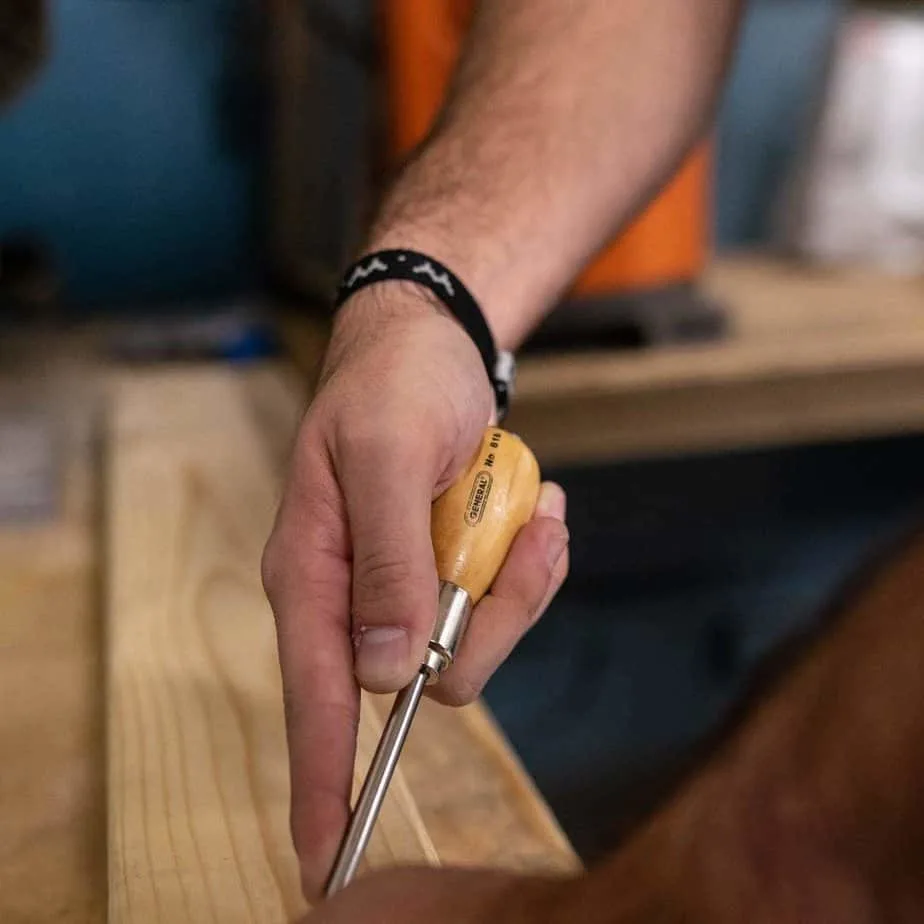 Yes, you can use a leather awl for other textiles! Heavy fabrics usually need to be punctured with something sharp and sturdy like a leather awl, too. Any kind of textile that's around the toughness of leather and would break a normal sewing needle should be either punctured or sewed with a leather awl. This will prevent injury to you and your supplies.
How to Use a Leather Awl
Using a leather awl is very simple, and we're happy to walk you through the easy steps! By following this quick guide, you'll be an expert.
For puncturing holes in leather
Mark where you want the holes in the leather to be
Grip the leather awl by the handle and place the needle tip against one of the marked spots.
Pierce the leather according to the measurements.
For marking leather
Grab a ruler and place it against the leather.
Every place where you want to mark an increment, press down with the leather awl to create an indent.
Do this until you've marked all the places you need.
What to Look for in a Leather Awl
We'd like to take a moment here and discuss what important features to look for in a leather awl. In addition to making sure you're purchasing the right type, some leather awls can be weeded out after taking a closer look at their quality. Not all leather awls are the same, but they should all meet these qualifications before you click "purchase."
The Right Type
Of course, the first thing you'll want to do is make sure you're buying the right type of leather awl for your project. Are you trying to sew with a leather awl? Choose a modern leather stitching awl. If you're trying to make diamond-shaped puncture holes, a diamond awl would be the best choice.
Good Handle
The handle of your leather awl should be firmly attached to the needle with no wiggling. If it feels like the needle could wriggle its way lose of the handle, it's not a safe product to use. Also, make sure the handle feels natural in your hand, and you aren't straining to hold it.
Good Grip
The material of the handle will determine if it is good for gripping or not. You'll find that many leather awls come with a wooden handle, and this is actually a wonderful material to use. On the other hand, plastic handles can be bad because they're more prone to slip out of your grip. The last thing you want is to fumble your leather awl and have this pointy tool go flying.
Blade
The blade, or needle, of a leather sewing awl, should usually be pretty sharp. Lacing awls aren't always very sharp because they're only used to widen holes that are already there, but the majority should be quite pointy. Consider what you need the blade for to determine what kind of leather awl you'll need.
Are you trying to sew with an awl? Pick a stitching/sewing awl or a collar awl.
Are you trying to mark increments in leather? Choose a scratch awl.
Are you trying to undo mistakes in your stitching? Get a curved awl just in case.
Price Range
Leather awls are not a very pricy tool. While their prices vary a lot depending on which type of leather awl you're getting, whether it comes in a set, etc., you usually won't be breaking the bank on a leather awl.
We've found that quality leather awls often go for between $4-$10 for a scratch awl and a little over $20 for a stitching awl set. If you're buying a pack with multiple leather awls of the same kind, this will affect the price, too.
Warranty
There usually isn't a lot of information about warranties on leather awls in product description boxes. This is just the nature of products that don't cost very much money; however, all hope is not lost. If you email a company directly, you can ask them about their warranties for specific products in case something goes wrong with yours.
Ease of Use
Leather awls are supposed to make life easier, not harder! That should be what it does, anyway. We look for leather awls that have a simplistic but very effective design. They should function extremely easily without you having to do very much. Your leather awl should be easy to grip and easy to puncture with. If it has sewing features, it should be simple to wrap the thread around the parts you're supposed to wrap.
The Best Leather Awls
It's the moment of truth-these are the 6 best leather awls we've been excited to talk about! After a near-endless search through many leather awls available right now, these are the 6 we like the most for a variety of categories. We go over several different types of leather awls, so if you're looking for a particular style, stick around!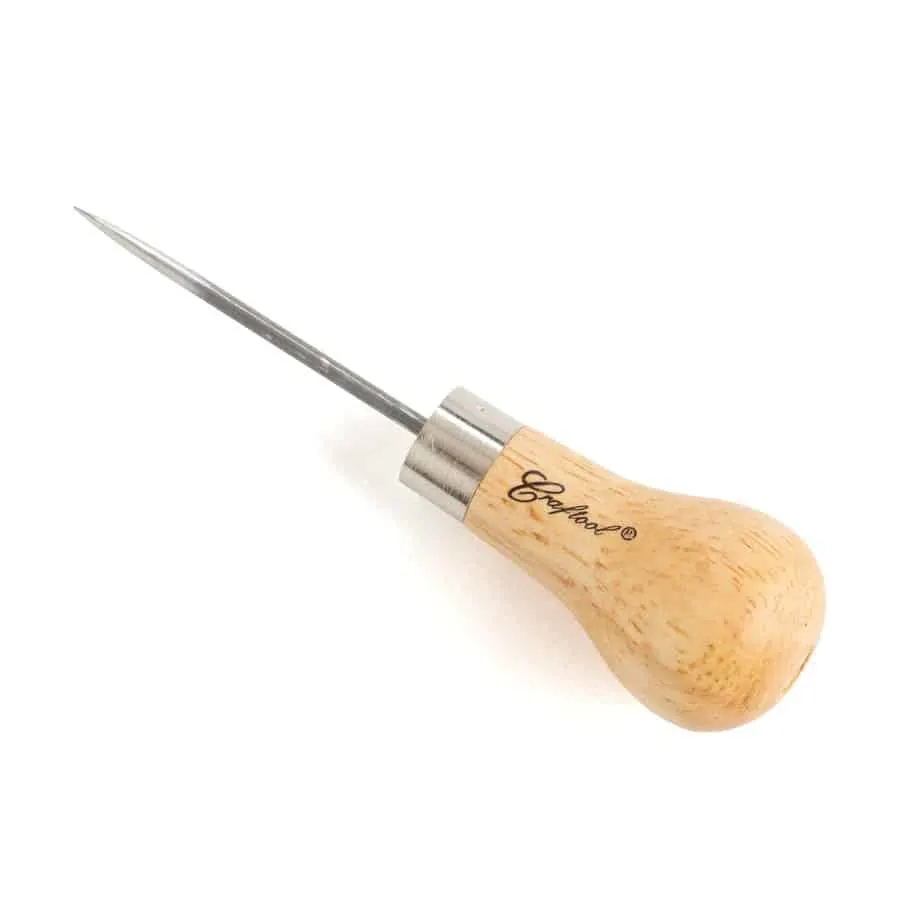 Best for: Small Projects
This is a super inexpensive scratch awl that is great for marking down measurements on leather. If you're working on a small project and need a simple tool to get your dimensions exactly right, this is the handy piece of equipment you need.
You'll see that it's very simple to use is a wooden handle with a blade. Simply press the blade into the surface of the leather to mark areas you need to be precise.
Material: Wood and metal
Price Range: $3-$7
Warranty: Not available
Best Feature: Blade is great for marking leather
Care
Make sure to wipe off the blade in between uses. Use a paper towel or microfiber cloth to do this.
Pros
Inexpensive
Perfect for marking down measurements
Great for small projects
Cons
Not the ideal type of awl for puncturing the leather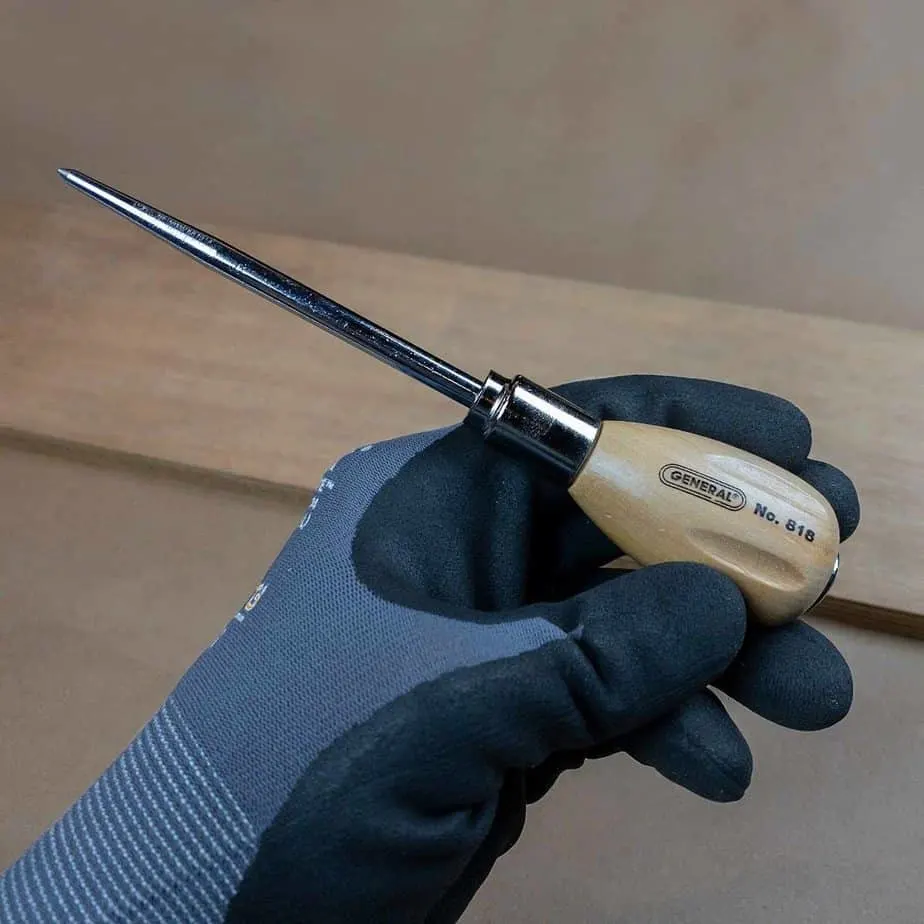 Best for: Bargain
If you're looking for a scratch awl on a budget, this is the leather awl for you. The wooden handle is shaped in a way that is easy to grip. The blade is perfect for marking the surface of leather when you need to take down measurements.
Material: Wood and metal
Price Range: $3-$7
Warranty: Please contact the seller directly
Best Feature: Easy-to-grip handle
How to Use
To use this scratch awl, all you have to do is use the needle-like blade to mark the surface of the leather. This will help you keep track of measurements.
Pros
Inexpensive
Perfect for beginners
Perfect for marking down measurements
Cons
Not the best tool for puncturing the leather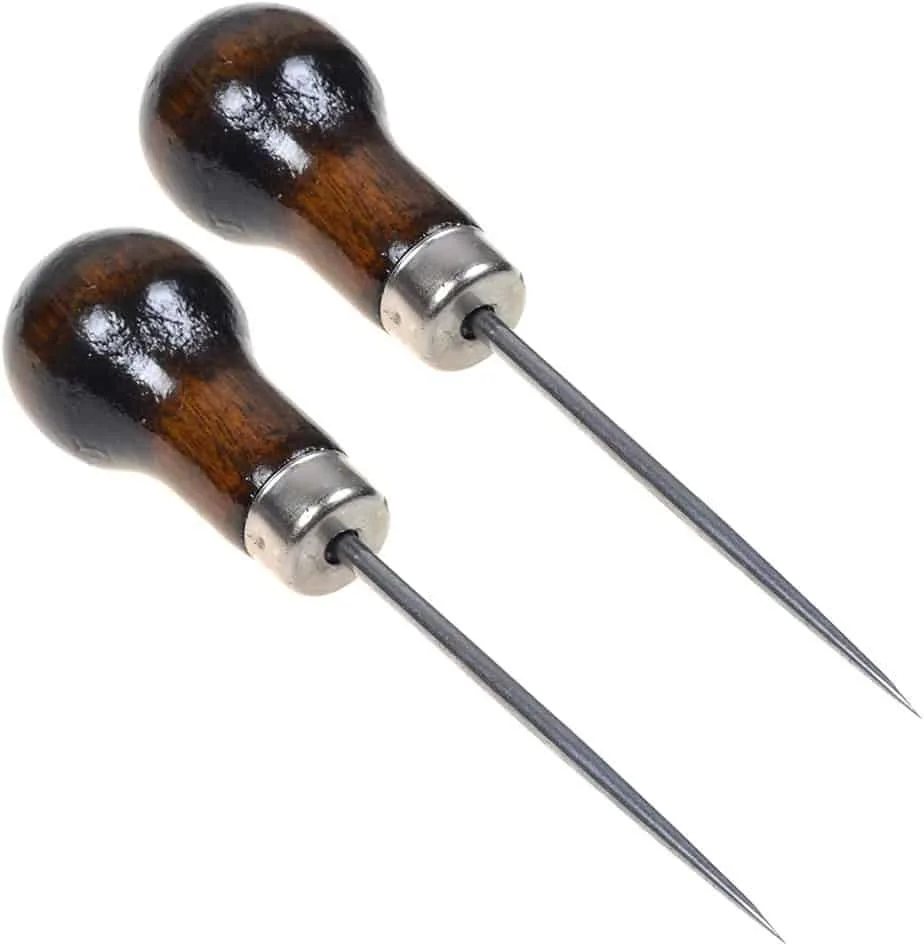 Best for: Beginners
This is a set of 2 scratch awls! What we like so much about this set is it gives you 2 scratch awls for the price of 1. Both leather awls look identical and are made for marking the surface of leather. The dark wood handles have a nice aesthetic appeal.
Material: Wood and metal
Price Range: $3-$7
Warranty: Please contact the seller directly
Best Feature: 2 for the price of 1
How to Measure when Using a Scratch Awl
We recommend using measuring tape over a ruler when you're trying to measure the increments you'll need to mark down with your scratch awl. Measuring tape is flexible and easier to work with.
Pros
Set of 2
Perfect for marking the surface of leather
Easy to use
Cons
Both are scratch awls, no other kinds included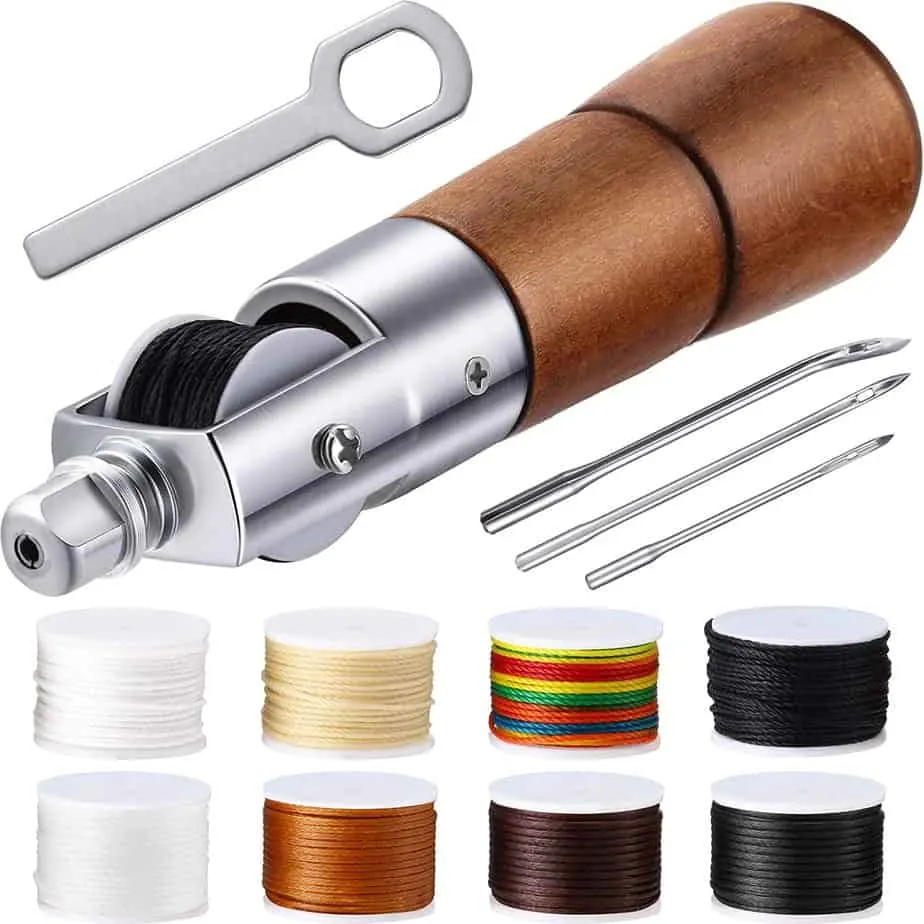 Best for: Overall
You'll be able to sew leather pieces together with this sewing awl kit! We're big fans of the way this set comes with 8 different colors of thread to get you started. You can use this leather awl for puncturing holes in leather and sewing leather together all at the same time.
Material: Wood, metal, and thread
Price Range: $23-$33
Warranty: Please contact the seller directly
Best Feature: Ability to sew
How to Use
You'll need to place a spool of thread behind the blade when you're ready to sew. Then, you can choose which blade (there are 3 choices) you want for the particular project you're working on. By feeding the thread through this awl, you'll be sewing in no time.
Pros
Set with many accessories
Perfect for sewing
Great quality
Cons
Being a set, it is a more expensive choice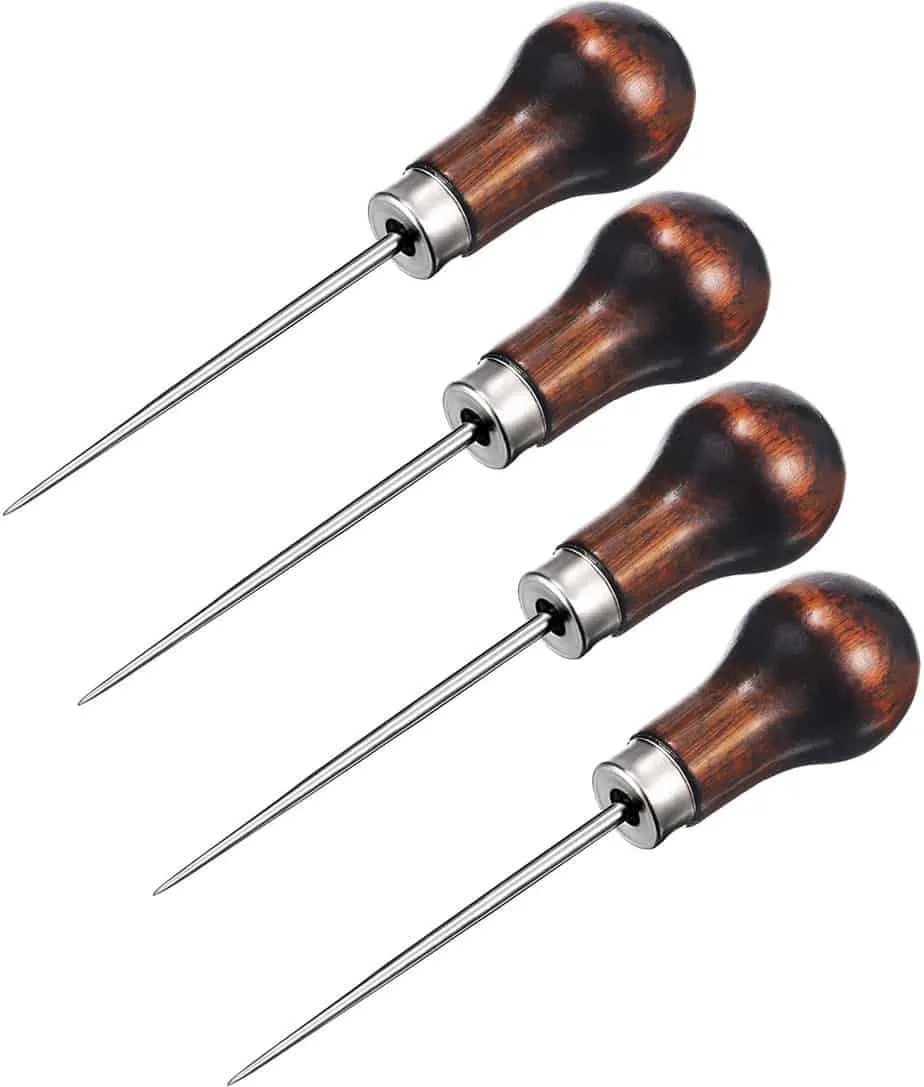 Best for: Set
You won't have to worry about a scratch awl replacement for a long time when you buy this set because you'll have 4 scratch awls on hand. All 4 leather awls look and function identically. They are very easy to use.
Material: Wood and metal
Price Range: $5-$9
Warranty: Please contact the seller directly
Best Feature: Pack of 4
Care
If you want to keep all 4 in great condition for a long time, buy a sharpener for your leather awls. The blades wear down with use, but you won't have to buy replacements if you keep the blade's tip sharp.
Pros
4 scratch awls
Pretty dark wood handles
Great value
Cons
All leather awls in the set are only scratch awls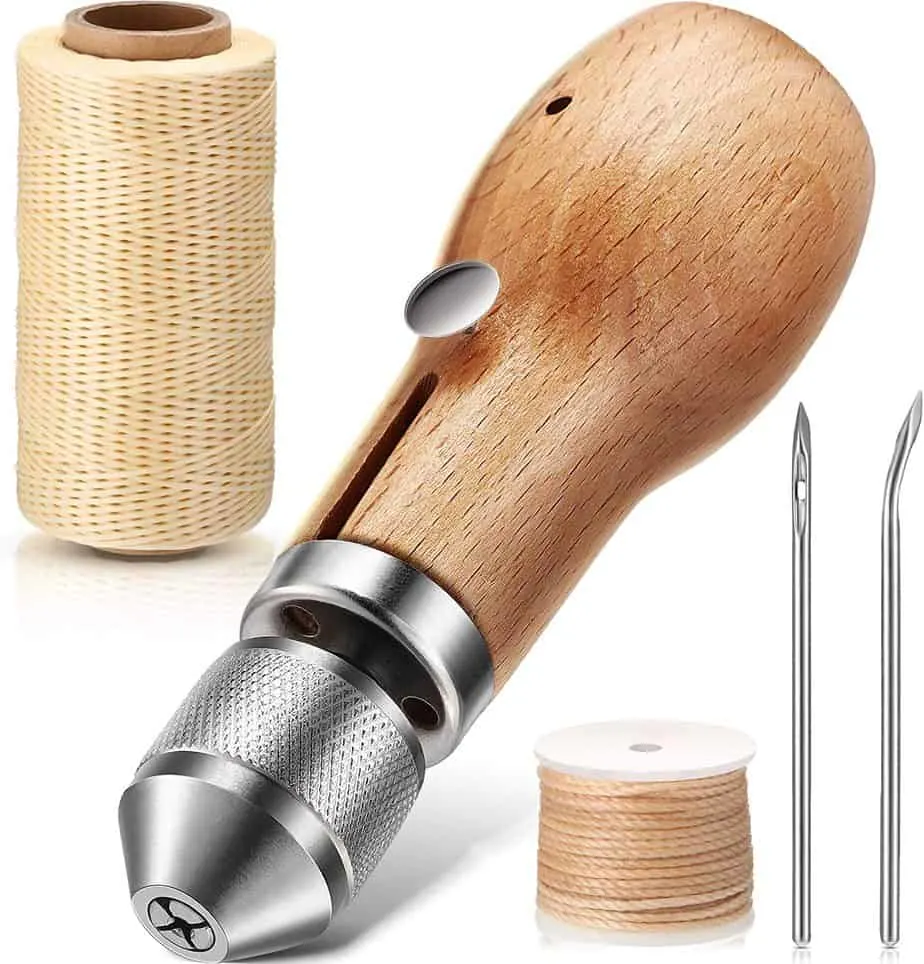 Best for: Heavy Use
This is another great choice if you want to do some sewing. If you know you will often use a leather awl, this is the one we'd like to recommend. Not only is it high quality, but it also provides useful items in the set like a straight needle, a bent needle, a spool of thread, and more.
Material: Metal and wood
Price Range: $18-$22
Warranty: Please contact the seller directly
Best Feature: Useful pieces in the set for heavy-duty sewing
Care
Make sure to store your sewing awl somewhere where you won't lose all the little pieces it comes with. Store your leather awl and its parts in a special box or compartment you use for sewing.
Pros
Spool of thread
Makes sewing leather easy
2 needles
Cons
Pricier, being a sewing set
FAQ
Next, we'll answer your most frequently asked questions about leather awls! Have a question we didn't get to? Leave us a comment below so we can get back to you with an answer!
Question: What are Leather Awls Used for?
Answer: Leather awls can have many uses, but they are primarily used to mark the surface of leather and puncture leather. Some leather awls can be used for sewing, too.
Question: Are Leather Awls Safe?
Answer: Leather awls are safe as long as you take proper precautions while handling them. Treat a leather awl-like you would anything sharp and hazardous, like a knife.
Question: Do Leather Awls Work?
Answer: Leather awls are very effective at puncturing, marking, and sewing leather. People who enjoy sewing leather by hand swear by them.
Final Words
We've learned so much about leather awls today! We went over the different varieties of leather awls and discussed what to look for in a quality awl. We also gave you insight into our top 6 picks for the best leather awls.
If you ask me, I'd go with the 12 Pieces Leather Sewing Awl Kit Hand Stitcher with Craft Accessories Set because it's the best overall, and you get a whole set of tools!
Do you have any questions or comments about leather awls you'd like to add? Leave us a comment! For even more helpful leather sewing tips, check out our guide to making a leather key fab!