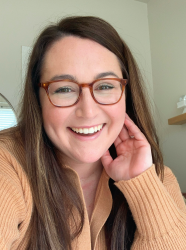 Latest posts by Zan Farrow
(see all)
There's something so special about well-aged leather. We love the story that it tells, and while it's nice to watch your leather darken with age, we can also take the process into our own hands and darken the leather at home.
A clean and light-colored piece of leather is a great tell-tale sign of something new. Like a fresh pair of shoes right out of the box or hopping into a brand new car, the smell of new leather elevates any moment.
What we don't realize is that most leather is darkened before we come into contact with it. That new pair of shoes or car interior has already been processed to meet a specific colorway. We can achieve this same effect by following one of the DIY darkening options below.
The best part about working with leather is you get to take over the process and choose a darkening method that feels best for you and your project. Take a look at the multiple options below; there's something for every type of leatherworker.
Oils
Oil is a leather worker's favorite; rubbing layers of oil into your leather will help you reach the ideal color. Natural oils exist everywhere, and if you were to leave the leather its original color and carry it around everywhere you went, it would begin to darken over time just from the oil on your hands.
Mink Oil
You can use various oils on your leather, but traditionally, mink oil has been a go-to. It has been a top ingredient in leather care creams for years and for a good reason. The mink oil comes from a fatty layer beneath a mink's skin and does a great job at conditioning the leather while darkening its appearance.
Pros
Initially softens and darkens the appearance of leather.
Cons
May stiffen leather over time.
Sof Sole Mink Oil for Conditioning and Waterproofing Leather | Amazon
Mink oil for Waterproofing, conditioning, and preserving leather goods. Ideal for leather boots, shoes, purses, jackets, hats, baseball gloves, saddles and harnesses. The oil creates a WaterProof barrier against the elements and helps to protect leather by preventing Water, salt, and perspiration stains.
Buy at Amazon.com
We earn a commission if you make a purchase, at no additional cost to you.
08/11/2022 07:33 pm GMT
Alternative/Natural Oils
If you're looking for an alternative oil option, consider either olive or coconut oil. These two may take a bit more time to build up to your ideal shade but contain fewer chemicals or strong scents if that's something you're concerned about. Be sure and apply a thin layer to allow for dry time in between coats. This will give you more control over the final color as the leather absorbs each layer of oil.
There are several natural and non-toxic oils you can buy to care for your leather. If you're into the natural option and don't have coconut or olive oil on hand, go ahead and try Otter Wax Leather Oil.
Pros
These are household staples you likely have on hand or can easily find online.
Cons
Neither coconut nor olive oil provides protection for the leather. Many premade natural oils do have the protective properties olive and coconut oil do not.
Otter Wax Leather Oil | Amazon
Looking for a way of restoring those gorgeous vintage leather shoes you fell in love with many years ago? Would you like to make sure your leather couch preserves its beautiful natural shine throughout the years? The Otter Wax leather restorer is exactly what you need!
Check Price
We earn a commission if you make a purchase, at no additional cost to you.
08/11/2022 03:32 pm GMT
Stain
Have you ever wondered how they get cowboy boots to be bright red or turquoise? This is achieved through staining the leather. The perk to going with a stain is you can more easily determine exactly what color your leather will look like beforehand. Whether you're into bright pops of color or a more natural tan, there's an option for you!
Pros
There's a wide variety of color options to choose from.
Cons
Stains are a superficial treatment and can fade because they don't penetrate deep into the leather.
Dye
When it comes to leather darkening, stain and dye are two different things. A stain is made up of mostly pigment while a dye has either a water, oil or alcohol base. With these options comes a varying level of pigmentation. Before choosing a dye, consider what level of pigmentation you're looking for.
Pros
Water and alcohol-based dyes are a very affordable option.
Cons
Less pigment than a stain and requires more coats to achieve a similar effect.
Alternative Dyes
There are a significant number of at-home or natural dye options for leather. Think plants, flowers, berries, and other natural materials that stain! While wine comes to mind, it can actually be easily removed from leather, therefore not making it the best stain option. A few popular natural dyes are indigo, brewed coffee and cacao. If you're not the DIY type, check out Clyde's™ Leather Recoloring Balm.
Pros
Affordable and readily available.
Cons
Not as strong of pigment and can require a bit of DIY.
Looking to create an aged effect on your leather? We have a guide here on What Is A Leather Patina And How Is It Made?
If you want more ideas on how to age your leather here are our ideas on 3 Ways To Age Leather.
Polish
Remember seeing shoe shine stations at public transportation spots? When was the last time you saw one of these? They're still around; just not as common anymore! This is the perfect example of polish at work! Remember seeing shoes right after they've been shined? Not only are you getting the glossy look, but you come out with a deeper and even leather color.
Pros
Provide a glossy finish when applied.
Cons
It doesn't provide a significant darkening if that's what you're looking for.
Conditioner
While conditioning your leather is an excellent practice in caring for all leather goods, it's also helpful in giving your leather a well-loved look. Whether you choose to use a leather conditioner on top of an oil or stain or simply on its own, know that the conditioner will prolong the life of your leather goods. Just like hair or skin, leather can dry out and be left looking lighter and dull. Incorporating conditioning into your leather care routine will keep things looking richer.Leather Honey Leather Conditioner, Best Leather Conditioner Since 1968.
Pros
Cleans the leather while providing moisture and protection.
Cons
Does not provide a significant stain and is best used in conjunction with an alternate darkening option if desired.
Leather Honey Leather Conditioner | Amazon
 Leather Honey penetrates deep to protect new leather and rejuvenate dry leather and old leather. This non-toxic leather conditioner has no silicone, solvents or animal products. Not sticky and completely odorless. Protect leather all year long from snow & rain with our water-repellent formula!
Buy at Amazon.com
We earn a commission if you make a purchase, at no additional cost to you.
08/11/2022 12:22 pm GMT
FAQs
Question: Can I use Household Oils Such as Olive or Coconut Oil to Stain my Leather?
Answer: Yes, these oils work well in altering the shade of your leather. Keep in mind that these more natural options do not have the same leather-care qualities that a mink oil or conditioner would have. To prolong the life of your leather, consider using a natural darkener along with a stain. There are plenty of natural options out there if you prefer!
Question: How Can I Test a Stain, Dye or Oil Before Applying?
Answer: If you have a scrap piece of your leather or hidden area of the item you wouldn't mind color testing on, give it a go! It's better to do a small area first to make sure you're happy with the result before covering your entire item.
Question: When Should I be Darkening my Leather Goods?
Answer: If you're working with dye and a new piece of leather, you have more control over the end result. Virgin leather is more porous therefore more susceptible to a change in color. You're able to alter the color of leather at any time, but the softer the leather, the less color it will be able to pick up.
Question: How Often Will I Need to Darken the Leather?
Answer: This is personal preference. If the item is something you use frequently and prefer a natural option, you may need to reapply often. Using a mink oil or stain will hold the color longer and make it much less likely to need to reapply.
Question: How Do I Darken Leather Naturally?
Answer: The best natural options are using coconut or olive oil, trying an at-home stain, or allowing your leather to age over time. There are also DIY stains that include ingredients like lemon or brewed coffee!
Question: How Do I Prep my Leather Before Adding a Stain or Oil?
Answer: Before you apply any of the darkening agents mentioned above, be sure and take the time to prep your leather. Dust and clean the leather to ensure that you're working with a clear surface. Dirt or dust can mess with the application and leave unwelcome marks or spots.
As you can see, the options are endless when it comes to playing with darkening leather. If you're interested in how each option will work for you, consider picking up a few extra leather samples to test on. This will allow you to experiment with different options and help you decide which one to use on your next project!
Not sure which one to choose?
Consider the ingredients and level of DIY you're most comfortable with. If you want to apply a product once, go ahead and try the mink oil, nontoxic dye, or conditioner. These products do not require adding multiple layers to achieve a cohesive finish.
If ingredients are a big concern for you, or you're a big DIYer, go ahead and give the natural oils and dyes a shot. Each one will alter the leather color a bit differently, so as always, try a few test spots on scrap leather or a hidden area of your item.
Tips when working with oil or dye:
When working with any leather treatment, consider putting on a pair of gloves to protect your skin from chemicals or dyes.
Set up a workstation with an easy-to-clean surface or cover with newspaper or a dropcloth. Remember, these items stain and can alter the appearance of furniture.
Clean your leather beforehand with a microfiber cloth or old towel.
Apply oil or dye with any soft cotton material. Remember, this will likely stain any fabric, so don't apply with a towel you can't risk spoiling and protect your clothing!
If you're sensitive to smell or are working with chemicals, always take your project outdoors. If you can, leave your item outside (not in direct sunlight) to dry and off-gas.
Darkening leather can be a process so take your time when choosing the option that best suits your needs. It's worth taking the time to test your options upfront, so you end up with a product you enjoy!
Looking for more leatherworking product recommendations? Take a look at our Leather Resources Page.
Check out our Making A Key Fob tutorial if you're looking for a project to get started on. This fast and straightforward project is a great way to try out your first project!
We hope this was a helpful resource in learning more about the multiple ways you can darken leather. We're big fans of this craft and cannot wait to see what you create next!