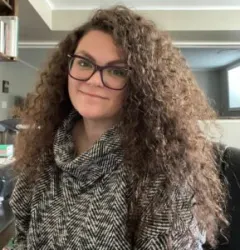 Latest posts by Candace Osmond
(see all)
How to Find the Best Leatherworking Tool Kits
Are you an experienced leatherworker hoping to up your toolset, or maybe you're new to leatherworking altogether? Leatherworking is a rewarding, hands-on way to make art that lasts, which is why we're such a fan. That's why today I'm going to break down what you need in your own leatherworking kit and how to care for your tools once you've got them.
I'm also excited to show you my top 8 favorite leatherworking starter kits based on their best features, high quality, and price ranges. Ready to become an expert crafter of leather?
Top Picks
Before jumping into what leatherworking starter kits are and what tools you'll most need in a kit, I'd like to show you some great examples of kits. These 4 leatherworking kits are our favorites and would make a great first kit for newbies or a great gift for experienced leatherworkers.
Best Overall: Jupean 424 Pieces Leather Working Tools and Supplies
Most Versatile: Jupean 458 Pieces Leather Kit
Best for Beginners: 50 Pieces Leather Working Tools and Supplies
Best Bargain: Leather Working Tools and Supplies-11 Piece Set of Professional Leather Tools Kit
What is Included in a Leather Working Kit?
Just what is in a leatherworking kit? This varies from kit to kit of course, but most starter kits come with a few basic tools that every leathercrafter needs in their toolbox. I'll include the uses for many of these tools below in case you're unfamiliar with them, but to get started, most kits come with:
Leather awls
Burnishers
Groovers
Knives
Needles
Thread
Snaps and rivets
Hammer
Edge creasers
Prong punches
Sewing tracing wheels
Scissors
Tape measure
What Tools are Essential for Leatherworking?
In this section, I'll explain what some of the most essential tools in your leatherworking tool kit are and what they're used for. Regardless of other accessories or bits included, every starter kit should include these things that are necessary for any kind of leatherworking.
1. Leather Awl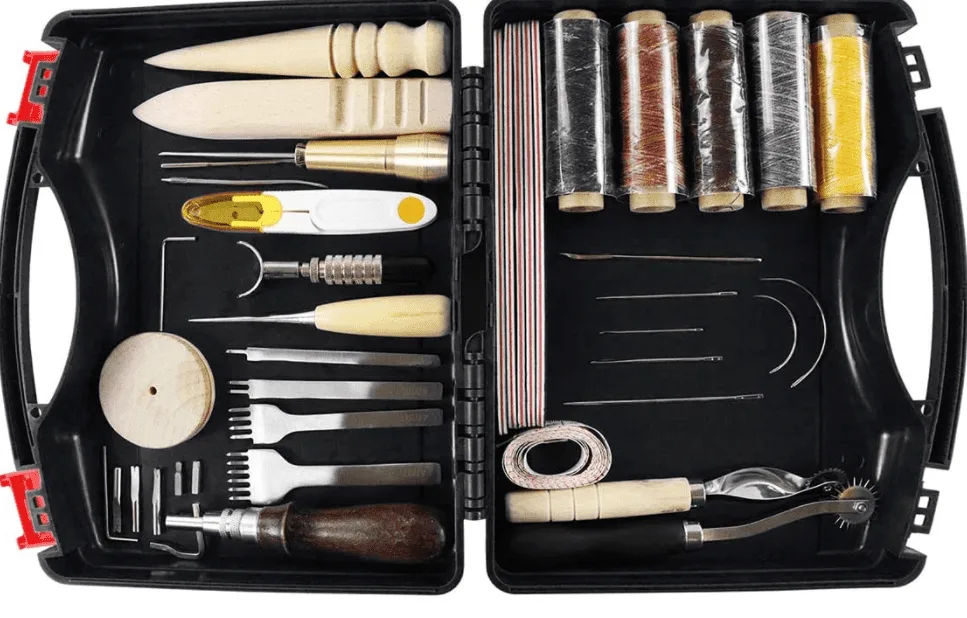 Leather awls are usually used for puncturing holes in leather so you can go back through the holes with a needle and thread, like scratch awls. Certain types of leather awls are made to hold thread, so you don't have to worry about going back through the holes you punctured with a separate needle.
2. Burnisher
Burnishers, which are commonly made of wood but can also be made from glass, bronze, and metal, is used to make heat friction that seals the rough edges of the leather. When you cut into leather and have an exposed edge rife with dangly, straggly fibers, you can make those fibers fuse back together by rubbing a burnisher on them. Rubbing a burnisher quickly along the exposed edge is what creates the heat.
3. Groover
Groovers are used to cut a groove into the surface of leather. This tool doesn't cut all the way through the leather, so you can use the groove it creates as a folding crease. You can also use groovers to make decorative designs.
4. Knife
There are many uses for knives in leatherworking. You need sharp knives to cut pieces of leather to work with. One of the most common types of knives found in leatherworking kits, a swivel knife, does not look like a knife at first glance. It is used for intricate detail work that requires curving lines.
5. Needles and Thread
Not just any old needle and spool of thread will do for leathercrafting. Leather is such a strong material that you'll need stronger, thicker needles than usual when sewing. You'll also need a tough waxed thread that won't break while holding together a thicker, weightier material than most fabrics.
6. Snaps and Rivets
These are fasteners. They usually have one rounded edge with a sharp point or points that fit into another rounded edge meant to receive the sharp points. Fasteners can be used decoratively or to hold leather pieces together. Some like the look of fasteners and will leave them in their leather creations, and others will take them out.
7. Hammer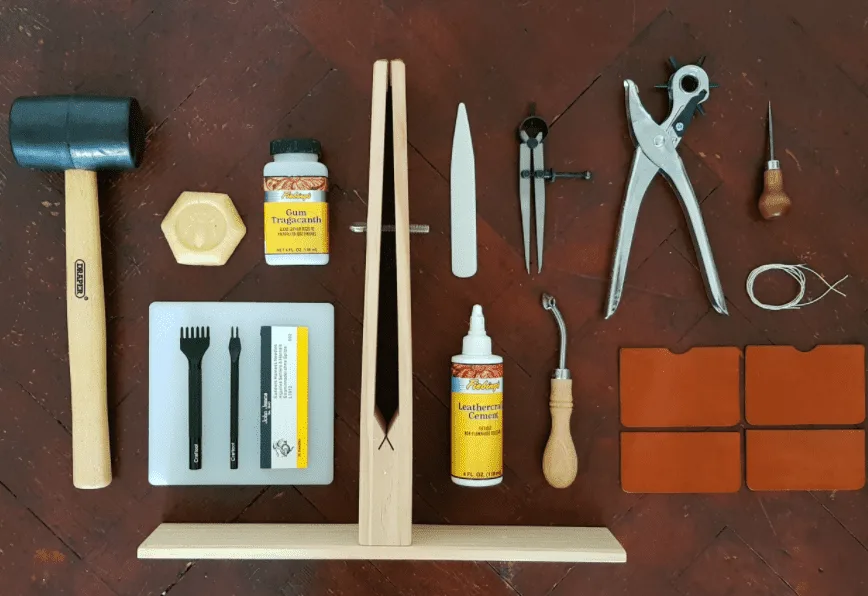 Hammers are used to snap the fasteners shut. By lining up a fastener on one side of a hole in a piece of leather and lining the other side of the fastener on the other side of the hole, you can close the fasteners and make them stick together by hammering them. T hammers and vertical hammers both work great for this.
How to Clean and Care for Your Essential Leather Working Tools
After investing in your very own leatherworking starter kit, you'll want to keep that investment in top shape, so you're always ready to make more leather creations. I'll list some easy ways to care for your leatherworking tools and how to clean them.
Cleaning
Every so often, sanitize your leathercrafting tools.
Use a sanitizing wipe to clean all surfaces of your tools.
Make sure to dry the tools once you've sanitized them so they don't rust.
Don't put any tools in the dishwasher, especially if they have wooden handles.
Do not submerge any tools made of wood fully into the water.
Clean the box or organizer you keep your tools in while cleaning the tools.
Organizing
Keep your leatherworking tools in the case or organizer it came with.
If there is no case or organizer, you can buy a plastic organizer to keep tools separate.
Be careful to keep sharp tools in the back of the organizer, so you don't cut yourself trying to get to other tools.
Keep your leatherworking station neat and keep all your leatherworking equipment together in one place.
Best Leather Working Tool Kits
After a long search for the best leatherworking starter kits, I was floored by these 8 choices. Finding a quality leatherworking kit as a beginner is a crucial step into taking up the leatherworking craft. Any of these 8 would have most of if not every tool you'll need to get started apart from the leather itself.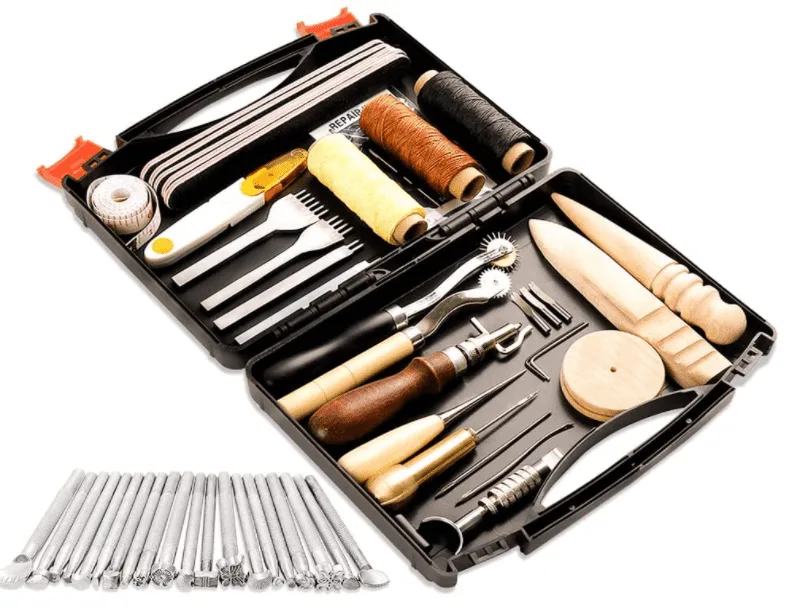 Best for Beginners
About
If you're completely new to leatherworking, this is the kit I most recommend. Reasonably priced and filled with all the basic tools you'll need to start practicing, this tool kit won't overwhelm you while offering the essentials. Awls, needles, thread, a swivel knife, wood burnishers, measuring tape, pronged punches, and more all come together in a black carrying case. You'll also receive many leather hole punching tools.
Price Range: $42-$52
Warranty: Please contact the seller directly
Case Included: Yes
Number of Tools: 50
Best Feature: Perfect assortment of essentials
Care
Some of the products in this case, like the burnishers, are made of wood. It's never a good idea to fully submerge wood in water when you're ready to clean it, or mold can build up in the wood's fibers. Instead, use a sanitizing wipe to clean off the surfaces of the wooden tools. Dry them as best as you can and leave them somewhere sitting upright to dry completely.
Pros
Inexpensive
All the essentials included
Comes with a case
Cons
The carrying case doesn't have individual compartments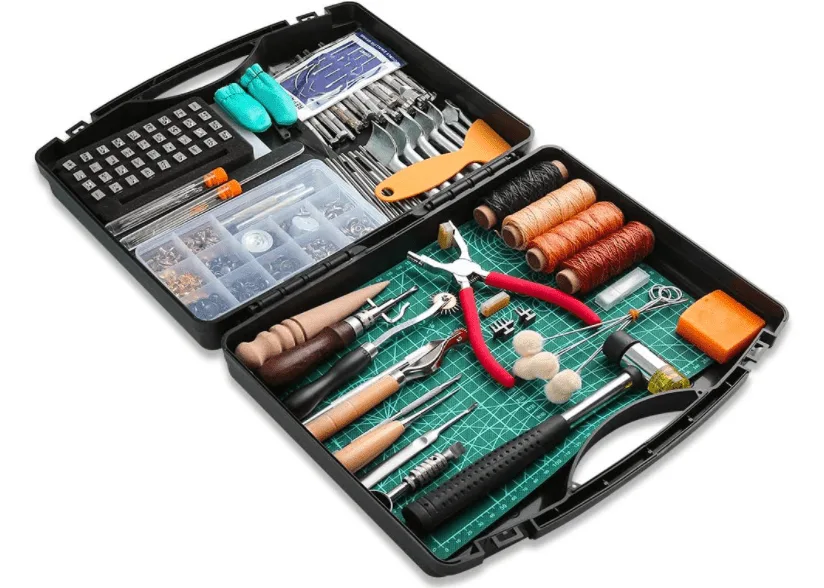 Best for Decorative Work
About
This leatherworking kit features decorative leather stamping tools, a stamp set, semicircle cutter punches, frosted strips for sanding down your work, a wooden burnisher, wood daubers, and different colored fasteners. Some of the items include beeswax for keeping thread waxy, a thimble, and leather finger protectors. Many of the items in this set is for detail work, like the stamps and fasteners. All the other essentials you would normally see in a kit, like awls and burnishers, are also included.
Price Range: $80-$100
Warranty: Please contact the seller directly
Case Included: Yes
Number of Tools: 273
Best Feature: Many pieces for decorative work
Waxing Thread
When you are going to sew leather, you know you need to buy thread that is thicker than average cotton sewing thread. The thicker thread you buy is sometimes waxed already, but you may need to wax it yourself, so it remains strong. This also prevents loose fibers from looking messy.
Take the length of the thread you need and the beeswax in this kit. Press one end of the thread into the beeswax and then pull the thread until you've coated it in wax all the way to the other side of the thread. Rub the wax in with your fingers, being gentle not to disrupt fibers.
Pros
Not very expensive
Useful pieces for decorative work
Protective gear included
Cons
Beginners may feel overwhelmed by this many new tools
Best for Small Projects
About
This is an expensive leatherworking kit that is also perfect for beginners. All the essential tools come in this kit, including fasteners, burnishers, awls, pronged punches, needles, thread, a hammer, measuring tape, and more. A sturdy green board with measurements comes with this kit, which is the perfect surface for measuring and creating small projects.
Price Range: $30-$40
Warranty: Please contact the seller directly
Case Included: No
Number of Tools: 58
Best Feature: Measuring board
What are the Pronged Punches for?
Before you poke holes into the leather with an awl so you can go back in later with a needle and thread to sew, you'll want to measure where you're going to poke each hole. Using the measuring tape or the board in this set, you can measure perfectly spaced increments and mark those increments with the pronged punch. The idents from the pronged punch show you where to puncture the leather.
Pros
Inexpensive
Beginner-friendly
Measuring board
Cons
Does not come with a carrying case
Best Tools for the Price
About
This set, which comes with 183 pieces, is relatively inexpensive considering how many pieces you'll get. You'll get 2 different styles of wooden burnishers, different colored fasteners, 4 colors of thread, a sturdy board with measurements, a swivel knife, decorative stampers, leather awls, sewing wheels, and more.
Price Range: $60-$80
Warranty: Please contact the seller directly
Case Included: No
Number of Tools: 183
Best Feature: Variety of essentials
What to do with the 4 files
There are 4 black files that look like nail files within this set. You can use these files to gently buff the surface of rough leather edges. You can also use files to intentionally create texture in the leather.
Pros
Great value for the price
A varied assortment of tools
Purple measuring board
Cons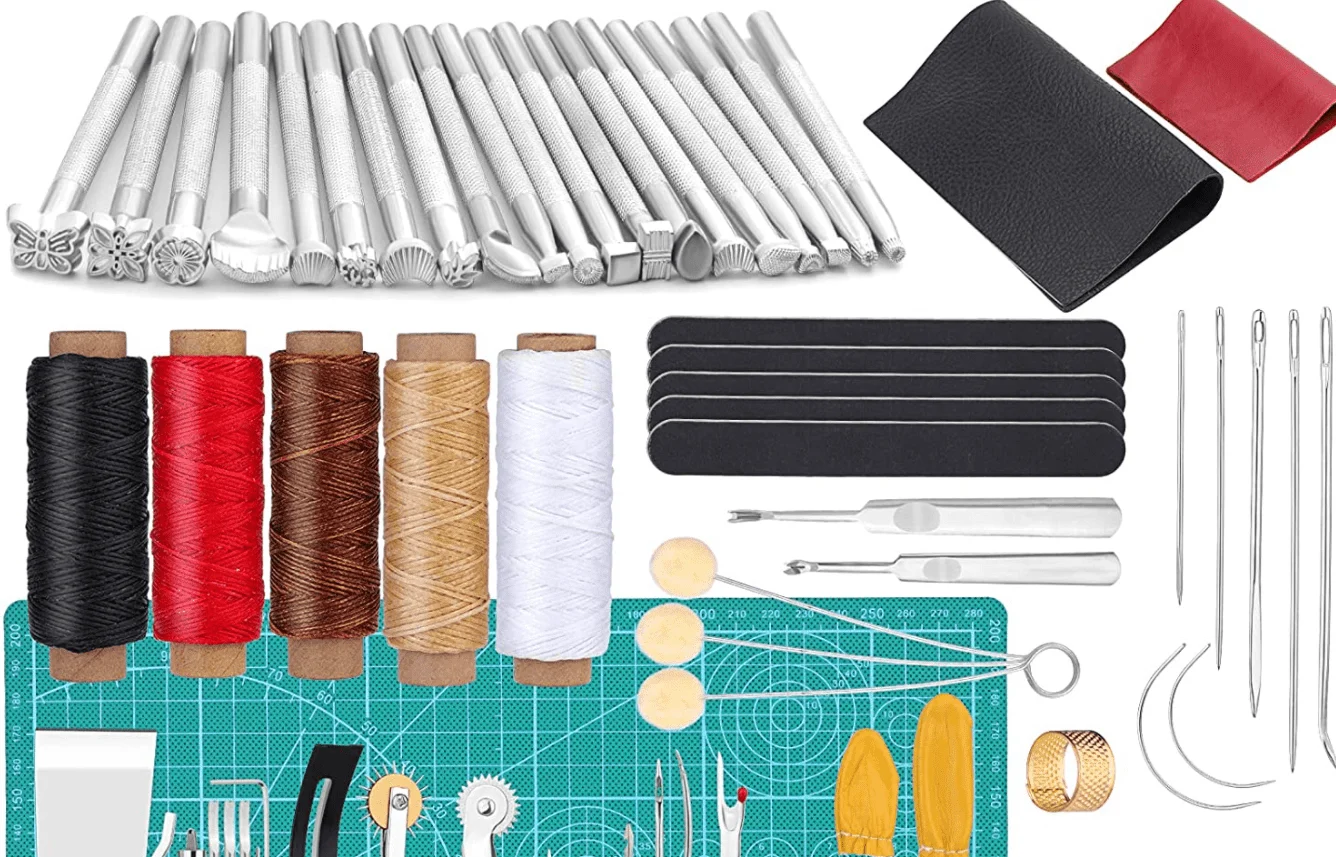 Best for Book Binding
About
Have you ever wanted to bind your own book within a leather cover? This leatherworking set was made for bookbinding. 2 covers for books, 1 in black and 1 in red, are included. You'll notice different circular and angle measurements on the measuring board that you'll need to bind books correctly. A groover, a leather knife, pronged punches, awls, seam rippers, and more are included, too.
Price Range: $35-$45
Warranty: Please contact the seller directly
Case Included: No
Number of Tools: 60
Best Feature: Book covers
Book Binding
Bookbinding is a leatherworking process that requires special needles and wire instead of thread. Thick needles that can piece the leather and the pages are needed for this project, along with a spool of wire that strongly connects all the pages together.
Pros
Great for bookbinding
Includes book covers
Includes all basic leatherworking tools
Cons
Some tools won't be useful if you aren't bookbinding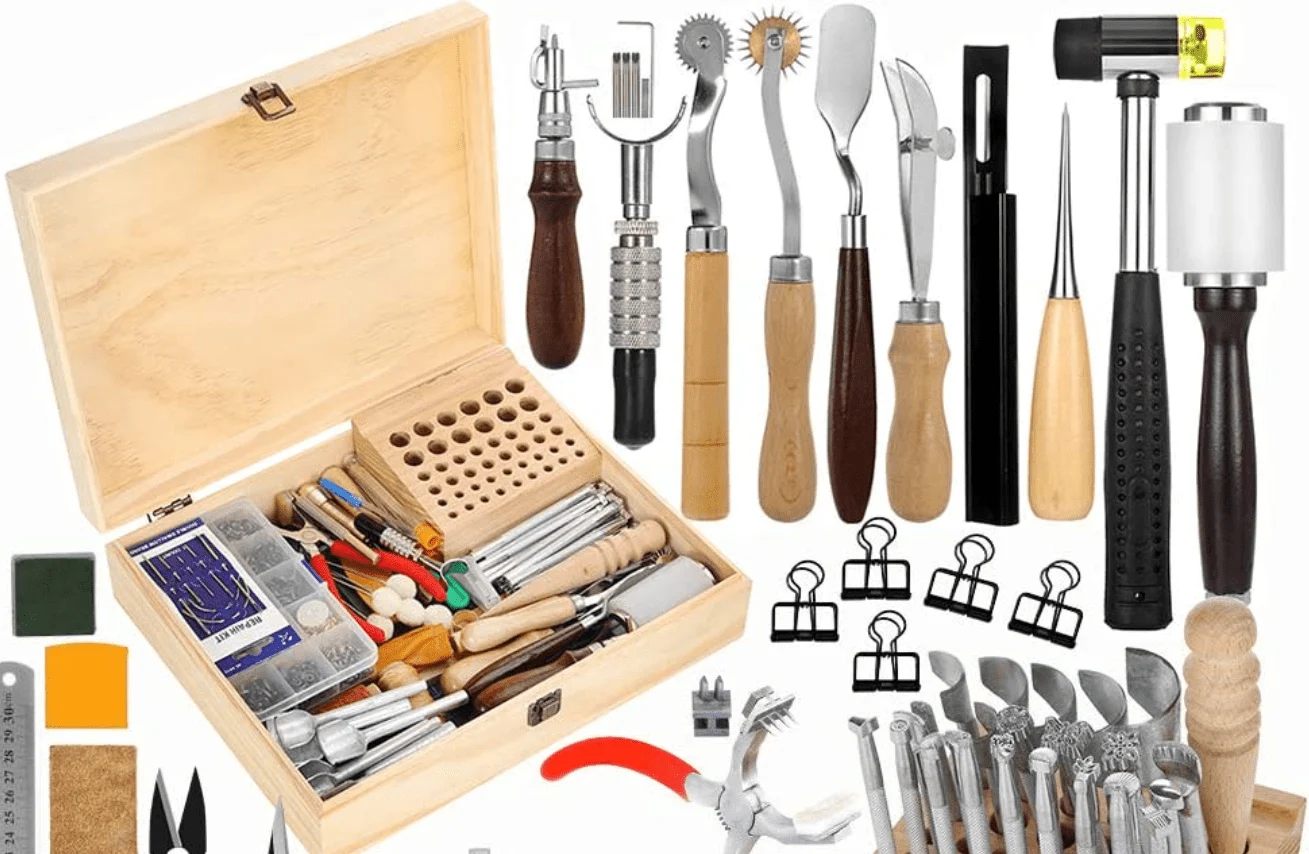 Best for Overall
About
This is my favorite leatherworking set of them all! 424 pieces are included, which means there are so many different kinds of projects you can do with this set. The wooden carrying case is very well organized with separate compartments to hold all the essentials you'll need and then some. Awls, burnishers, needles, thread, swivel knives, stamps, edgers, groovers, and more are all included, along with much more.
Price Range: $150-$170
Warranty: Please contact the seller directly
Case Included: Yes
Number of Tools: 424
Best Feature: Variety of tools
Care
This super organized wooden carrying case makes it easy to organize your leatherworking tools and keep them all in one place! When cleaning the wooden carrying case, never fully submerge it in water. Unless something has spilled on it, simply wring out an antiseptic wipe until most of the liquid is gone and then wipe down the surfaces and inside of the box.
Pros
Tons of tools
Highly organized
Many decorative tools
Cons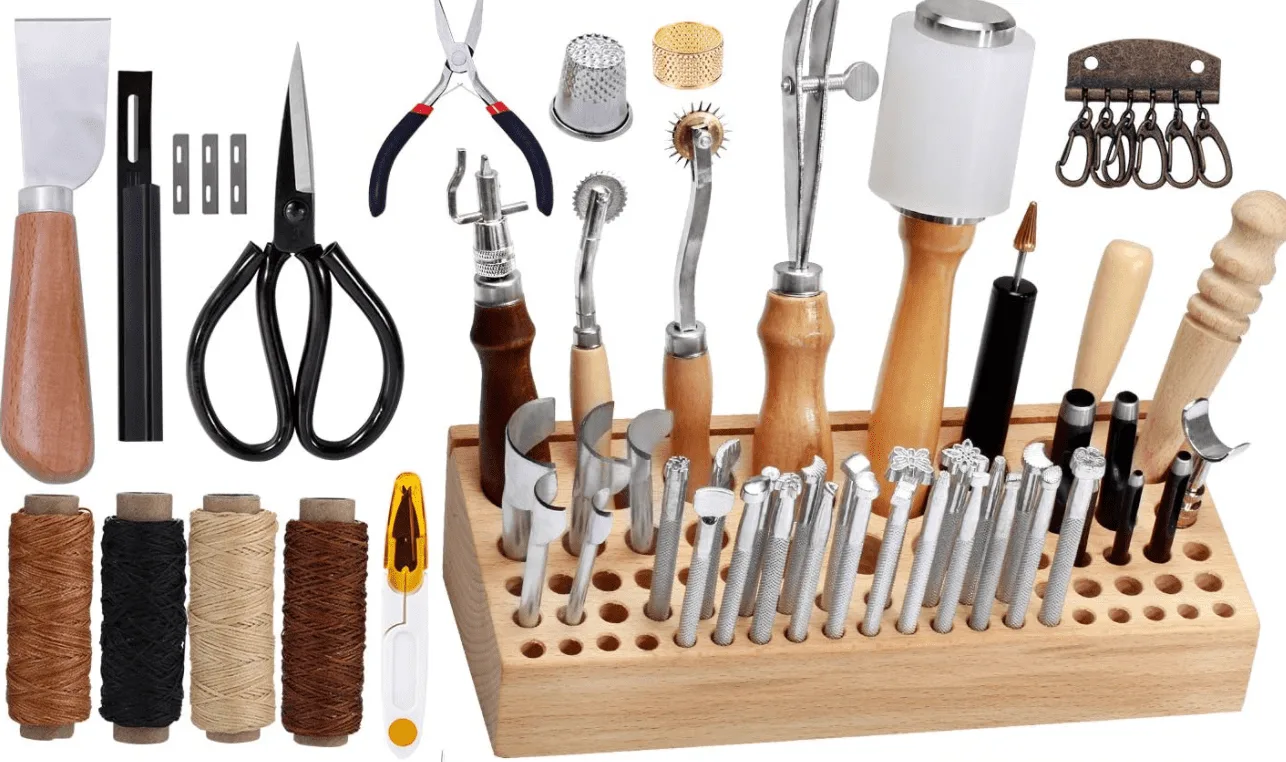 Best for Versatility
About
This leatherworking kit has more pieces than any other kit on the list. If you want to complete different kinds of leatherworking projects, this set has everything you could need. A leather knife, a vertical hammer, tons of fasteners and stamps, and way more tools make this such a useful product.
Price Range: $160-$180
Warranty: Please contact the seller directly
Case Included: Yes
Number of Tools: 458
Best Feature: Number of tools
What to do with stamps
You'll notice there are silver pieces in this set that have a design on the end of them. You can use these stamps to make designs in leather by pressing the design firmly into a leather surface. When you pull the stamp away, a permanent mark will remain.
Pros
Organized carrying case
Tons of tools
Many beautiful stamps
Cons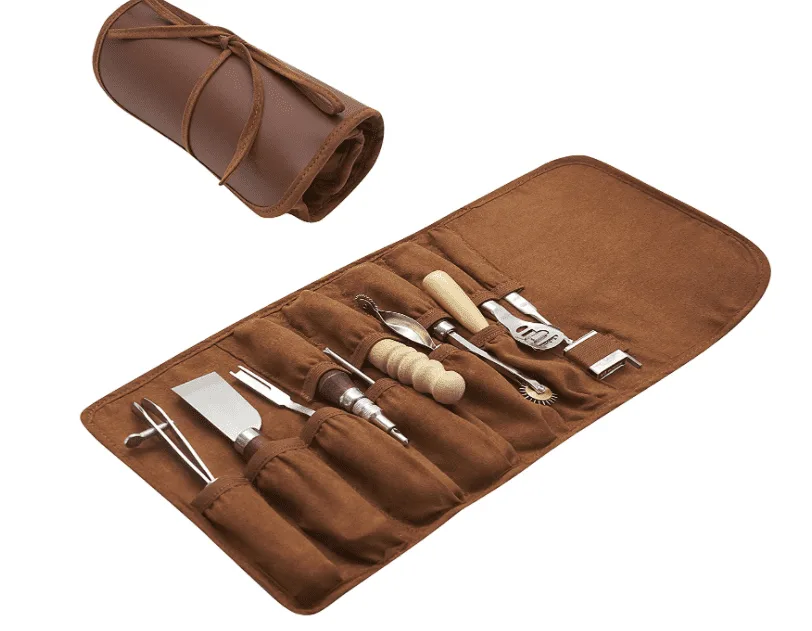 Best for Bargain Price
About
This is the least expensive leatherworking kit I have to show. If you're beginning leatherworking on a budget, this kit will give you the bare basics to get started. You'll get a groover, skiving knife, scratch awl, overstitch wheel, stitch marking wheel, wooden burnisher, edge beveler, groover, French shovel, edge creaser, and a leather knife with blades.
Price Range: $25-$35
Warranty: Please contact the seller directly
Case Included: Yes
Number of Tools: 11
Best Feature: Basics included
Using the Scratch Awl
Unlike some other types of leather awls, a scratch awl is simply used to puncture holes through the leather. You'll need a separate needle to sew pieces of leather together with thread.
Pros
Inexpensive
Carrying case included
Includes basics for leatherworking
Cons
Not a large variety of tools
FAQ
In this last section, I'm going to answer your most frequently asked questions about leatherworking starter kits! Starting out in leatherworking doesn't have to be as expensive when you buy all the tools bundled together in one kit. If you have any more questions about leatherworking on your mind, please leave me a comment so I can get back to you with an answer ASAP!
Question: What Do You Need for Leather Crafting?
Answer: The optimal leathercrafting kit should include scissors, needles, waxed thread, awls, burnishers, knives, snaps, and rivets among other things. A hammer would be ideal for pounding the snaps and rivets together. Skiving tools, edge creasers, and sewing tracing wheels are usually needed, too, and you can find them in most kits.
Question: How Hard is Leather Crafting?
Answer: The answer to this question depends on what you're trying to make. Simple leather wallets with minimal design won't be very difficult compared to other pieces you could make, which is why it's a perfect beginner project. Creating shoes and saddles are much more complicated practices you might want to pick up later on in your leathercrafting endeavors.
Question: How Do I Start Leather Work?
Answer: The first step in leatherworking is deciding what you want to craft. Knowing what kind of pieces you're interested in making will determine exactly which tools you need. Then, you'll need to acquire a leatherworking kit and your preferred pieces of leather.
There are plenty of tutorials on YouTube and on personal blogs that can show you beginner leatherworking methods and how to create art with leather.
Final Thoughts
We've learned a lot about leatherworking and leatherworking starter kits today! Do you feel more prepared? I went over what leatherworking kits are and what tools you'll need in a leatherworking kit.
Personally, I feel that the Jupean 424 Pieces Leather Working Tools and Supplies is the best choice for its overall versatility and function.
After seeing my top 8 favorite leatherworking kits, do you feel inspired to start your craft? Leave comments or questions about leatherworking in the section below! For even more great leatherworking guides, check out these top picks for best leather rivets!