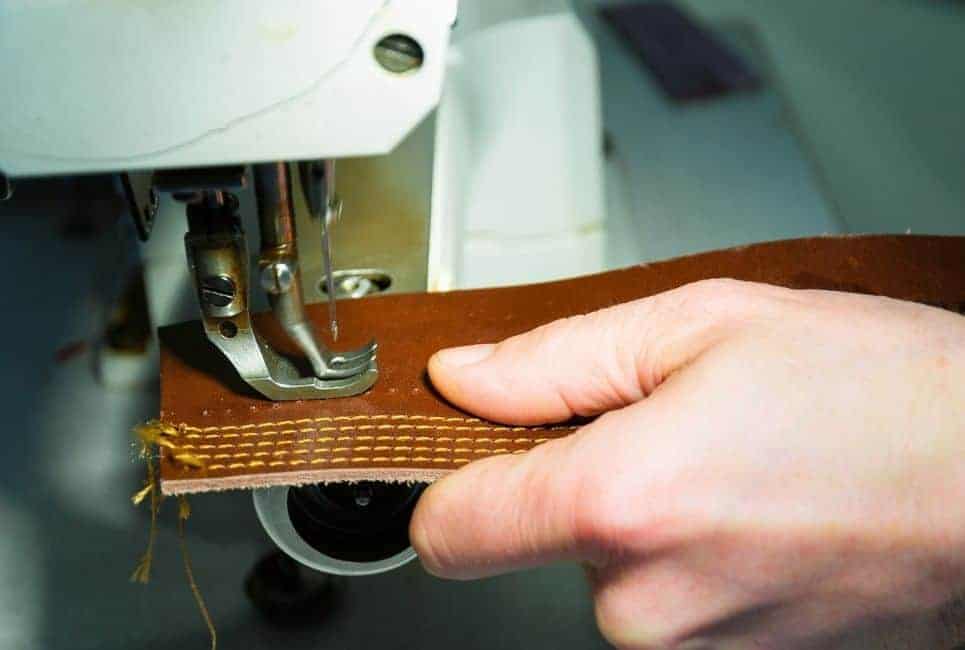 How to Find the Best Leather Sewing Machine
Leather has been the bane of sewing enthusiasts' existence since the dawn of time. It's a notoriously difficult material to work with, but we've been shown leather doesn't have to give you such a struggle when you've got the right equipment.
Today we're going to discuss the ins and outs of sewing leather and give some pro tips on what to look for in an excellent leather sewing machine. Then, we'll give you our recommendations for the best leather sewing machines you can buy based on their quality, ease of use, and price. Ready to start? Let's begin.
Top 3 Picks
To dip your toes in the water, first, we'd like to show you our top 3 favorite leather sewing machines for best heavy use, best price, and the best collection of overall features. If you're new to the realm of leather sewing machines or an expert looking for a replacement, these 3 are great options to turn to.
Best Overall: SINGER Quantum Stylist 9960 Computerized Portable Sewing Machine with 600-Stitches
Why is this choice the best? It has the most customizable options, and being digitized has made it extremely accurate.
Best for Heavy Use: Janome HD3000 Heavy Duty Sewing Machine w/Hard Case
If you're an avid sewing enthusiast, this sewing machine is one that is intended for all the use you want to get out of it. It won't overheat quickly, and it can sew even tough pieces of leather.
Best Bargain: SINGER Heavy Duty Sewing Machine with Included Accessory Kit
Being the least expensive doesn't mean this sewing machine is of poor quality. While lacking all the customizability of the first option, it certainly won't disappoint in terms of functionality.
Do You Need a Special Sewing Machine for Leather?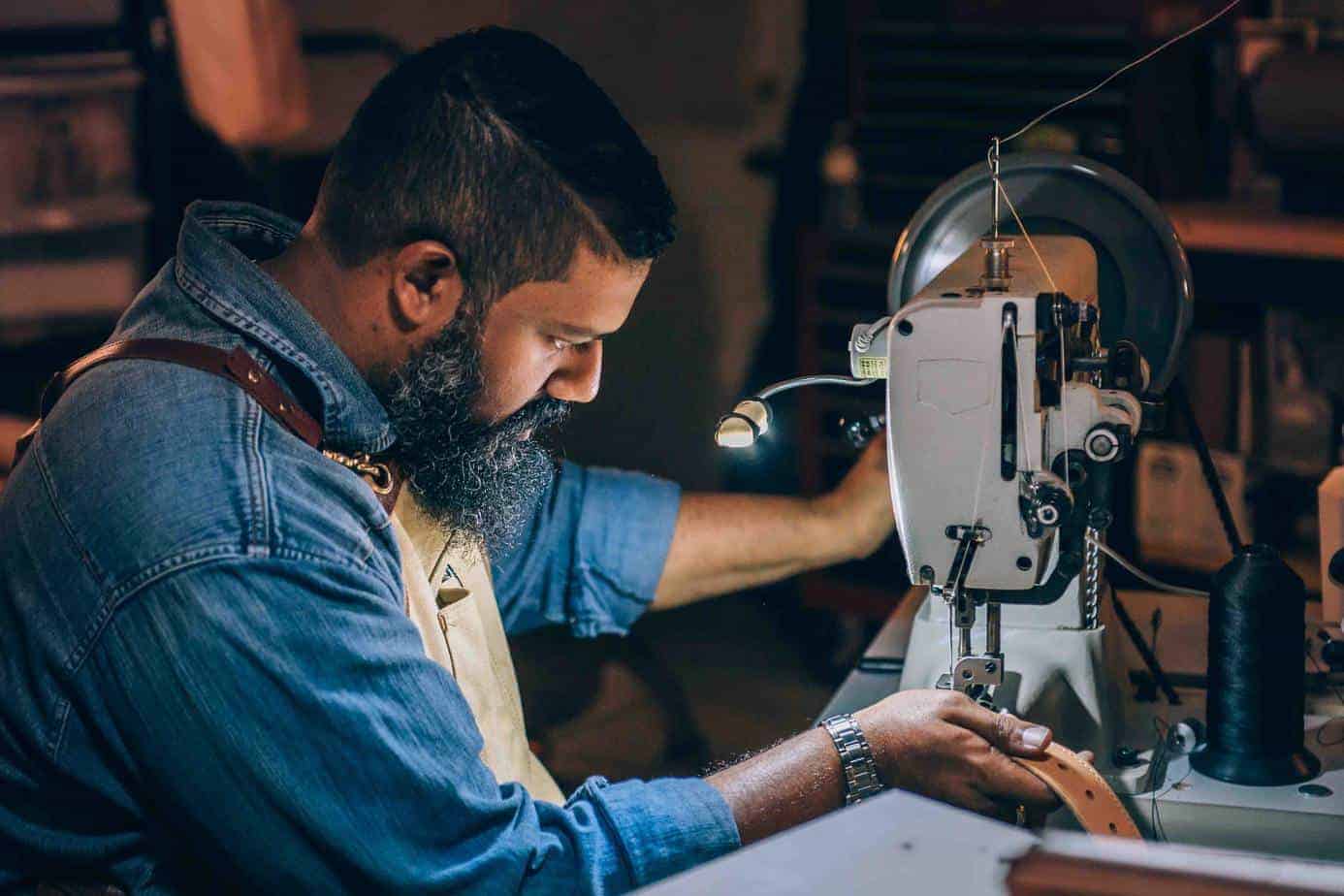 If you don't want to:
A) Break your sewing needle
B) Break your thread
C) Have a material that won't go through the feeder correctly no matter how hard you try
D) Ruin the leather
We highly recommend choosing a heavy-duty leather sewing machine. Regular sewing machines aren't meant for the thickness and toughness of leather.
More often than not, even if you don't damage a regular sewing machine by trying to feed leather into it, you'll inadvertently end up ruining the leather you were trying to sew.
Why is Leather Difficult to Work with?
Leather is thicker and tougher than other materials. Leather is animal hide, which naturally protects animals from harsh elements. Even some of the softest or thinnest leather, like lamb leather and pigskin leather, will be too tough for a regular sewing machine with a regular needle.
The toughness of leather is infamous for breaking sewing needles and causing mass amounts of frustration among fashion designers throughout the ages.
Leather Sewing Machine vs. Regular Sewing Machine
To give you a look at how leather sewing machines are different from regular sewing machines, we've composed this quick side-by-side comparison chart. There are some key differences that make certain sewing machines suitable for sewing leather, and some not.
Leather Sewing Machine

 

Can perform industrial-strength sewing

Made for penetrating needles through thick fabrics

Larger needles

Can last longer without overheating

Makes more noise while in use

Uses a stronger thread type like polyester or nylon

More expensive

Regular Sewing Machine

 

Typically cannot perform industrial-strength sewing

Made for thin, soft materials like cotton, linen, and polyester

Smaller needles

Overheats more quickly

Quieter while in use

Uses a soft thread like cotton

Less expensive
Tips for Sewing Leather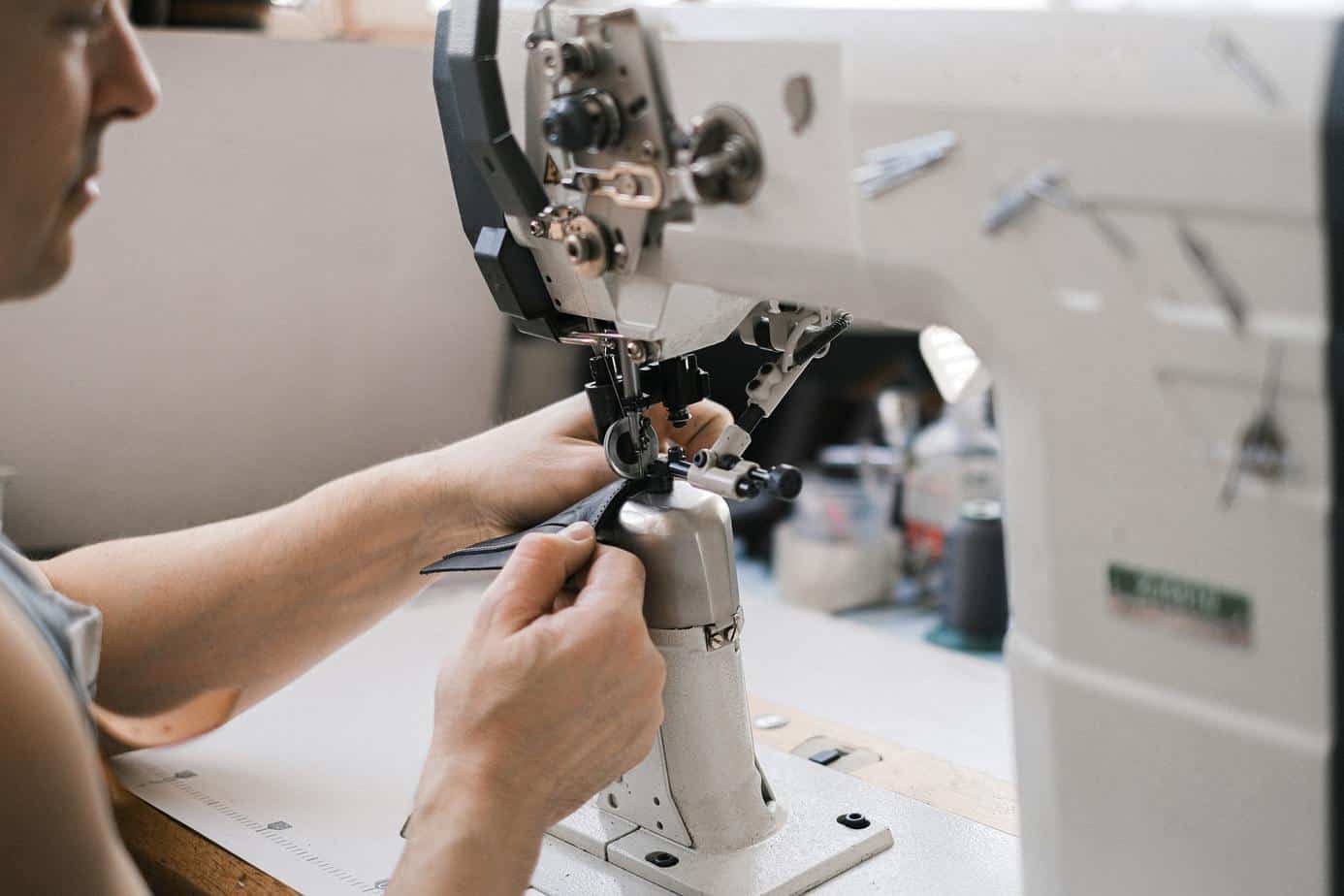 We've talked about how sewing leather can be difficult, so how about some remedies for that? Sewing leather doesn't really have to be that hard as long as you follow some simple steps that will save you hours of heartache.
Use Stronger Thread
We mentioned this above in the chart, but it is imperative you choose either nylon thread or polyester thread when you're sewing leather. Soft thread like cotton will break as you try to sew it into a dense material like leather.
Change Up Your Stitch Length
Normally, your stitch length would be shorter than 3.5, but you can either choose this stitch length or go a little over that for sewing leather. Your stitch length needs to be longer than usual while you sew leather because the material can become weak with too many holes in it that are too close together.
Use a Needle Meant for Leather
Most sewing needles will break if you try to sew leather with them. The needles are just too flimsy to keep sewing thread through a material as tough as leather, so you'll need a needle, especially for this kind of material.
What to Look for in a Leather Sewing Machine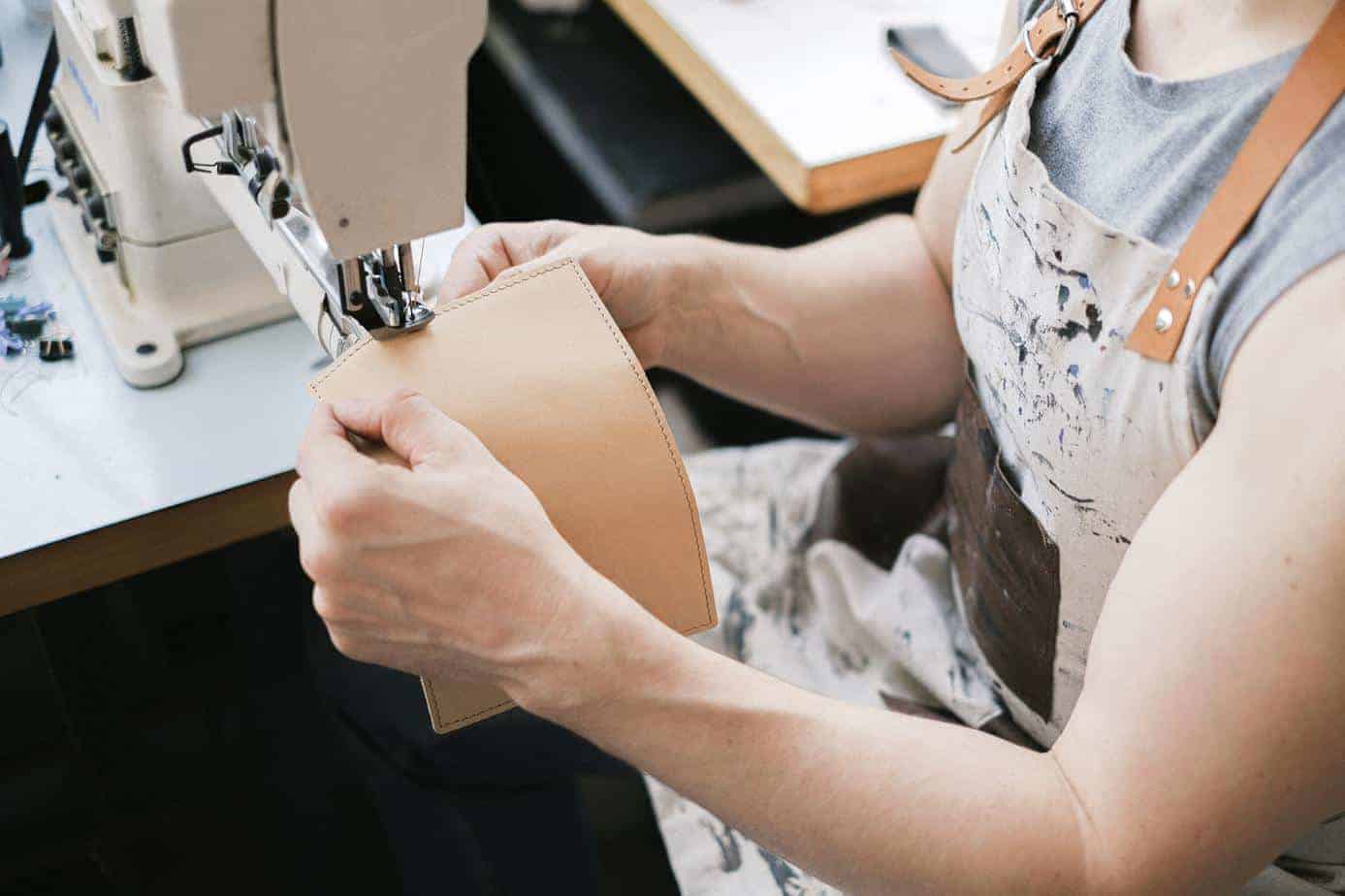 Next, we will go over what key features to look for in a leather sewing machine. We like to look at a product closely before we invest money into it. After examining many leather sewing machines, this is what we learned.
Stronger Needles
It's super important to pick a sewing machine that supports leather sewing needles. Otherwise, you're going to end up with a piece of fabric that has a lot of mismatched holes in it from needles that keep breaking off.
Also, it would be great if your leather sewing machine came with leather sewing needles to get you started.
Stronger Feed Dogs
The feed dogs (a.k.a. the tiny metal feet that come out below the presser foot, up from the throat plate) for a leather sewing machine should be stronger than normal. Regular feed dogs have to carry more lightweight materials through the machine, like cottons and nylons.
Leather is heavier and therefore harder to move, so you'll need some more umph behind your feed dogs in a leather sewing machine.
Powerful Engine
One of the best perks of a leather sewing machine? Typically, their engines can run longer without overheating compared to a regular sewing machine. This is useful because you'll want to sew leather slower than you would thinner materials to make sure the final product turns out even.
Amps

 

Measures how much power your sewing machine is using

Should be higher than a regular sewing machine

Horsepower

 

Measures the rate at which your sewing is being completed

Should be higher than a regular sewing machine
Size
It makes sense since you'll need a bigger and stronger needle, bigger and stronger feed dogs, more amps and horsepower… yep. You're going to need a bigger sewing machine. Leather sewing machines are made a little bigger to accommodate the more powerful motor and stronger features.
The Best Leather Sewing Machines
It's the moment we've all been waiting for! You'll have to suffer through long nights trying to sew stubborn pieces of leather together no longer! These are our top 6 recommendations for the best leather sewing machines.
After looking through many, many options, these are all great choices for sewing novices and expert leather designers alike.

Best Overall
This portable sewing machine from SINGER is our favorite leather sewing machine we have to show you. The machine is white and comes with over 600 different stitch patterns. We love how easily customizable your work can be with this leather sewing machine because it is computerized and has tons of different easy-to-follow buttons.
In addition to its stellar functionality, you'll benefit from many different features and accessories. There are many different feet for different projects you want to work on, such as an all-purpose foot, a button sewing foot, a blind hem foot, an overcasting foot, and much more.
Material: Metal
Price Range: $430-$470
Warranty: 25-year limited warranty
Best Feature: Lots of customizations with 600 different stitch patterns
For Sewing Leather
This is a high-speed sewing machine that is meant to stitch a maximum of 850 stitches per minute. With that being said, you won't want to use max speed when sewing leather. Even though this machine can sew fast, we recommend sewing your leather much slower.
Pros
Tons of stitch patterns
Portable
Lots of computerized options
Cons
One of the more expensive choices on the list

Best for First-Time Sewers of Leather
This sewing machine is perfect for leather-sewing novices. Though it has 38 stitch patterns, so not as many as the machine listed above, it is sturdy and easy to work with. This leather sewing machine gets high points from us for overall durability, its great warranty protection, and its user friendliness.
This sewing machine even comes with an instructional DVD in addition to the manual because Brother went above and beyond in making sure their customers can use this product with ease. You'll receive 6 sewing feet with this machine.
Material: Metal
Price Range: $180-$220
Warranty: 25-year limited warranty
Best Feature: amazing warranty
Using Technical Support
Brother makes it easy to have any questions you have about this leather sewing machine answered. When you buy this leather sewing machine, you can call or live chat with the Brother technical support team. Whether you have questions about how the product can be used or if you want to know more about warranties, all you have to do is chat with the support team.
Pros
User-friendly
Lots of instruction and support from company
Durable
Cons
Not as many customizable options as some of the other sewing machines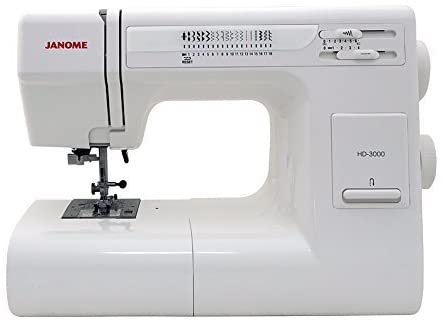 Best for Heavy Duty Sewing
When it comes to heavy-duty projects and your toughest pieces of leather, we recommend this leather sewing machine. Not only was it made for high-powered sewing, but it also offers a kit full of items you'll need for your leather-sewing exploits.
You'll receive 3 separate packs of strong sewing needles that are ideal for holding the polyester or nylon thread needed for sewing leather. The non-stick foot makes it easier to feed leather into the machine without it getting caught. An automatic needle threader makes sewing easier when you're trying to get started, which we appreciate.
Material: Metal
Price Range: $430-$470
Warranty: Please contact seller directly
Best Feature: Able to sew very tough materials
Care
If something goes seriously wrong with your leather sewing machine, it's time to inquire about warranties and/or take the machine to a professional. For easy maintenance to keep this sewing machine in top condition so you won't have to do that, we recommend:
Wiping off your leather sewing machine each time you're done using it
Regularly change out your leather sewing needles
Cover your leather sewing machine whenever you aren't using it
Pros
Powerful and durable
Comes with a kit of sewing accessories
Automatic needle threader
Cons
One of the pricier leather sewing machines on the list

Best for Bargain
Though this leather sewing machine is sold at a less high price than some of the others, quality certainly wasn't sacrificed here. This sewing machine, also made of metal, has 110 different stitch applications (which is even more than some of the more expensive ones.)
This is a gray machine that isn't quite as digitalized as some of the others but is still easy to use. A variety of accessories, such as different needles and feet, come with this product.
Material: Metal
Price Range: $170-$210
Warranty: Limited 25-year warranty
Best Feature: price
What is a Reverse Stitch, and Why Does This Machine Do it?
When you reverse stitch, you go back over stitching you've already done to reinforce it and make it stronger. This leather sewing machine is also capable of reverse stitching, which simply keeps fabrics bound together better. Keep in mind that usually, you want fewer holes in the fabric when sewing leather.
Pros
Least expensive
Comes with many accessories
110 different stitch patterns
Cons

Best for Multifunctional Uses
This is the perfect sewing machine for not just leather but also quilting and sewing a variety of other materials, too! Do you want to sew denim? Corduroy? This leather sewing machine does it all.
We also love that this sewing machine is computerized, which can make it easier to set your customizations. There are 60 unique stitches you can make with this leather sewing machine, and you'll be happy to know it comes with a set of accessories.
Material: Metal
Price Range: $190-$230
Warranty: 25-year limited warranty
Best Feature: Also designed for quilting
Using the LCD Screen
This leather sewing machine's screen is called an "LCD screen." You interact with the LCD screen to choose what stitch pattern you want and select all other customizations.
Pros
Multifunctional
Comes with a set of accessories
Computerized
Cons
Leather Sewing Needles
You can't get an excellent leather sewing machine without leather sewing needles to go with it. To solve this little dilemma, here is our top favorite set of needles for puncturing a beautiful but dense material like leather.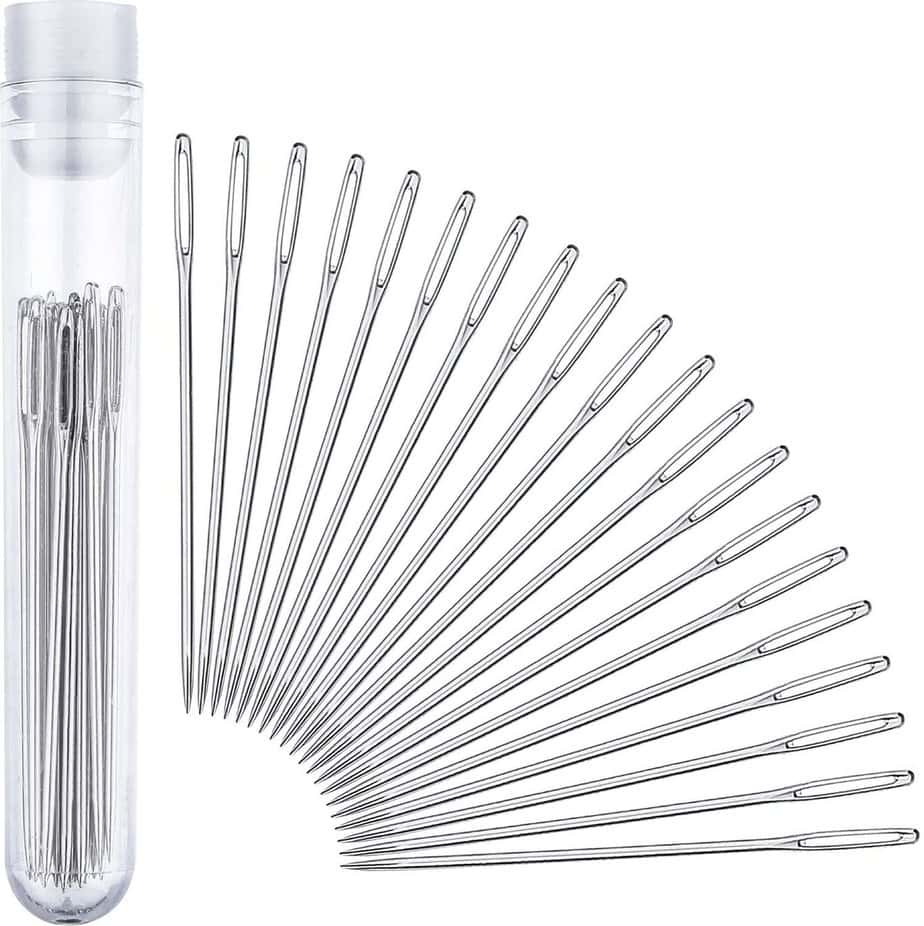 Best for Completing Projects with Leather
This is the perfect set of needles for sewing with leather! Not only is this set of 20 needles inexpensive, but they were also designed to be easy to use. The eyes of the needles are wider than average, which makes it easy to string thread through them. These are made from stainless steel, which gives them their strength against the toughness of leather.
Material: Stainless steel
Price Range: $3-$7
Warranty: Please contact seller directly
Best Feature: Perfect for working with leather
Care
Keep all 20 needles together in the clear plastic bottle they come with if you don't have another container or pincushion to stick them in. Sewing is fun, but needles are dangerous! Make sure to keep all of your potentially hazardous supplies accounted for, especially if there are children or pets around.
Pros
Ideal thickness and strength for leather projects
Inexpensive
Comes with a clear bottle to store the needles in
Cons
Needles are all the same size
FAQ
In this next part, we'll answer your most frequently asked questions about leather sewing machines! If you've got another question on your mind that we didn't get around to, leave us a comment below with your question, so it doesn't remain a mystery. We'll get back to you with an answer as soon as we can!
Question: What is a Good Machine for Sewing Leather?
Answer: Any of the 7 products we listed above are great choices for sewing leather. Additionally, you'll want to make sure you're using the right needle for sewing leather to go along with your industrial sewing machine. Make sure to pick up one of those, too, so you skip a broken-needle nightmare.
Question: How Thick of Leather can a Sewing Machine Sew?
Answer: The answer to this question depends on the individual sewing machine. Regular sewing machines should not be used to sew any kind of leather, even if the leather is thin enough to fit into it. If you're trying to sew a really thick piece of leather, check the description box of the leather sewing machine you're thinking about investing in to see if it will accommodate leather that size.
Question: Can a Leather Sewing Machine Sew Fabric?
Answer: Yes, you can use a leather sewing machine to sew fabric! Leather sewing machines can use a smaller needle that would be needed for lightweight sewing fabrics like cotton and linen. The beauty of a leather sewing machine is it is ideal for sewing almost anything, given its industrial strength.
Wrapping Up
Alright, we're wrapping it up now that you've become an expert on sewing with leather and finding the best leather sewing machine. We've shared our best tips and tricks and given you our recommendations for our 6 favorite leather sewing machines. In my opinion, the best choice is the Janome HD3000 Heavy Duty Sewing Machine w/Hard Case for its overall functionality and heavy-duty abilities.
Do you have any experience with leather sewing machines, or do you have a question? Leave us a comment below and let us know! For even more great tips about sewing leather, check out our guide to leather stitching tools.