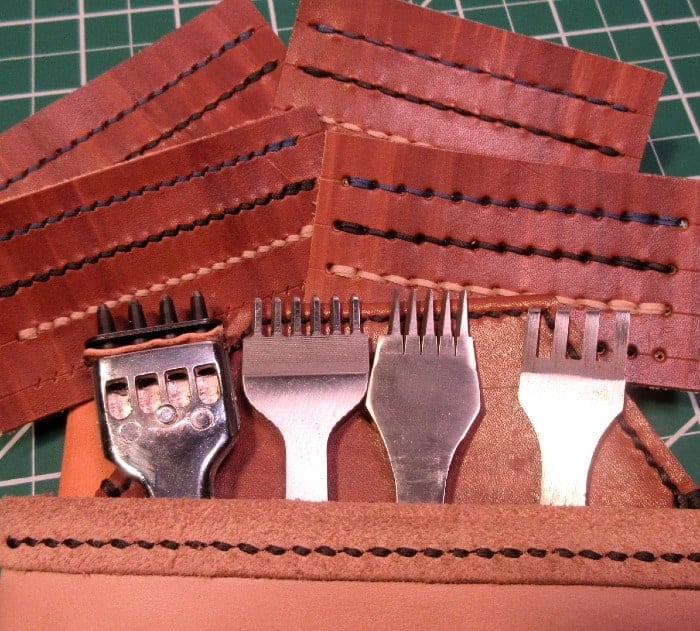 When it comes to stitching leather by hand you may want to use a stitching chisel to help create a consistent look. But there are a few different types of leather stitching tools to choose from. This can become a difficult choice when determining which stitching tool is the best for your needs.
So today I want to make a comparison between the differences between leather stitching tools to get a better understanding on how each type of tool works.
Each one of these tools can create a very unique look that will add to the style of your leather projects.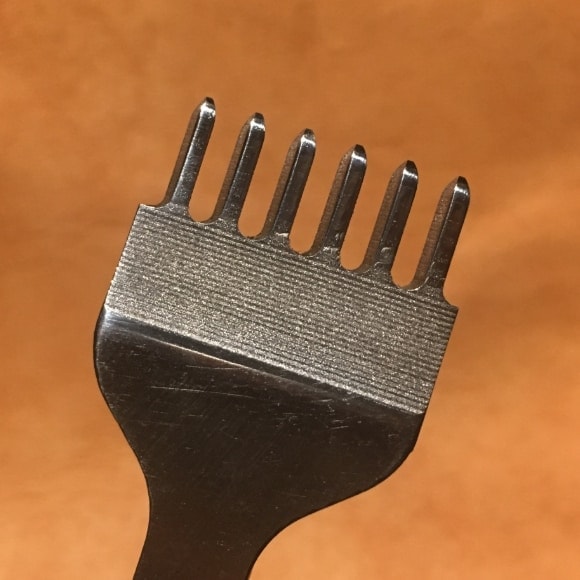 This chisel is one of the most common tools used while leather crafting. When punching these chisels into your leather you will be left with a small slanted diamond shape for each prong. This shape allows the thread to follow a slanted path throughout the project.
They are also very beginner friendly since they are very easy to use that can punch through a thick layer of leather. Plus most leather hand stitching thread types and sizes work well with this diamond shape stitching tool.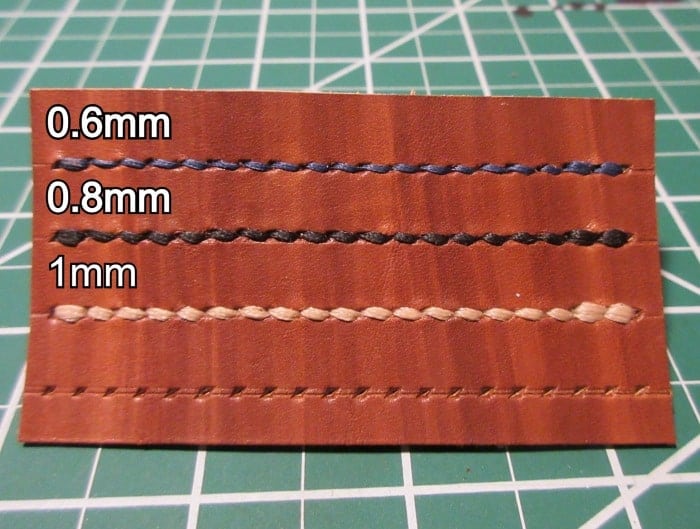 Pros
Cheap – These stitching chisels usually come in a pack of four different chisels including one punch, two punch, four punch and a six punch chisel. This pack can cost around $12 to $50 depending on the make of the chisels. Which is very inexpensive for a tool that can last you many years or easy to replace if you end up breaking one of the punches! 
Easy to use for all project – These punches very easy to pick up and start using right out of the box. Glue your leather pieces together, use a wing divider/stitching groover to create a straight line and start hammering in the chisels.
Since they have a nice length for the teeth it makes it much easier to punch through many different layers of leather. This way no matter the project you can easily create stitching holes in your project to start stitching right away!
Easy to sharpen – You may find when using a stitching chisel for a prolonged time it can become a bit difficult to punch through the leather. This is because like all stitching irons you have to sharpen the points. The diamond shape of the stitching chisel allows for two sides of the chisel teeth to be available for sharpening. This way it is very easy to remove any damage from the chisel using a high grit sandpaper and/or a strop with polishing compound to bring the chisels back into action.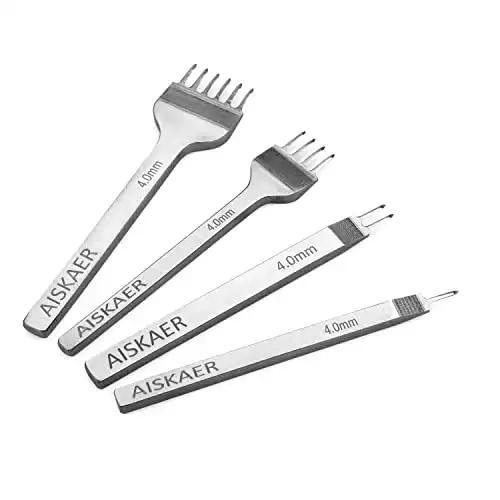 Chisel Stitcher Hole Punch | Amazon
Made of white steel, is a durable and useful leather craft tool.100% white steel material, non-inferior stainless steel. Each product's surfaces are coated with a rust preventive oil before shipping.
Buy at Amazon.com
We earn a commission if you make a purchase, at no additional cost to you.
05/28/2023 06:03 am GMT
Cons
Easy to fray out the bottom of the leather when using the punch – A common trait talked about while using these punches is that they tend to make the back of the holes a bit frayed out. This is because of the points on the chisels piercing through the leather and the rest of the chisel pushing the leather out with the chisel. This tends to make the hole on the underside a bit smaller than than the hole on the face of the punch.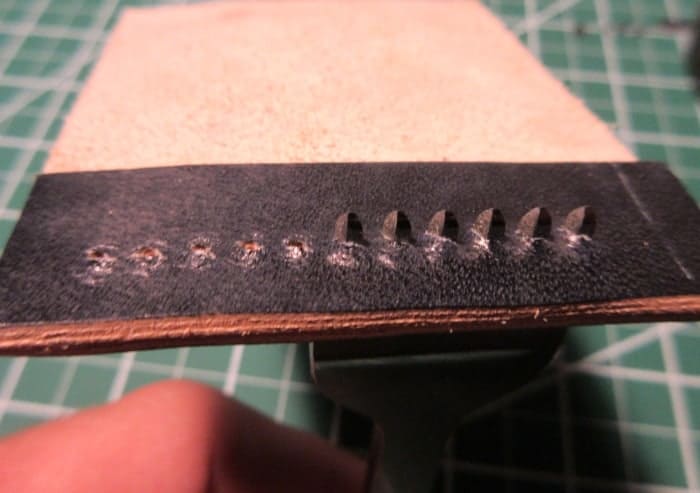 This ends up create a not so perfectly flush stitch as it will tend to show a bit more thread on the side you punched with than the bottom side of the leather.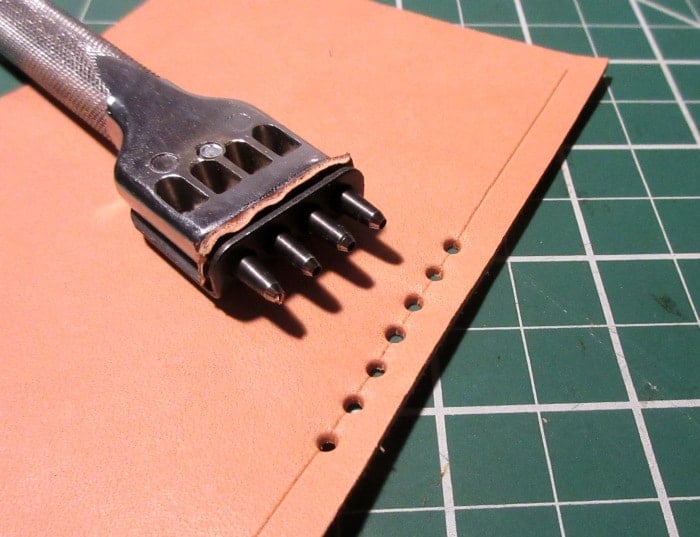 This type of hole punch creates a circle in the leather allowing for a much wider stitching hole in the leather compared to other stitching tools. Since this punch creates circles, it allows you to use a much thicker thread. Using a thicker thread will usually end up being much stronger and look more rugged than most other ways of stitching!
Personally I really like the way the circle hole punches look with a thick 1-1.2mm thread. Or commonly (but not shown) is the way polycord looks with a stitching hole punch.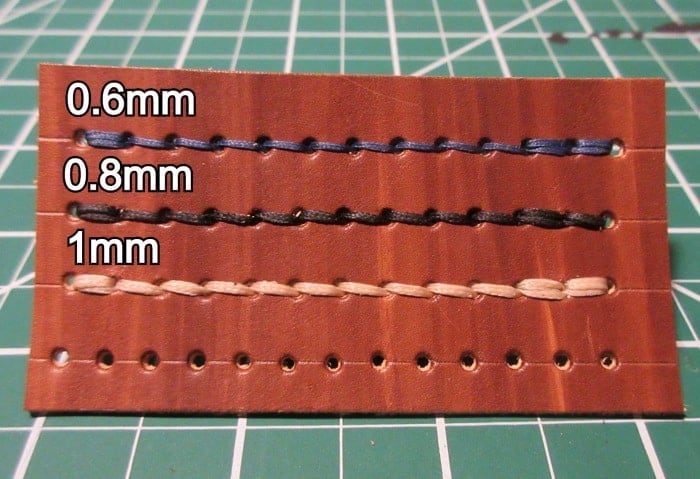 Pros
Cheap and Easily Accessible – These punches can be found locally at shops such as a Hobby Lobby or Michael's Arts and Crafts store. Circle punches tend to range from $13 – over $100 such as a Sinabrok hole punch.
But I tend to say cheap still since you can find a decent punch for a very reasonable price to test if you like the circle punches or not. You can also find a single hole punch around 1-1.5mm and punch every hole using a single hole punch which makes it fairly easy to start punching holes for your stitching.
Rugged Design – With the circle hole punch you can use a thicker thread which will allow for a stronger more durable stitch. (Can be considered a negative).
Very even look – When using a circle punch you will end up punching each piece of leather to create your stitching holes. In the end this becomes a bit more time consuming but will end up with much more even holes than the diamond punch.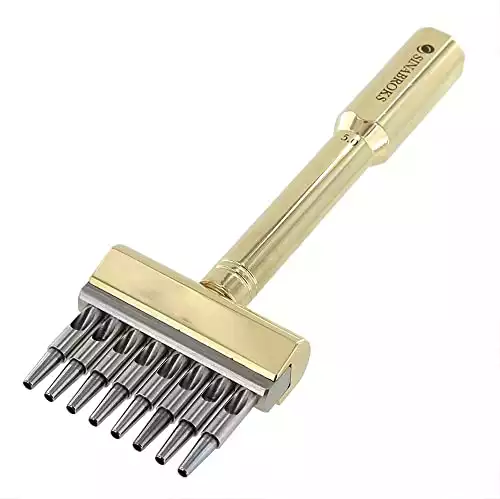 Sinabroks Stitching Punch | Amazon
From the outside these punches demonstrate beautiful workmanship, and to the inside where the functionality and intricate engineering demonstrates the accuracy and 'release' from leather needed for makers with an eye for perfection and efficiency.
Buy at Amazon.com
We earn a commission if you make a purchase, at no additional cost to you.
Cons
Does not go through much leather – When using a punch like mine, I noticed you can only really go through around 4-6 ounces of leather. This is caused because of the width of the hole punch becoming much wider at the top so it can allow for the leather to shoot out the top. Allowing the punch to avoid any jamming inside the punch.
Time Consuming – Since you will have to use the chisels on each piece of leather this will take up more time for punching the holes.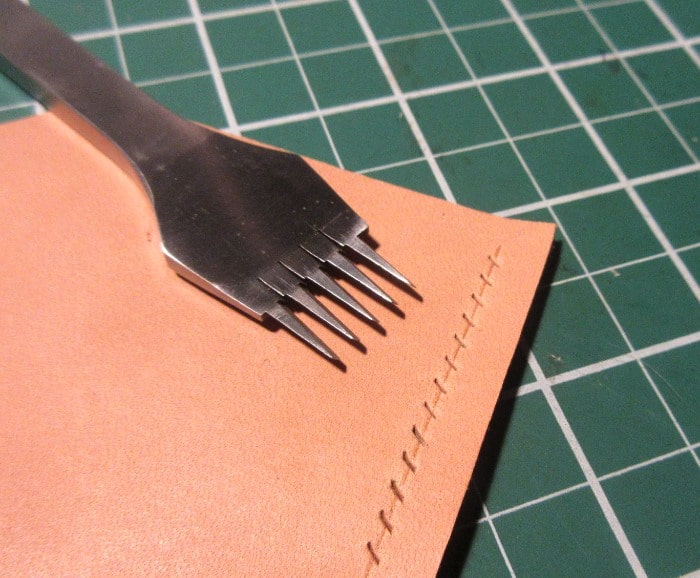 These leather stitching tools I have used the least amount of time so I may be a bit bias against them. If used correctly they can create very fancy (high end) looking stitch to your products.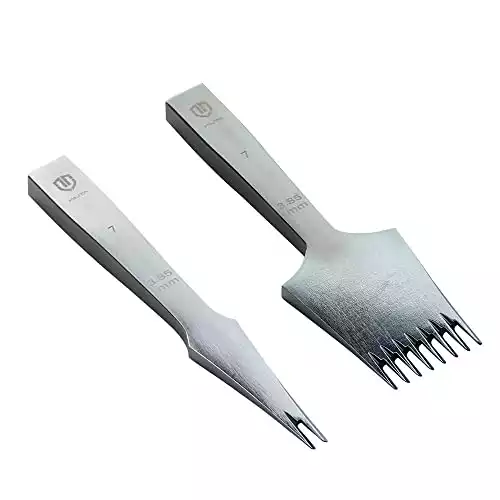 Pros
Very nice looking – These pricking irons will make most leather products look a bit more high end with this style of stitching. They have a very unique slanted punch that will show a minimal amount of thread. And when used with a thin thread the look of the stitching becomes extremely nice.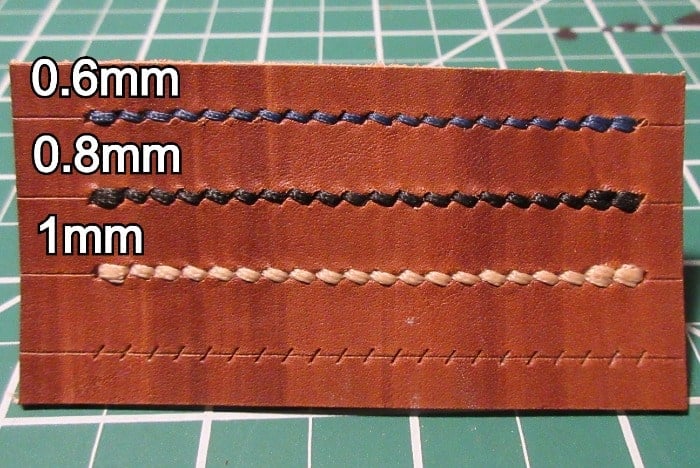 Cons
Time consuming – Like the circle hole punch you are going to have to spend a bit of extra time when stitching. When used correctly these pricking irons will create a slanted punch that only goes through half of the leather. Then the crafter uses a stitching awl to pierce through the rest of the leather to create the hole you will stitch with.
Expensive – Although you can purchase one of these pricking irons for around $20 on Amazon, they don't tend to be very good. Ones that are handmade may cost around $80+ for just a just one pricking iron. Meaning if you want to get around a corner you may want a two prong iron but to go a straight distance you'll want a six prong iron. These will both cost you a decent amount of money.
Thinner thread is needed – This may not be a con depending on the size of thread you already use but these irons (and awl) only create small holes in the leather. This way when you use these, you only really can use up to around a 0.6mm thread without risking blowing out the stitching hole.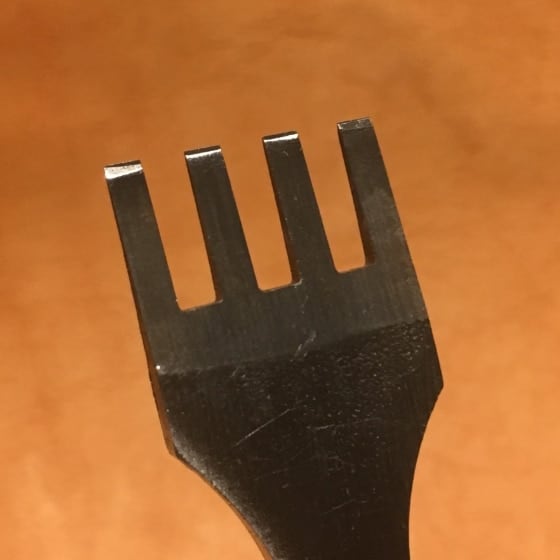 The lacing chisel is one of the easiest to use out of all of them. Its flat design makes punching holes very easy to follow your guide line. But since it creates a flat hole punch it can look a bit off when you are using regular stitching thread and needles.
Pros
Very easy to use – Like I mentioned above the flat design makes punching hole into your leather very easy to follow your stitching guide whether you use a wing divider or stitching groover. Place all of the teeth in the groove line and hammer away.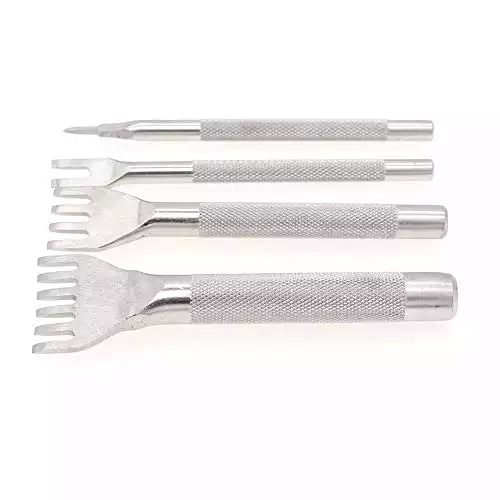 Cons
Using normal stitching thread and needles tend to push out the small thin line you punched. This makes the areas around your stitching start to "pucker" out a bit more than average.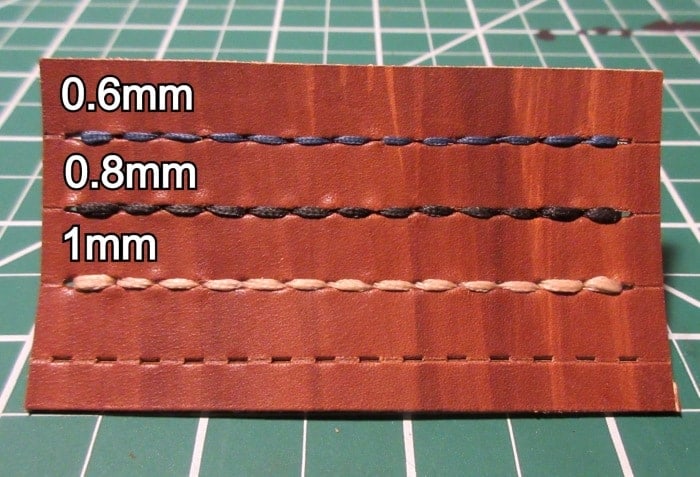 Comparison between leather stitching tools
Comparing these chisels together based on my own pros and cons you could probably guess which stitching chisel is the best to use.  All of these types of stitching chisels have cheap and expensive variations and a lot of time you do get what you pay for. But this whole site is about helping people get started leather crafting and to go over some tips to working with leather.
That is why to me it seems like the diamond shape stitching chisel is the best leather stitching tool to use due to it's easy to use nature.
The price makes it much better just in case you ever need a new set or break one of your chisels. Plus it allows you to take on a wide variety of projects that require different sizes of leather.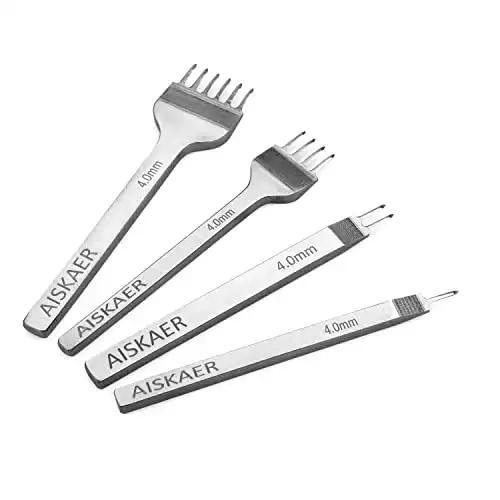 Chisel Stitcher Hole Punch | Amazon
Made of white steel, is a durable and useful leather craft tool.100% white steel material, non-inferior stainless steel. Each product's surfaces are coated with a rust preventive oil before shipping.
Buy at Amazon.com
We earn a commission if you make a purchase, at no additional cost to you.
05/28/2023 06:03 am GMT
The circle hole punch is a good runner up due to its accessibility and its added ability to handle more durable thread. Getting a very good quality hole punch will cost you quite a bit of money but you will have the tool for many years to come!
The pricking iron on the other hand is one of the most visually appealing stitching out there. ( At least that's how it seems when you look on Instagram and Reddit). It has a very nice looking stitch but will take some time to get used to especially if you are going to be using a stitching awl with it.
Like I said though, you can still use these by using them like a chisel to avoid spending extra time on stitching.
The lacing chisel, although easy to use, I don't find it to work too well with regular stitching thread and an average stitching needle.
They all have their own quality features that create very nice and unique looks to them. The real comparison is what the crafter thinks looks the best for their own work.
Although one may be less time consuming over another, the style of leatherwork is different for everybody. Someone who wants a very thin thread with a very fancy high end look may want to use the pricking iron due to its sleek nature. On the other hand when making something you want to have a more rough look you may want to use thicker thread that results in a crafter choosing the circle hole punch.
I hope this helped you get a better view on the differences of leather stitching tools that are available.