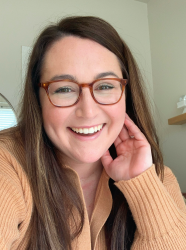 Latest posts by Zan Farrow
(see all)
It's incredible to see what creative ideas people come up with! When it comes to the leatherworking community, we see artisans design clothing, shoes, belts, wallets, and handbags. If you have a collection of scraps from projects passed or are looking to try something new, may we suggest creating leather jewelry?
You can often find leather jewelry at boot retail shops or craft fairs, but have you ever considered that you could make something equally as beautiful? Making jewelry may be a bit outside your comfort zone, so we've come up with a few creative leather jewelry ideas for you to bring to your next project!
Leather Specification
While jewelry sits on the body, it doesn't require the same level of flexibility or movement as a jacket or shoe. We've found that the best leather for jewelry is usually a much thicker material. This allows the jewelry to remain sturdy and hold up well over time.
We recommend starting with genuine leather if you're just getting started and don't have any leather scraps to work with. Because this material is more affordable, you'll have more room to play with trying new techniques and building up those jewelry-making skills! Once you get the hang of it, you can move into using full grain leather or hide for your projects if you'd like.
Leather Tools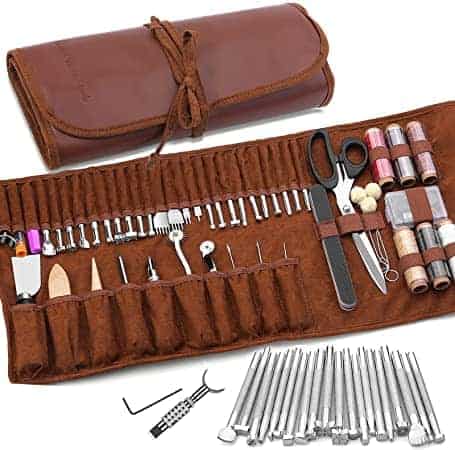 Outside of leather, there are a few tools and accessories you may need before getting started. We created a list of ideas of items to pull together or think about when brainstorming up your jewelry design:
Jewelry Accessories
The Best Features To Look For In Leather Jewelry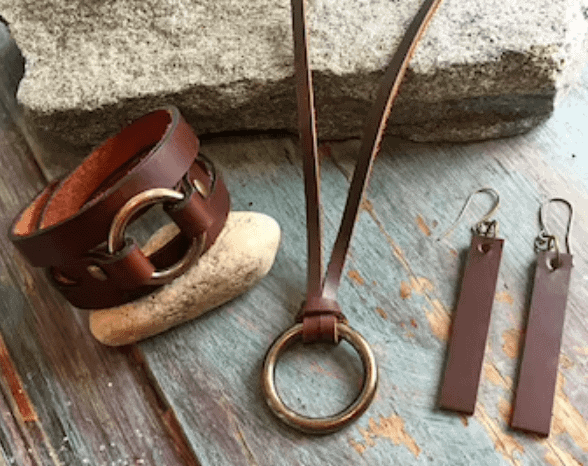 It can be overwhelming to think about all the ways to make high quality leather jewelry so we have a few ideas for you to consider before you start your next project.
Consider how you can hone your craftsmanship. This involves investing in the right tools but also involves being precise and patient when working with your material. Take a look at any leather product you have on hand and take note of the stitching, burnished edges or any other thoughtful details. How can you incorporate this level of craftsmanship into your work?
As for the more decorative details, keep in mind that not all metal, beading, or stones are created equal. Metal comes in many different finishes and weights that can seriously alter the presentation of your leather jewelry. You don't want your beautiful earring design to fall off when a flimsy piece of metal breaks in someone's ear!
High quality materials are worth sourcing. There's a big difference between a sturdy clasp that makes putting a piece of jewelry on easier and a thin piece of metal that bends every time you touch it. Your work deserves to shine so don't let these small mistakes take away from your creation!
A few more details to look out for when designing your jewelry:
Be mindful of your embossing tools. Do they go deep enough to make a significant impression in your material? Are the edges of the embosser making an impression as well? Adjust how you stamp in order to get a clean finished product!
How are you treating the leather before you sell the piece? Depending on the type of leather, there are different ways you can stain or condition your jewelry so it will last longer. Don't hesitate to include care instructions for the jewelry. We enjoy how leather can age over time but want to avoid any warping or cracking.
Keep your tools clean and sharp! Nothing is worse than using a dull or dirty knife to cut or shape your material. As with all leatherworking, be patient with the finer details. It's always worth doing right the first time around!
Creating Something New
There are many ways to put your jewelry-making ideas to the test, but we have a few ideas to help you get started. Grab your tools, sketchbook, and creative thinking to begin! We have broken the ideas down by jewelry category. If we missed something, let us know! We'd love to provide more recommendations for you.
Necklace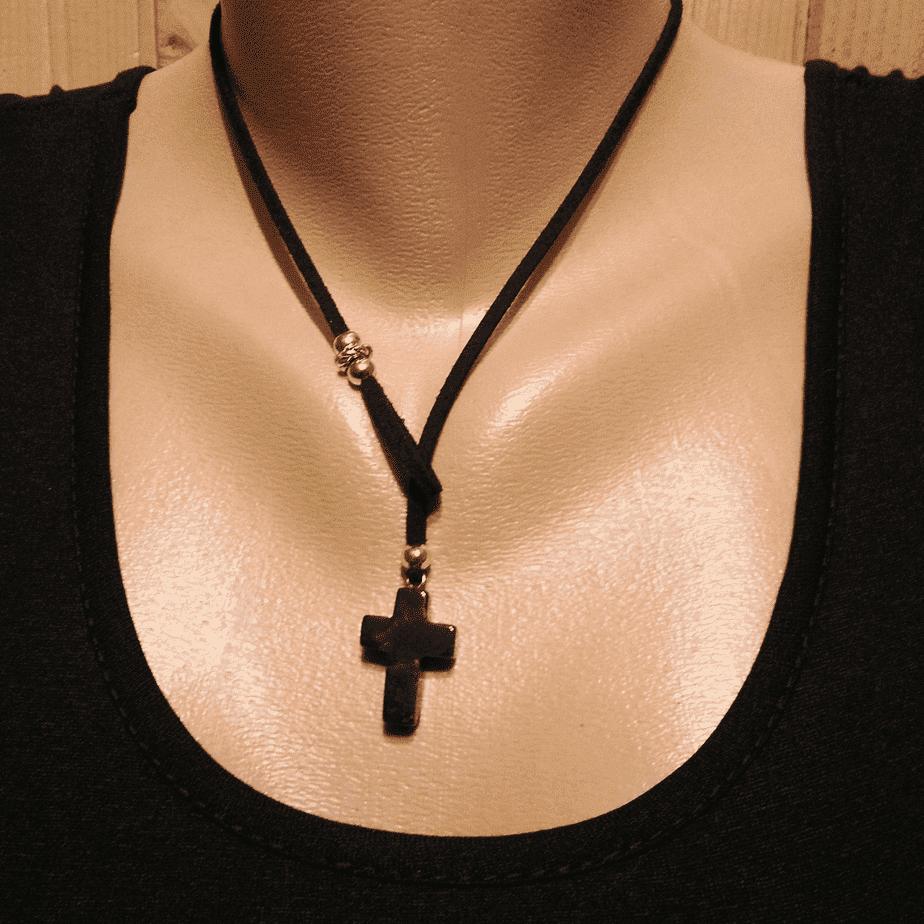 Create an adjustable leather choker with grommets all along the center. This project will be simple to achieve with a slipknot in the back and a simple design along with the leather.
Make a 16"- 20" long necklace with a thin leather strap you can hand charms from. A straightforward project like this will help you learn how to adhere jewelry clasps to leather pieces.
Bracelet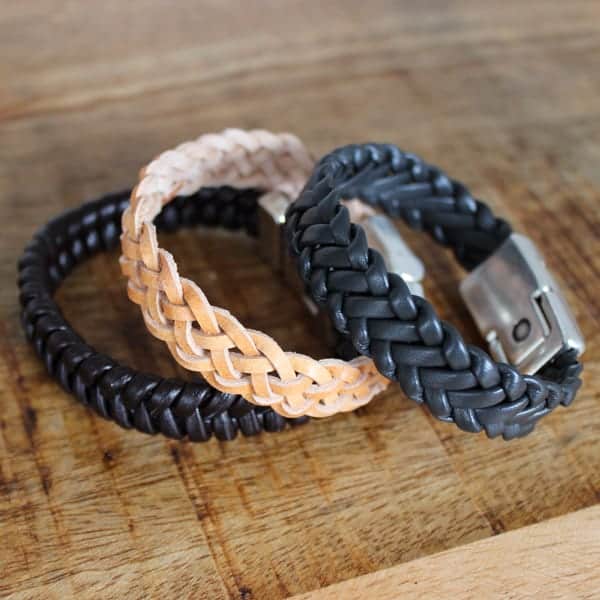 We love the look of braided leather and think this would make a great bracelet! You can play with the size of braids and mix and match multiple to create your desired look. Test your skills by determining if this piece should wrap around the wrist to tie, be sewn together, and closed with a button or any other creative way to keep the bracelet on.
Earrings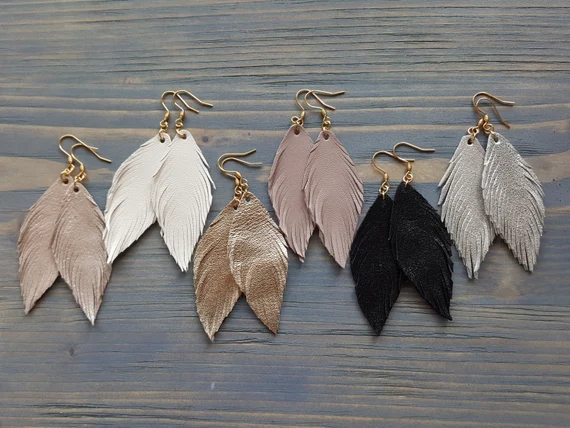 Our favorite type of leather earrings are the ones that look like feathers. They can be dyed, cut into the shape of a feather with tiny slits to make it look more authentic. You can get creative and scrape into the leather to create depth!
We've had this idea for a while and would love to see one of you bring it to life; earring knots. You can come up with an incredible style of knot that is either plain or includes decoration and turn it into either a hanging earring or stud.
The Easiest DIY Projects To Help You Get Started
A cuff provides a large surface area for creativity to come through! Nothing looks cooler than a large cuff bracelet, and leather jewelry is the perfect way to show off your skills. You can create a design with grommets, emboss designs or words into the piece, cut out sections to make more visual interest, or leave it as-is.
A brooch is another larger surface area to create a unique design. This is the perfect spot to include a branch, business logo, and even a monogram. The perk of having a brooch is it can attach to anything. You can pin it to your jacket, a headband, handbag, shoe, hat, and more! A brooch would make a great custom gift for yourself or someone else.
Think Outside The Jewelry Box
Get creative with decoration, dye, and bring a sharp knife! If you're looking for inspiration before you design your first piece of jewelry, think about what leather pieces inspire you most. Is it the embroidery on a custom pair of boots? Or are you most drawn to studs impressed into a belt?
Jewelry is often honored as a family heirloom or unique piece of history. Is there a piece of jewelry you've ever felt connected to or inspired by? How can you incorporate similar elements into your next jewelry design? If there's an existing piece of jewelry you love but don't five yourself wearing, consider how you can rework it into a new item you'd proudly wear!
Style
Adornment has been an important part of cultures all around the world. There are endless ways to utilize accessories and jewelry as a form of self-expression. Here are different fashion styles to incorporate into your next jewelry design:
Minimal – Less is more. Let the natural leather quality shine through.
Nautical – Incorporate rope-like or woven leather to create a coastal feel.
Preppy – Dye or paint your leather in bright or metallic colors.
Grunge – Embrace fringe or distressing in your jewelry piece to provide a lived-in effect.
Artsy – Carve or emboss geometric shapes or patterns into the leather to create visual interest.
Casual – Create a simple design that won't compete with the rest of an outfit.
Color Combinations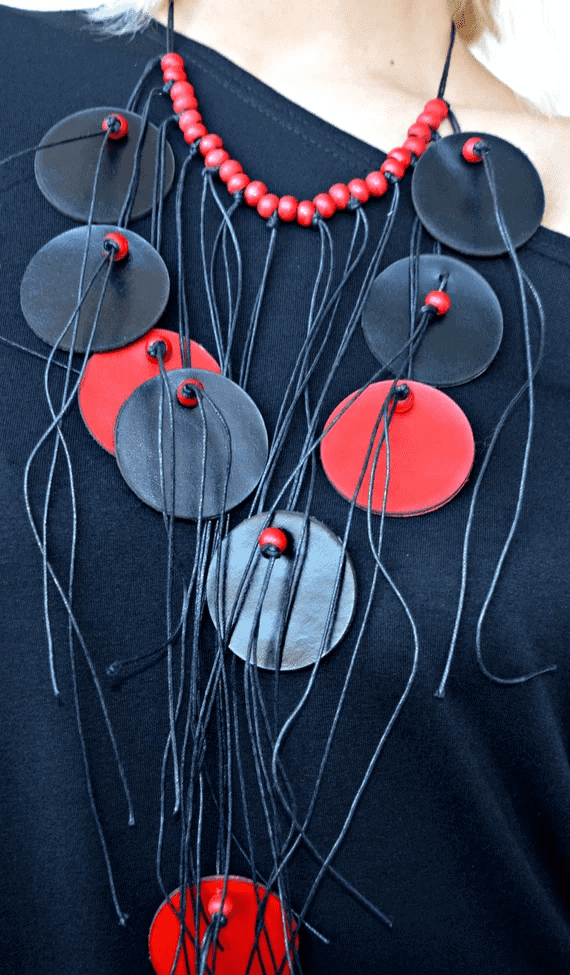 Applying color to leather can be overwhelming, so we've taken out some of the guesswork to share our favorite color combinations you can incorporate into your project.
Red & Gold
Blue & Yellow
Black & Red
Green & Yellow
Purple & Silver
Question & Answer
We hope this article gives you a few ideas before you begin your next jewelry project. We've included a list of frequently asked questions to make getting started a bit easier.
Question: How can I connect the jewelry without using a clasp or hook?
Answer: You can connect jewelry by tying the leather in a bow, creating a knot, sewing, or singeing the edges together.
Question: Can I mix different leathers to create a piece of jewelry?
Answer: Yes, absolutely, you can mix your leather! As you design and plan your piece, just keep in mind the various thickness and/or flexibility between the leathers. This can make a big difference in the construction of your jewelry item.
Question: How do I make unique jewelry pieces that I can gift or sell?
Answer: Take note of what you see at farmers' markets or in local boutiques. This can help you know what's trendy or popular in your area. We would never recommend you copy another artist's work but use it as information to create something all your own. As always, your best resource of inspiration is you! If you feel drawn toward a particular style or design, that's what you should create.
Question: How do you adhere beads to a piece of leather?
Answer: You can create a woven design with beads and then sew it onto your leather or sew each bead directly into your jewelry. If you're adding a lot of beading we would recommend the former option. This is the easiest way to add a lot of beading without having to sew through thick leather with each individual bead.
The Finished Product
It's exciting to see so many leather makers get into creating unique jewelry pieces for themselves and their loved ones. There's no limit to what you can create when utilizing your creativity, we can't wait to see what you make next!
For more interesting readings, check out: