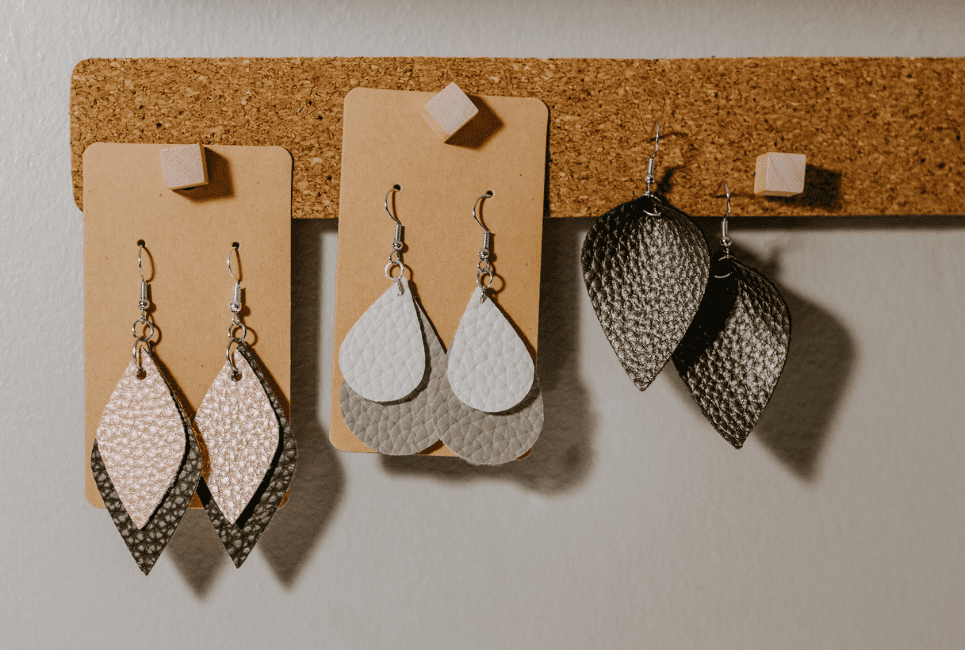 Creative Leather Jewelry Ideas
It's incredible to see what creative ideas people come up with! When it comes to the leatherworking community, we see artisans design clothing, shoes, belts, wallets, and handbags. If you have a collection of scraps from projects passed or are looking to try something new, may we suggest creating leather jewelry?
You can often find leather jewelry at boot retail shops or craft fairs, but have you ever considered that you could make something equally as beautiful? Making jewelry may be a bit outside your comfort zone, so I've come up with a few creative leather jewelry ideas for you to bring to your next project!
Bottom line up front: Out of all of the pieces featured for inspiration here, my favorite is the Silver Claw ring. I think it's so creative!
The Best Features To Look For In Leather Jewelry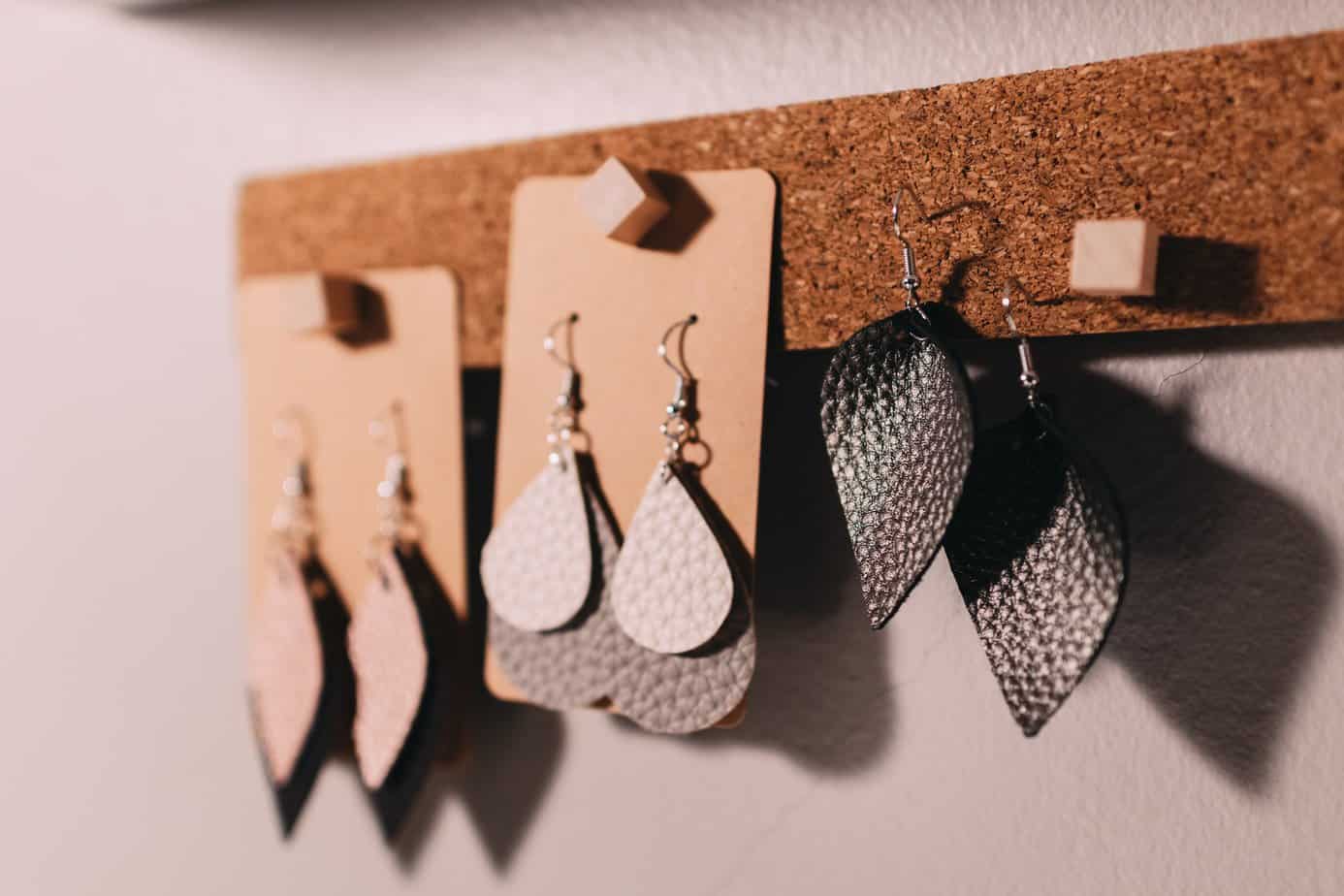 It can be overwhelming to think about all the ways to make high quality leather jewelry so we have a few ideas for you to consider before you start your next project.
Consider how you can hone your craftsmanship. This involves investing in the right tools but also involves being precise and patient when working with your material. Take a look at any leather product you have on hand and take note of the stitching, burnished edges or any other thoughtful details. How can you incorporate this level of craftsmanship into your work?
As for the more decorative details, keep in mind that not all metal, beading, or stones are created equal. Metal comes in many different finishes and weights that can seriously alter the presentation of your leather jewelry. You don't want your beautiful earring design to fall off when a flimsy piece of metal breaks in someone's ear!
High quality materials are worth sourcing. There's a big difference between a sturdy clasp that makes putting a piece of jewelry on easier and a thin piece of metal that bends every time you touch it. Your work deserves to shine so don't let these small mistakes take away from your creation!
A few more details to look out for when designing your jewelry:
Be mindful of your embossing tools. Do they go deep enough to make a significant impression in your material? Are the edges of the embosser making an impression as well? Adjust how you stamp in order to get a clean finished product!

How are you treating the leather before you sell the piece? Depending on the type of leather, there are different ways you can stain or condition your jewelry so it will last longer. Don't hesitate to include care instructions for the jewelry. We enjoy how leather can age over time but want to avoid any warping or cracking.

Keep your tools clean and sharp! Nothing is worse than using a dull or dirty knife to cut or shape your material. As with all leatherworking, be patient with the finer details. It's always worth doing right the first time around!
Selection Criteria
Before we get into my list of ideas, you may be wondering how I've made the recommendations I've listed here. I've chosen these ideas based on a few different factors. 
First, I made sure all of the pieces featured here use real leather! No pleather or vegan leather to be found in any of these projects. This is so you can expect the similar looking results based on your materials used.
I also made sure to include a variety of colors, materials, and difficulty levels throughout all of the pieces. You'll find a few beginner-friendly, intermediate, and advanced pieces here!
Leather Jewelry Inspiration
If you've run out of places to find inspiration for your next leather jewelry project, don't give up just yet. I've got a bunch of unique ideas you've probably have never seen before here. 
Necklaces
I love how edgy this necklace looks. This definitely isn't an easy project to accomplish if you're a beginner. But, if you're a leather master, this isn't too hard. I love the syymerty found in this necklace with the snack emblems! 
Are you looking for a simple super project to work on? All you need is some leftover cord and a few beads! This project won't take long to finish up and I really love how you can make a huge variety of necklaces by switching out different beads. So cute!
Another gorgeous statement piece. I love how the feather is dipped in a metallic silver paint, I feel like that really adds a whole other element to this statement necklace. If you're looking to make an even bigger necklace, you could add additional chain linking or beads to elongate the piece.
This is another simple piece that shouldn't cost too much to make! You can purchase pearls at your local craft store. I love the knot that's tied towards the top of this necklace too. If you want to get creative, you could always braid the strands together! 
Looking for a piece that's a little more daring? This white choker is it! I know this is such a trendy piece. You could always add some rhinestones or other gems onto the necklace to make it more feminine. I would suggest making a matching bracelet to go with this!
I love the idea of cutting out sparrows out of leftover or scrap leather. Especially if you had a darkening project that didn't go as planned. If you have different colored sparrows, I really feel like it would add so much more depth and intricacy to this necklace. Plus, you can customize the different sized sparrows depending on how much leather you have to work with!
There's one word I would use to describe this necklace: breathtaking! It's fairly simple in terms of creation, but if you can find some high-quality gems to pair with your necklaces, you'll be golden. This also opens up the door for the possibility of custom made pieces too. 
Bracelets
I love all of the different pattern optinos available with the bracelets. These are pretty uni-sex, which means they're grea to offer if you're not looking to cater towards a specific group of people!
I think this is my second favorite bracelet on the list. I love how bright the green is, but you could do so many different color varieties! I think offering a tye-dye (or as close to tye-dye as you can get) option would be beautiful too. When I see the leaves, I think about a red/orange/yellow tye-dye combo for fall! 
Now, this is my favorite bracelet on the list! However, I will admit I'm partial to the gemstones. Anything that glitters is beautiful to me. I love how the medium tan shade of the leather works so beautifully with the teal color of the impression jasper. 
These are a great example of masculine leather bracelets. They're a beautiful shade, but the chunky and patterned beads could really cater towards a male audience. I love the braiding in the bottom cord bracelet! 
Rings
This ring is pretty simple, but it's super cool. I love the little envelope embossment in the ring. I would love to see initials on this ring too for a customization option, but I think the envelope is very niche!
How cool is this ring? Seriously! I love that it almost has a cosplay-esque appearance to it. But, it could even go as a bold statement piece for your night out! Simple, daring, and oh so cool.
Simple and beautiful. I think the hearts underneath of the bows are so, so, so cute. Plus, with the different colors of leather and bows offered, these would be great stocking stuffers for teens. You could also offer customization by providing initial engraving into the leather, if you wish. 
Earrings
Work with leather, but want to make it chic? Check out these earrings! I love the color and how the artist combined delicate golde jewelry with the different teal toned beads. I would easily pay $75-100 just for one pair of these earrings, no questions asked. I can tell there's so much love put into them!
Into edgy jewelry? I feel you! These remind me for a Tim Burton movie. I think the straw threaded through the heart is really interesting. But, I think these earrings would be just as cool without the straw!
I love how these earrings also use antlers! I'm obsessed with the neutral tones in these earrings. Plus, I think the dangling leather cord is beautiful too. They're simple earrings, but my goodness, are they stunning!
If you're looking for a way to combine your love for modern-day graphic art with leather jewlery making, these earrings are perfect for you! There's so many cool things about these earrings, but I love how a few of the earrings look like the'yre 3D! I would recommend trying these if you're looking for a fun and possibly challenging project to work on. 
These are a pretty simple leather project. I think the colorful stitching on the sides is unique, but this isn't something I personally would do. However, I think the pearl dangles on the bottom of these earrings are cute! 
Looking for a leather project that's colorful and cheerful? I can't help but to think about summer whenever I see these earrings. I love how light they are; the pattern isn't distracting or too bold. Very feminine, very cute!
Not a big fan of earrings that drop or dangle? No worries, I'm a stud lover too! I love the brown leather studs featured in this picture, but there's so much potential to be found all around this photo. I want to make room in my jewelry box for every single one of these earrings!
If you're looking to break out of your comfort zone a little bit, you could try these bright pink earrings. You don't have to stick with the bright pink, but if you were wondering what a bright color would look like on real leather earrings, here you have it! 
Remember how I loved the silver dipped feather in the necklace above? Well, I couldn't have gold feeling left out. I love how simple these earrings are, but how classy they look. From the video, they definitely look almost like realistic feathers. My creative brain wants to put holographic glitter with metallic silver paint on another pair, but maybe I'm just obsessed with glitter.
Question & Answer
I hope this article gives you a few ideas before you begin your next jewelry project. I've included a list of frequently asked questions to make getting started a bit easier.
Question: Can I mix different leathers to create a piece of jewelry?
Answer: Yes, absolutely, you can mix your leather! As you design and plan your piece, just keep in mind the various thickness and/or flexibility between the leathers. This can make a big difference in the construction of your jewelry item.
Question: How do I make unique jewelry pieces that I can gift or sell?
Answer: Take note of what you see at farmers' markets or in local boutiques. This can help you know what's trendy or popular in your area. We would never recommend you copy another artist's work but use it as information to create something all your own. As always, your best resource of inspiration is you! If you feel drawn toward a particular style or design, that's what you should create.
Question: How do you adhere beads to a piece of leather?
Answer: You can create a woven design with beads and then sew it onto your leather or sew each bead directly into your jewelry. If you're adding a lot of beading we would recommend the former option. This is the easiest way to add a lot of beading without having to sew through thick leather with each individual bead.
The Finished Products
There's so much inspiration to be found here. I love all of these ideas, as they all offer something unique. If I had unlimited resources, I would absolutely make every single piece here. Do you have a favorite piece? I love the claw ring, I think it's so cool!
For more interesting readings, check out: