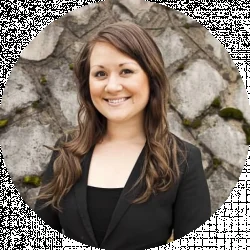 Latest posts by Lacey Jackson
(see all)
When I started working with leather as an adult, my partner told me I could use some of their "genuine leather" for the project I had in mind. They had already started leather working as a serious hobby, so they had everything I needed.
I distinctly recall asking if the material we were working with was the same leather as my leather purse because it was a lot firmer. I was told it was; it just hadn't been processed yet. When I followed up and asked if it was the same as my wallet, I got a polite "no, your wallet isn't real leather."
After stomping upstairs to grab the wallet, I pointed to a little tag on the inside that said "genuine leather," and I received a somewhat sympathetic nod which preceded an overly complicated explanation of the word "genuine."
And now I get to share that overly complicated explanation with you, although hopefully in a condensed version.
Bottomline Upfront
"Genuine" leather is technically any product with any percentage of rawhide. You might see the term associated with top grain, full grain, bonded, or split-grain leather. Understanding the differences between all of these hide types can help you ascertain the quality and maintenance required for your genuine leather products.
What is Genuine Leather?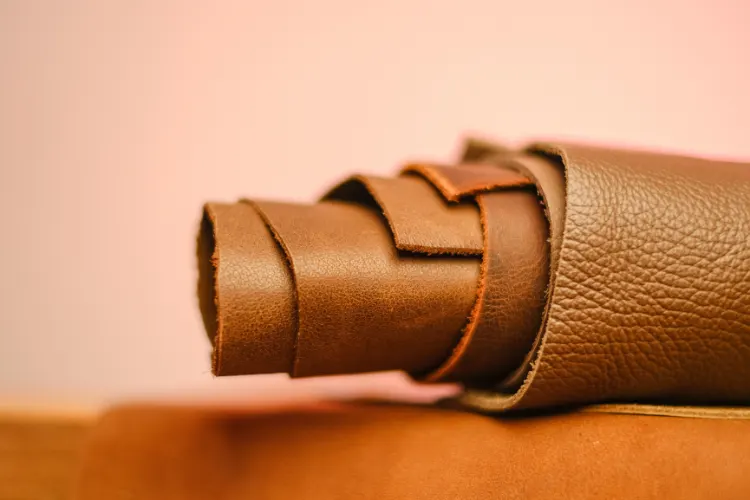 I will start with the most complicated part, first:
The term "genuine leather" can technically be applied to any product with even a fraction of a percentage of actual hide. Less scrupulous companies will apply the term two products that only have a small amount of hide, so it can be difficult to determine what genuine leather is and what it isn't.
Professionally speaking, "genuine" is supposed to mean just that; it is authentic, legitimate, or otherwise real leather. Translation? It is part of an animal hide. 
Here is where it gets complicated:
If you wander into a Burberry store, you will see a lot of nice items labeled "genuine leather," and these are expensive. 

If you wander into Ross and start rifling through their leather bags and wallets, you will find 

a lot

 of "genuine leather" labels on inexpensive products. 
Why?
Because in the case of the Burberry store, the items are not only genuine, but authentic, and likely, top grain. At Ross, they are likely bonded leather. 
So, let me break these terms down for you. 
Leather Terms
It starts with an understanding of the manufacturing process of leather. When you look at a piece of rawhide, it looks like it's just one piece, but it's actually multiple pieces:
Starting at one end, you have:
The Flesh: This first layer is the fleshy bits that make up the inner skin, with a lot of tight fibers.

The Corium (where we get suede): This layer is the thickest with an open structure.

The grain (where we get top grain): This layer has a thick, cushioned barrier.

The Grain and Hair Shaft (where we get full grain): This is the exterior of the hide, which is exposed to the elements.
That second layer is usually called "split grain leather" because the hide is split into different pieces. This is the part used for suede. So, you might see something listed as "genuine split grain leather," "genuine suede," or "genuine Nappa leather." All of these refer to that second layer of the rawhide. 
Examples: This wallet, this purse, work gloves, work boots, athletic shoes, and upholstered furniture 
The third layer, called the grain, is usually labeled as "full grain" or "top grain" leather. Full grain leather uses that outermost layer of hide, but it also includes the second layer, referred to as the splint. Top grain leather is that same outermost layer but without the splint. So you might see words like "genuine top grain" or "genuine full grain," and they all mean the same thing. This is also where you get nubuck leather. So you might see something labeled as "genuine nubuck," too. 
Examples: Madison Leather Tote Bag, Top Grain desk chair, top grain handbag, furniture like the Winston Tufted couch. 
And then there is "bonded." Bonded leather is all the scraps of leather that are left behind, pressed together with polyurethane glue, and converted into a large sheet.
If you have ever made cookies by rolling dough and using a cookie cutter, it's the same process; every time you gather the scraps of dough and fit them back into a new sheet from which to carve new cookies, you are effectively using the same process.
Plenty of manufacturers use the term "genuine" when referring to bonded leather. The catch is that bonded leather usually only has between 10% and 20% legitimate rawhide.
Examples: This bonded leather sofa or this bonded leather office chair. 
Confused yet? Let me recap:
Genuine leather is a marketing term used by companies to describe any product that contains even 1% of actual rawhide.
If you see "genuine," you need to look at all the other descriptors to better understand which part of the rawhide it comes from and what that quality implies.
| | | | | |
| --- | --- | --- | --- | --- |
| Name | Where it Comes From | Qualities and Characteristics | Cost | Is it Genuine Leather? |
| Full Grain Leather | Taken from the outermost layer of hide with the splint. | Very breathable and durable, the least processed with all the natural markings and grains visible. Used for high quality products. | Most expensive | Yes |
| Top Grain Leather | Taken from the outermost layer of hide without the splint layer. | Can be made soft and pliable, used for upholstery and furniture.  | Second most expensive | Yes |
| Split Grain Leather | Taken from the inner layer left behind after the top grain leather is separated | Soft and used for suede. | Slightly more affordable | Yes |
| Bonded Leather | Made with all the scraps left behind, mushed into a sheet with polyurethane.  | Not very durable, usually containing only a small percentage of legitimate rawhide. Very thin and very cheap. | Very inexpensive | Yes* |
*Note: In my experience, companies that use full grain leather or top grain leather (arguably the highest quality and most expensive) don't go out of their way to stuff the word "genuine" in their marketing information or product descriptions.
But companies that use bonded leather throw that word in anywhere and everywhere they can to try and increase sales.
Quality of Genuine Leather
Anything that's referred to as genuine will still vary, and terms of quality are contingent upon the actual part of the hide from which it comes. So, let's take a look at the quality of each.
Full Grain
Genuine full grain leather is the cream of the crop. It's considered the absolute best. Full grain genuine leather doesn't have a lot of processing; the hair gets removed, and then it prepares for whatever it will become.
So any markings, discoloration, or imperfections on the hide will show up on your product. Many people really like this because it's one of the only ways you can quickly look at a product and discern how good (read: expensive) it is.
Top Grain
Genuine top grain is almost exactly the same, but there might be slight corrections to the Natural grain through sanding. Sanding helps to achieve uniformity in the product.
Split Grain
Genuine split grain leather is a very popular option for most people because it is right in the middle of quality and cost. It can have a lot of different finishes applied to it to change the look or increase the water repellent behaviors of the hide.
Bonded
Genuine bonded leather is the least expensive and effectively similar to vinyl, so while it is technically leather, most people don't consider it as such.
Finish on Genuine Leather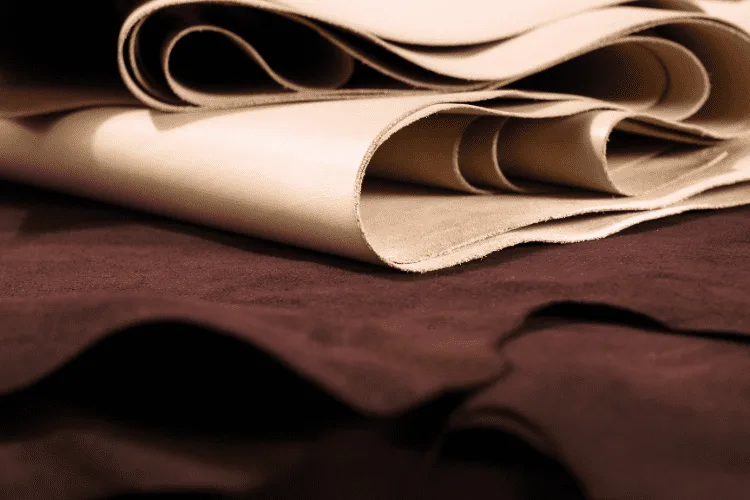 Genuine leather products can vary in terms of the finish. Full-grain leather doesn't have much done to it, but it can have a natural aniline finish or a wax finish that helps show off the natural imperfection in the hide. 
Top grain, split grain, and bonded can all have natural finishes that change the color of the hide, protective finishes that increase your ability (something used a lot on furniture), wax finishes that give it a rugged appearance, or specialty finishes (used primarily on high-end fashion statement pieces). 
You can find many products to help restore faded genuine leather if the finish has changed with time, too. 
Cost of Genuine Leather
To give you an idea of the difference in cost between the levels of "genuine" leather, I have put together a quick table that shows each type for an otherwise similar couch:
| | |
| --- | --- |
| Full Grain | $3859 |
| Top Grain | $3199 |
| Split Grain | $2499 |
| Bonded | $1200 |
Note: I used an average figure for each type of couch, not a specific example.
Uses for Genuine Leather
Full Grain
Genuine full grain leather is usually used for one-of-a-kind items, like purses, bags, wallets, and the like. As it ages, it develops a patina, that increases its value.
Top Grain
Genuine top grain is almost exactly the same, but it is used for nubuck boots and work gloves, formal shoes, upholstery, and leather accessories.
Split Grain
Genuine split grain leather is a popular option for all leather products, like purses, bags, belts, shoes, jackets, gloves, and more. Anything you see in a large, brand-name store is probably split grain.
Bonded
Bonded leather is used for cheaper upholstery, books, office supplies, and bags.
How to Clean Genuine Leather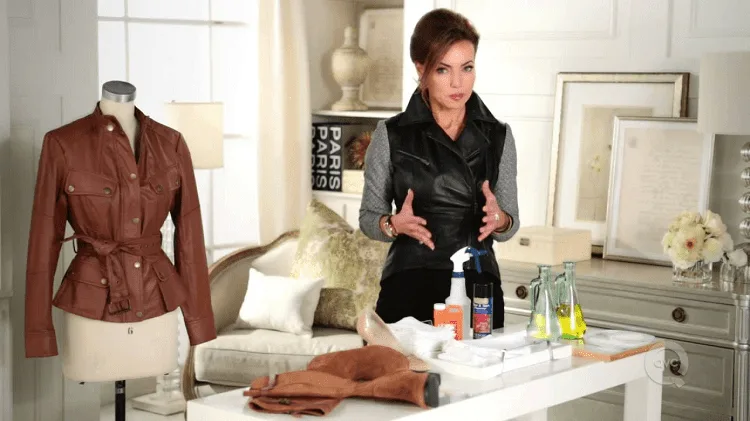 So, since just about every type of leather product is considered "genuine," you have to be careful about how you clean each one. 
Full and Top Grain
With both of these, like suede & nubuck, you want to avoid getting them wet. You can use things like old toothbrushes, nylon brushes, or clean cloth to get rid of surface dirt, but you don't want to repeatedly expose genuine leather products like these to a lot of water.
I keep a Fiebing's Nubuck Cleaner Kit on hand, but you can also use something like Bickmore Nubuck Cleaner for long-term maintenance. 
Split Grain
You can find leather cleaner spray for things like split grain upholstery or furniture. I recommend Weiman leather cleaning and conditioning wipes for everyday cleaning. For long-term maintenance, consider leather conditioner care kits. 
Bonded
Products like Master ReStore-it can repair rips or cracks in your bonded leather products. Weiman's leather conditioner works well for long-term care. For basic cleaning, though, just use a warm rag and water. 
FAQs
Question: How Long will Bonded Leather Last?
Answer: If you purchase a bonded leather product with the label "genuine" on it, it will usually last between two and five years, depending on how much used it gets. 
Question: Does Genuine Leather Crack?
Answer: Genuine leather will crack with time, no matter which type of leather product it is. Bonded leather is the least durable, so it will crack very easily. Full grain leather will start to show cracks after regular use because it doesn't have the same types of protective finishes as top grain or split grain.
Question: How Can You Tell if the Leather is Split?
Answer: If you aren't sure which type of leather you have, you can check to see if it has been embossed or has any type of polymer on it. If you see a pattern that's been printed on there, you know it's at least not full grain leather.
Question: Is Genuine Top Grain Good Quality?
Answer: Yes. I think top grain is the better option for a lot of people because full grain leather is very expensive, and top grain products will last almost as long, assuming you take good care of them.
Question: Which is Better, Nubuck or Suede Leather?
Answer: Nubuck leather is softer and more durable, so it's good for jackets, gloves, shoes, and anything that's going to touch your skin. But suede is very good for firmer items like wallets or belts that you use regularly. 
Bottomline Upfront
"Genuine" leather is technically any product with any percentage of rawhide. This can be 100% full grain leather all the way down to 1% bonded leather. You might see the term associated with top grain, full grain, bonded, or split-grain leather.
However, with your understanding of the differences between all of these hide types, you can now figure out precisely where your leather product came from, how good the quality is, and how to take care of it. 
Looking for more interesting readings? Check out: