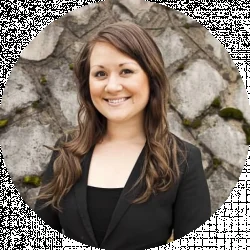 Latest posts by Lacey Jackson
(see all)
Coming from an area that had rainy winters that weren't too cold, I needed a pair of boots that I could wear with my skirts to stay warm but still look professional. When I bought my first pair of leather boots, I did so in October. It was a lot easier than wearing heels with my pants, only to have the top three inches of my hems soaking wet by the time I reached my desk.
I just assumed boots worked well in cold weather, but everyone kept telling me to be careful in the rain. I didn't understand it. I spent extra money making sure I got real leather boots because I figured cows stood in the rain all the time, so if I'm wearing a cow, it will keep me dry.
By the end of that winter, my boots looked like they had chicken pox. They were covered in discolored spots around the bottom, and every time I took them out in the rain, I got even more spots.
It turned out that you aren't supposed to get the leather wet even though it comes from a cow. I wish I had known that, but I also wish I had known how to repair a broken seam when it finally gave way. 
Bottomline Upfront
If I were to ask you what comes to mind when you think of leather, you would probably picture suede. Most people do. Suede and nubuck leather are very similar, but nubuck is far more durable because it comes from the outer layer of the hide. You can find top-of-the-line nubuck leather boots, shoes, gloves, and other accessories. With the right leather tools, you can also take care of any water stains that might arise so that your nubuck leather doesn't look like it has chicken pox.
What Is Nubuck?
Nubuck is a type of leather traditionally made from buck (deer or elk) skin. Most nubuck items you buy today are made from calfskin. 
Nubuck is the leather's exterior part, the part you see on the outside of a cow. It is different from suede which comes from the interior part of the hide. Many people conflate these two because suede actually looks more natural, like it's the exterior of an animal hide, but nubuck is usually sanded or buffed, which creates the larger protein fiber sections.
If you plan on investing in a pair of leather boots for the winter as I did, nubuck is a much better choice. While it might show some spots (unless you take good care of it–which I did not), it tolerates exposure to water better than suede.
Quality
Nubuck leather is the top grain leather, so it's tough and durable. It is still vulnerable to staining because of that rough quality, so you want to ensure you have the tools to take care of any leather products you buy.
Appearance
Nubuck leather has a velvet appearance. It looks as soft as it is to the touch. If you take a piece of nubuck leather (bag, gloves, shoes) and you rub the surface, you will notice a slight change in color (think: sequin pillows). This happens because the direction of the fibers moves, which creates shadows or light plays (not because, like the sequin pillow, it has two colors). 
Now, if you aren't the type of person who can walk into a furniture store or clothing store and immediately discern which type of leather is used for what products, I am right there with you. Thankfully, you can learn how to identify leather in this quick video:
What Is Nubuck Used for?
Nubuck leather is used for:
Boots

Briefcases

Furniture

Handbags

Jackets

Travel Bags

Wallets
How Nubuck Is Manufactured
As mentioned, nubuck leather comes from the outside layer of calfskin or cowhide. This outer layer is called the top grain layer. It's more resilient and tougher than the interior layer, which is reserved for suede.
However, since it is outside the cow, it will show any marks or defects left behind by whatever frolicking that cow got into. In order to get rid of this before the hide is cut and processed, it is sanded and buffed until it has a consistent appearance.
This process leaves behind short protein fibers that actually provide that velvet finish. Sometimes nubuck leather is stained or dyed, especially if they need to mask any other defects in the hide.
Pros and Cons of Nubuck Leather
Pros
It is a long-lasting product. 

It is very comfortable. 

You won't have to polish or shine the leather. 

It is more breathable compared to synthetic leather. 

It requires only minimal cleaning. 
Cons
It is not a suitable material for situations where you get exposed to a lot of mud or dirt. 

It gets darker when wet (but will dry back to its original color or stain).

Oil and grime will stain it if you don't clean it promptly. 

How Nubuck Compares to Other Leather
Compared to suede, nubuck looks and feels very similar, but the suede costs less and gets damaged more easily. If you are considering nubuck versus suede, then it comes down to the durability or the cost. 
Nubuck is durable and water-resistant compared to chrome-dyed leather, but chrome-dyed leather looks and feels much different. This comes down to the dye that is used. 
Tanning hides with tree bark tannins produces vegetable-dyed leather. This is very similar to chrome-dyed leather, but it is more environmentally friendly. 
In both latter cases, you get a smooth leather finish with a richer color, so if you are considering nubuck versus chrome-dyed or vegetable-dyed leather, that comes down to the color and the feel. 
Nubuck Leather Goods
If you want to invest in nubuck leather, you can find many accessories. I love these Men's Premium Nubuck Gloves because they are durable enough for outdoor work. Whether I work in our woodworking shop or out in the garden, I'm around many tools, and splinters are everywhere. Regular gardening gloves just don't cut it.
But these nubuck leather gloves were an Impulse buy while wandering through Home Depot once upon a time, and they have proven invaluable. Now I don't have to worry about splinters, sharp edges, or accidentally picking something up that might bite me.
Hands aren't the only thing that needs protection. You can protect your feet with durable, waterproof nubuck Timberland PRO Workboots. Almost every male family member has a pair of these work boots, and they use them when working in the barn, on a construction site, or remodeling a home. They have steel toes and a padded collar, so everything is very comfortable, and when you invariably drop something on your toes, it's not the end of the world.
Nubuck leather doesn't have to be exclusively for work-related scenarios. Durability, comfort, and waterproofing are perfect for outdoor events too. This Men's Real Nubuck Leather Parka Jacket is 100% pure nubuck. I love the chocolate brown color and the tan trim that it offers. Good leather jackets are great for winter, and this design is comfortable while still offering protection against the rain and the wind.
How to Maintain Your Nubuck Leather Goods
Whether you purchase gloves, work boots, designer purses, or fancy jackets, make sure that you have the tool to take care of your nubuck leather goods the way I didn't.
I've learned from my mistakes, and today, I keep a Fiebing's Nubuck Cleaner Ki in the car and in my closet. So, if I'm out and about and something gets on my shoes or my purse, I can use my kit to clean it quickly. This is all so great if I'm on vacation and don't have access to the kit in my closet.
When I come home from an event or running errands, I can use the dry cleaning bar and brush to quickly dry clean my leather.
Tip: If you end up with a scratch, you can use the dry bar to basically do a nubuck leather comb over where you brush up the protein fibers and lay them over the scratch, so it's not as easily visible. 
If I stepped in something weird, and at some point we all do, you can also get a nubuck stain eraser. I love the eraser because it helps get rid of small stains or marks and oil. For more serious maintenance like those pesky winter water spots, invest in something like Bickmore Nubuck Cleaner. Then top it off with some waterproofing spray like Nikwax or YeezySolution. 
If you have any type of exterior dirt or other stains on your leather products, you can use the dry brush to brush it off the protein fibers. If you have things that have stained not just the protein fibers but the hide itself, you might need to apply a cleaner or use the eraser to achieve the same effect. Nubuck cleaner can be sprayed and then brushed away just like you would superficial dirt.
Tip: If you truly can't afford these professional cleaning products, but you are still starting out with nubuck leather, you can easily use a toothbrush (not the one you are using in the mornings and evenings) and use it to gently brush the protein fibers in much the same way.
You can also use an old toothbrush with different cleaning solutions at home like a mixture of vinegar and water. As is the case with any cleaning product, whether it's homemade or store-bought, be sure to test a small area before you use it on your entire nubuck leather product.
FAQ
Question: Can I get nubuck leather wet?
Answer: Nubuck leather is a more durable form of leather, but you should still avoid getting it wet if you can. The more any nubuck leather product gets wet, the more structural damage it will sustain long-term. If you have some nubuck shoes or jacket and they get wet, you just want to dry them as quickly as possible.
Question: How soft is nubuck leather?
Answer: Nubuck leather is very soft because it's usually made from calfskin and because of the sanding and buffing used in the manufacturing process. The sanding and buffing create the shorter protein fibers that translate directly to a soft touch.
Question: Which is better, nubuck or suede leather?
Answer: If you are comparing different leather, nubuck is more durable and soft, so it's perfect for anything that comes into contact with your skin, like shoes, gloves, jackets, and even purses. If you are making something like a passport holder or wallet, you might get away with using suede. 
Question: Is nubuck leather easy to work with?
Answer: If you plan on using nubuck leather for any type of leather project, bear in mind that it is easy to work with, but it scratches easily. If you scratch the surface, that mark will remain exposed, so when you use your tools to cut or stamp the leather, be a little cautious.
Bottomline 
Nubuck leather is one of the most durable and one of the softest, which is why you typically find it associated with personal accessories like gloves, boots, and jackets. I recommend it for anything that comes into direct contact with your skin. Make sure you invest in a few simple tools so that you can clean and maintain your nubuck leather. 
For more interesting readings, check out: