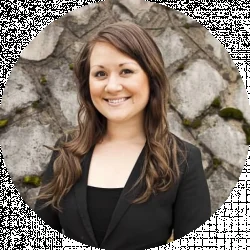 Latest posts by Lacey Jackson
(see all)
I couldn't figure out why stores like Ross could sell "genuine leather" bags, purses, shoes, belts, and furniture for a fraction of the cost I saw at other stores.
Growing up, I thought "leather" was just one word, one thing, and all other iterations referred to the same "leather." I knew it came from a cow. I later learned it could come from any animal (or human, ick) hide.
As the years passed and I wanted to use my allowance to buy things myself, I would pick out leather bags and wallets, which would peel and flake within a few years. My Asian side of the family would look down on them and say, "That's because they are bonded," without any further explanation.
So, if you are unsure what "bonded" leather means in comparison to "real" leather, "genuine" leather, top grain, nubuck, suede, or any other terms, you are not alone. Thankfully, I can help explain something my family never did.
Bottomline Upfront
Bonded leather is the least expensive and the lowest quality leather. It is a mixture of genuine leather scraps and other pieces. You will typically only have a maximum of 20% genuine leather in your bonded leather. But that 20% counts for something.
You can keep bonded leather products looking new and lasting years with enough care and maintenance. This longevity can translate into a lot of cost savings if you want products that have the look and feel of top grain leather without the price tag.
What Bonded Leather Is and Isn't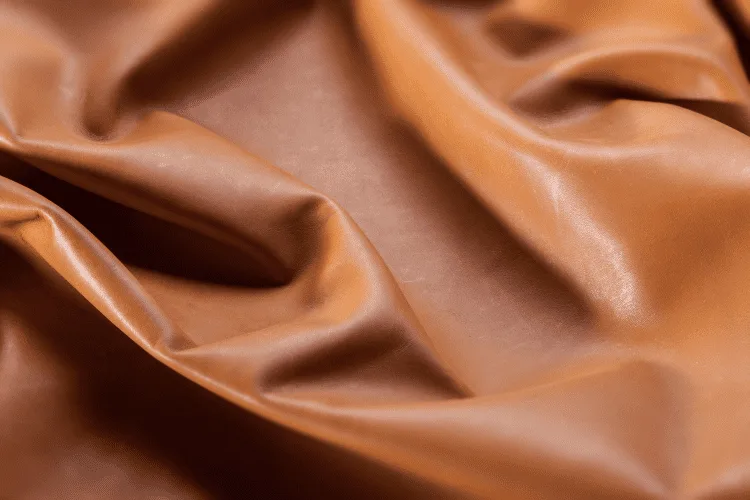 The easiest way to conceptualize bonded leather as compared to other leather products is to think of it as the chicken nugget or the sausage of the leather world. It's basically all the other pieces that are cut and discarded after a manufacturer gets the top grain, full grain, and split grain combined to make a genuine and faux leather product.
Bonded leather takes all of the scraps and fibers left over after manufacturers process genuine leather, combining them using a polyurethane binder.
This big mush gets rolled together and stuck to a paper backing. Some manufacturers add polyurethane and emboss the final sheet of bonded leather so that it looks like genuine leather.
Other Names for Bonded Leather
Faux leather
Vinyl
Reconstituted leather
Composite leather
LeatherSoft
Why Use Bonded Leather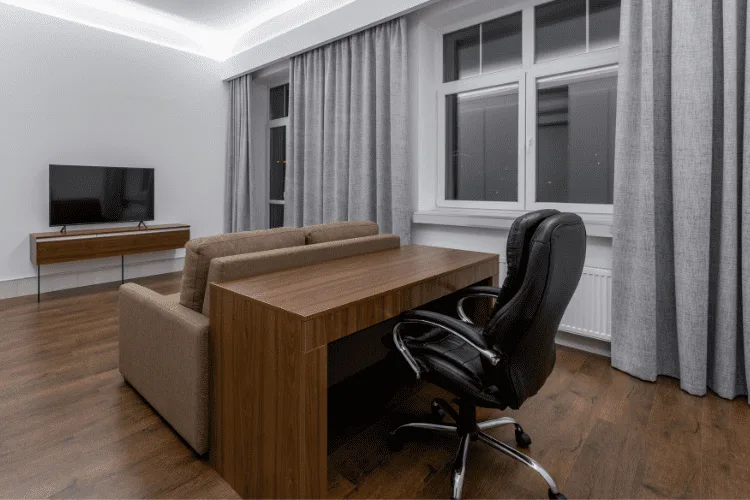 Even if it is the chicken nugget up the leather world, that doesn't mean it doesn't have uses or advantages. Because it usually contains less than 20% genuine leather, bonded leather is significantly cheaper.
Genuine leather usually has imperfections that come from the hide, just the same as you might have imperfections on your skin. But with bonded leather, you can enjoy a consistent texture that's very smooth, perfect for things like car seats or office chairs.
Because bonded leather is treated, you can choose a variety of colors and styles, which is why you might see things like leather interiors that have been dyed a vibrant red or hunter green.
My personal favorite reason for investing in bonded leather, especially for things like my office chair, is that it just smells better than artificial leather. It still has a hint of genuine leather smell without the lingering scent of chemicals or products.
When to Avoid Bonded Leather
Bonded leather has a shorter life span, so even though you are paying less long-term, you might end up paying more, especially if you are replacing the same piece of furniture or clothing regularly.
Bonded leather is often used for things like purses, wallets, belts, and chairs, but it wears away with regular use, which is unfortunate, given how often people get into and out of chairs. Certain cleaning products can contribute to this by stripping away the polyurethane.
I learned two years ago that the color on bonded leather will fade when left in direct sunlight. My office chair now has an angled geometric pattern that matches the windowpane.
How to Identify Bonded Leather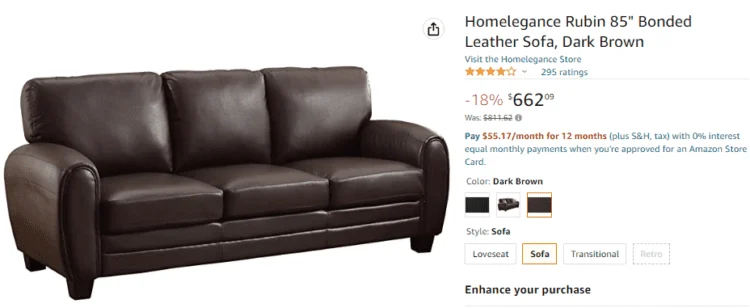 As I mentioned, there is a small percentage of genuine leather in bonded leather products, so certain manufacturers will bend the truth by marketing their products as "genuine."
The best way for you to tell if something is bonded leather is to look at the cost. Genuine leather will always cost significantly more.
For example:
Of course, a single anomaly doesn't necessarily indicate a difference in leather quality, but if you were to compare multiple couches, purses, office chairs, or any other product and all the ones that clearly indicated genuine leather, top grain leather, even split-grain leather oh, you would see a price difference of at least 50%.
Why is Bonded Leather So Much Cheaper?
It's a lot cheaper to make. During the manufacturing process, the hide is sliced into different layers. Split grain leather, for example, is when a single layer is split in half. This is a step up from bonded leather in terms of price and quality because it comes from a full section of animal hide.
After all of the different sections, top grain, suede, nubuck, and the like, are cut and prepared, there are bound to be leftover scraps. If you've ever made a leather belt or made a leather wallet at home, you know that even careful measurements will bring with them some leather scraps.
As I mentioned, all of these scraps have been collected and mushed together to make bonded leather.
So precision cutting isn't necessarily involved in the direct process of manufacturing bonded leather, and not as much care has to be put into the rest of the manufacturing process because any nicks or scratches can be buffed and embossed out. 
How to Clean Bonded Leather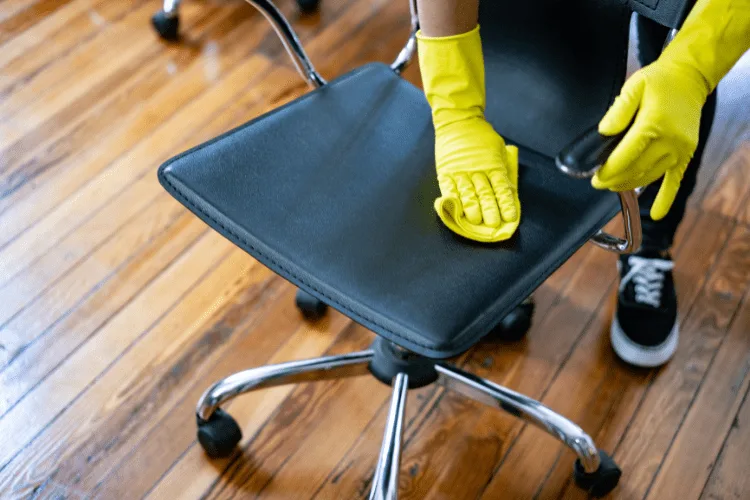 Bonded leather is the easiest to maintain long-term, but you still have to clean it now and again to get rid of dust, dirt, or the occasional stains left behind by your children who put their feet on the couch even though you tell them not to.
Routine Cleaning
One thing to avoid is anything alcohol-based. Harsh cleaners that contain alcohol can damage the polyurethane coating or any colored finish. 
If you use a colored cloth, you could accidentally transfer it onto your bonded leather. Similarly, you don't want to use a colored cloth when you are cleaning bonded leather. I buy a 12-pack of white cotton washcloths from the dollar store every time I go so that I have spares for projects like leather working.
The easiest way to maintain it is to dampen it with warm water. Your bonded leather products are to use a clean, white cloth and dampen it with warm water. 
Note: Even bonded leather still contains a small percentage of genuine leather, so you want to avoid having a soaking wet or dripping cloth.
Wiping your products clean with a cloth and warm water should remove any crime, dirt, or dust. Make sure that you dry it after with another cloth.
Long Term Maintenance
Long-term, you want to apply some leather conditioner and massage it, especially under the areas that you use most frequently. This is not something you have to do every week or so but rather something you can do a few times per year. You can use Weiman's leather conditioner for long-term maintenance. 
Tip: When I use a leather cleaner, I don't massage it everywhere. I stick to the areas I have physical contact with because it makes the job a lot easier. So, my office chairs get a lot of conditioning on the seat and the backrest, but not the rest of it because I don't have a lot of physical contact with the bottom half.
Trinova is another great option, specifically for bonded or faux leather. This version is better for car interiors and furniture. 
Repairing Bonded Leather
Eventually, no matter how much you clean or condition your bonded leather, it will break down. Usually, this starts as small cracks or fissures, and then those cracks join, and the area in between starts to peel, then flake off. 
There used to be dedicated stores that mended bonded leather products, but the one in my town closed this year. Thankfully, you can do it yourself if you don't have a "leather guy" in town. 
You can easily extend the lifespan of your bonded leather products by effectively sealing the cracks or holes in place and disguising them with color. 
Products like Master ReStore-it can repair rips, holes, burns, and other cracks in your bonded leather products. This kit gives you a color mixing guide, colors, and an applicator that you can use to repair significant rips or holes within twenty minutes. This is intended for larger damage to your leather. 
You can use other kits if you have smaller areas that are peeling or cracking. Some Leather repair kits are meant specifically for furniture or other products, so pay attention to what it says on the label. 
This product, for example, is specifically for furniture like car seats, chairs, and couches. It comes in a lot of different colors, intended to match whatever the finish is on your upholstery.
I really like the mixes because they come in five shades, but you also get an instructional eBook and a call center where you can get advice on how to mix those five shades to achieve the color you have on your product. 
It takes a few minutes of your time to fill in those pesky cracks before they start to peel. You just clean the area, mix the color, apply it, and let it dry. It really is that simple. They have thousands of positive reviews from customers because of their simplicity and effectiveness. 
FAQs
Question: Does Bonded Leather Peel Easily?
Answer: Bonded leather can peel with time. This is, in fact, one of the clear markers of bonded leather compared to genuine leather. This is because it isn't a single sheet or layer or hide, but pieces of hide pressed together and effectively glued in place. The lines where those pieces meet are prone to breaking down first. 
Question: Is Bonded Leather Real Leather?
Answer: Most of the time, bonded leather only contains between 10% and 20% genuine leather. Certain manufacturers or sellers might Market a product as "genuine" based on that fact, so it's up to you to do your research and verify whether you are working with the real deal or something bonded. 
Question: How Long will Bonded Leather Last?
Answer: Bonded leather will start to show its age after two to five years of use, depending on how regularly you use it. My leather chair, for example, started peeling and cracking after four years, but the wallet I used day in and day out started peeling after two. 
Question: Can I Stop Bonded Leather from Breaking Down or Cracking?
Answer: You can't stop it permanently, but you can postpone it. Start by moving your bonded leather away from direct sunlight (see my note above about my poor chair).
Clean it regularly (again, see my notes above). Avoid placing the items near a heater or radiator; heat can remove bonding agents of any kind if given a chance.
Bottomline 
Bonded leather may be the absolute cheapest you can find, and that certainly does translate to cheaper quality and a shorter life span, but it can also save you a lot of money upfront, especially if you just want the look and feel of leather without the financial investment.
With a lot of care, maintenance, and a few repair kits down the line, you can actually extend the lifespan of your bonded leather products significantly.
Looking for more interesting readings? Check out: