I am very excited to finally have this slim leather wallet template pack completed! This pack comes with five different designs for different styles of slim leather wallets. If you are interested in purchasing this pack, you can go to the template pack item page here.
Our Recommended Kit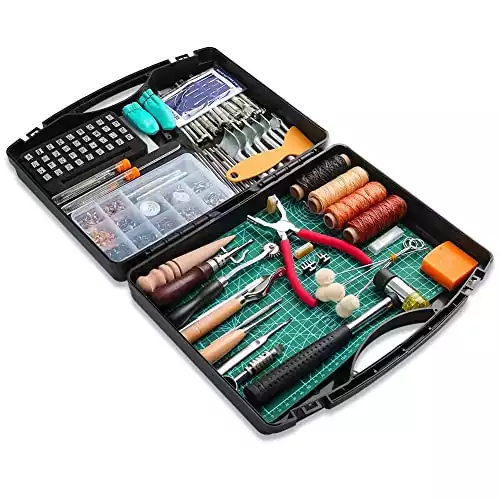 This PDF is $11 for five different designs to easily print out whichever templates at any time!
All templates have been tested multiple times to ensure a good wallet can be made with these templates! When purchasing these templates you will see a download button after purchasing. This way you can save this PDF to your computer and come back at any time!
If you decide to purchase you have full rights to resell any wallets made from using the templates!
Remember to print out pages at 100% or "Actual Size" to ensure an accurate print!
Below I will attach pictures of the wallet made from using these templates and videos that have been posted so far for each one!
Slim 5 Pocket Card and cash Wallet
This wallet easily holds 2 cards per card pocket and a decent amount of bills in the side pocket (as long as you are not one with stacks)!
Measuring: 4.25″ Long x 3″ Wide
Slim Bifold Card & Cash Wallet
This slim bifold wallet easily holds around 3-5 cards in each pocket (3 for the pockets on top of each other). As well as many bills behind the cards with good room to easily slide money in and out the side pockets!
Measuring: 4 3/8″ Long (Standing) x 3.5″ Wide (Closed) 7″ Wide (Open)
Fold & Tuck Slim Leather Wallet for Cards and Cash
This is a unique design that folds and tucks into the flap. This wallet can 6-8 cards as well as a good stack of cash. Easily access cash from the side opening.
Measuring: 3 1/8″ Wide x 4 1/8″ Long(Closed) 6 6/8″ Long (Open)
Minimalist Flap Style Wallet for Cards and Cash
This one comes with an alternative strap on the template if you decide you do not want to use a button snap!
This is a smaller design as it can hold 4-5 cards in the front pocket and a small stack of cash in the bigger pocket.
Measuring: 4 3/8″ Wide x 3 1/8 Long (Standing Closed) 5 5/8 (Standing Open)
Slim Card Wallet Holder
If you use this wallet as pictured you will be able to hold 2-3 cards in each pocket! Cash does not fit unless folded twice and place in on its side.
Measuring: 4.25″ Wide x 3″ Tall (If 2 Pockets are used)