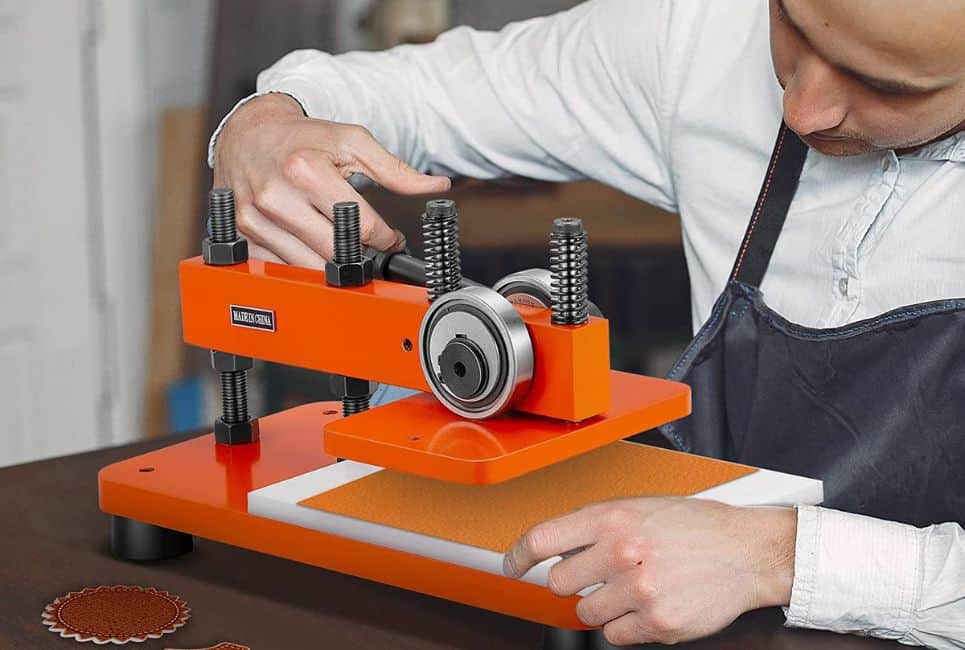 How to Find the Best Leather Clicker Press
If you have started leatherworking as a hobby, you've probably come across many different tools and stamps that you can use to customize your projects. But one thing that will make your job much easier is a leather clicker press. 
Bottom Line Upfront
I recommend the Vevor leather clicker press as a manual cutting machine you can keep in your shop and use for at-home hobbies, but the Strongway for a hydraulic press you can use for your leatherworking and other shop projects. 
Selection Criteria
To help you figure out how to find the best leather clicker press, I checked the availability, durability, and applicability of every clicker press included on this list. All the items are readily available to order right now, they are made with durable construction that will last a very long time giving you the best bang for your buck, and they can be used on more than one type of project, so you get the most out of your machine. 
The Basics of How to Find the Best Leather Clicker Press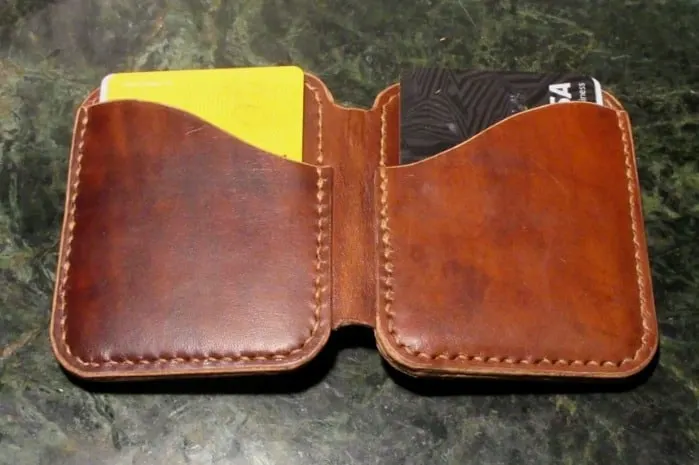 Let's start with the basics. 
When you have a piece of leather and a leather template, you might need to cut and/or stamp that piece of leather.
It is really hard to cut leather but fairly easy to stamp leather. 
Stamping
In this photo, you can see the hand stamp at use, stamping images into a piece of leather.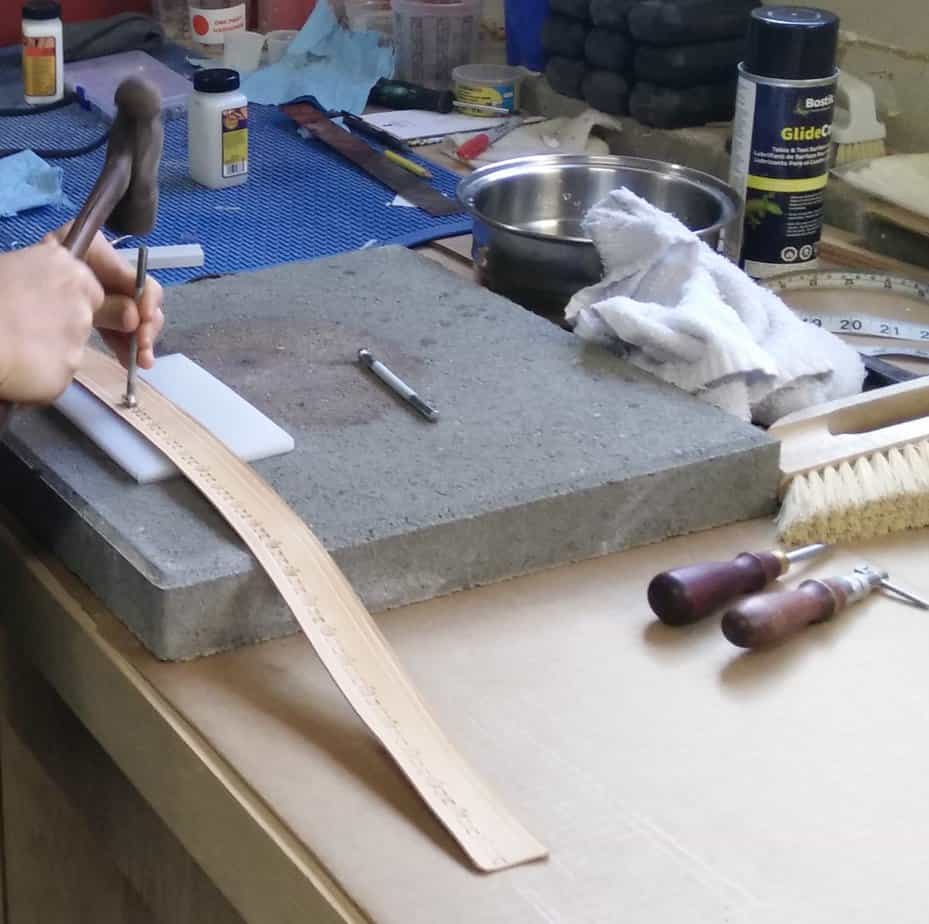 After making one authentic headdress for my brother, an investment was made for a hand leather clicker press. 
The hand leather clicker press can be used to more easily stamp images into the leather. It is smaller, weighs less, and is a manual tool, so it still takes a little bit of physical strength to use, but it's not nearly as arduous, especially if you are stamping multiple images. A hand leather clicker press usually attaches to a workbench.
Cutting
For cutting, you upgrade to a leather clicker press that is not attached to a workbench but is a standalone unit. This standalone unit is often hydraulically powered, so you can cut specific shapes or sections with a mold. 
Doing this looks just like using a cookie cutter to cut repeat shapes out of dough- much harder. 
The physics behind a leather clicker press or cutting machine means you don't have to exert as much of your strength to still get the design, pattern, or logo you want pressed into your leather or the shape you want cut out of your leather.
How to Find the Best Leather Clicker Press: Types of Machines
I recommend a leather clicker press or cutting machine if you are doing repeat work and want to expedite the process. However, as mentioned, there are two different types from which to choose.
Manual
The first is a manual design. This is where you pull down on the arm of the leather clicker press, and pulling it toward you turns the internal mechanisms and leaves the stamp or the cut in your leather.
Hydraulic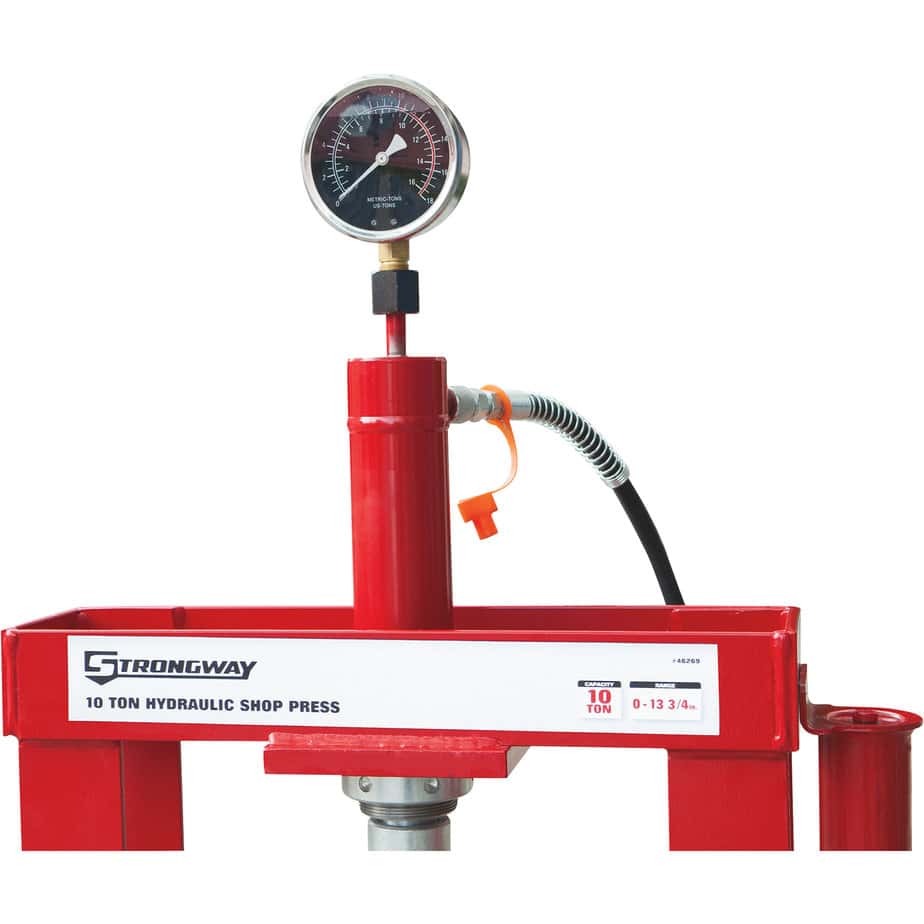 The second is hydraulic. This uses a higher concerted Force driven by the hydraulic elements. These machines are electrically powered, so you aren't the one exerting your physical power by pulling the arm. Instead, you're basically pressing buttons. Hydraulic leather clicker presses are often found in larger shops or used for high-volume production, but there's no reason you can't invest in one, too.
How to Find the Best Leather Clicker Press: Top Features
When you set out to find the best leather clicker press, there are a few different features to consider. One is not necessarily better than the other; it just comes down to personal preference.
Size
The size of the machine will dictate the limitations of your projects. Above and beyond deciding between manual and hydraulic, you'll need to consider the size and the pressure force. The pressing force determines how thick your leather can be. Obviously, the more force it has, the bigger pieces of leather it can cut through.
We have many benchtop devices that we don't permanently mount to the work area because they are heavy enough to sit in place just fine while we use them. Our leather clicker press is one example. It goes into the cupboard underneath when not in use, but we still have to be careful picking it up because it weighs about 60 lb. Size also matters because it determines whether your leather clicker press needs to have a permanent home in your garage or your hobby shop or whether it can be stored. 
Thank goodness for all those deadlifts and squats.
Pressing Plate
Underneath the press, you will find what is sometimes called the pressure relief pad, clicker board, pressing plate, or punch pad. No matter what it's called, it refers to the hard white rubber pad on which your leather lays. If you get a manual design, it will probably come standard with one of these. Be more flexible hydraulic models that do more than just leather work, do not. So you will likely have to buy one if you don't already own one.
Molds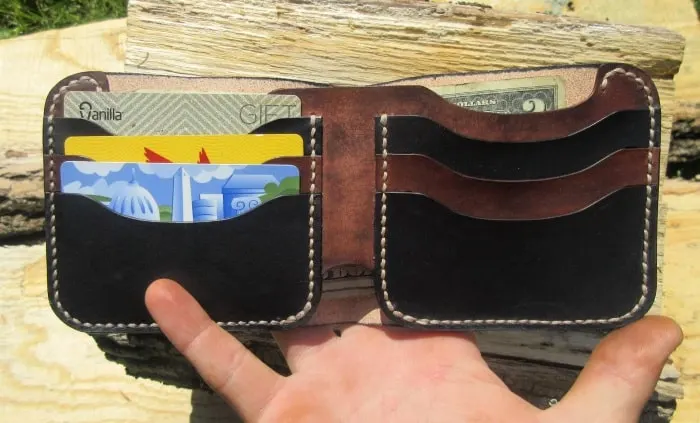 If you are using a leather template for a project like a holster, a knife sheath, or, more commonly, a wallet, you will need molds to cut the pieces for your project. You can find things like wallet templates here and it gives you all the cookie-cutter pieces you need to regularly cut and make leather wallets at home. No leather clicker press is going to come with these accessories. To carve out some of your budgets. 
How to Find the Best Leather Clicker Press: Exclusivity or Flexibility
Now that you understand the difference between manual and hydraulic designs, it's time to look at some of the best leather clicker presses out there.
Out of the different machines available to you, you can choose one that is exclusively designed for leatherworking and has all of the accessories, but it's much more limited in how else you can use it. Conversely, you can pick one that is a generic shop press with much more flexibility in terms of how you can use it.
If you want something you can store in the closet when not in use and just take it out every Christmas to build some wallets, an exclusive leather press is just fine, but if you're like me and you want to get the most out of the few hundred dollars you are investing, get something that has a wider array of applications. You never know when you might use it for something else.
Exclusivity: Vevor Leather Cutting Machine
The Vevor Leather Cutting Machine is a manual leather clicker press or cutting machine. However, this machine doesn't stop at leatherworking. You can use it to cut photo paper, foam EVA, plastic sheets, or other soft sheet material.
Like most manual machines, it can handle 1.5 tons of pressure. This brand has rust-proof surface treatments, it comes with a pressure relief pad, and the entire frame has a black oxide finish. Even though it does weigh quite a bit, it's relatively small, only 15 inches long and 7.6 inches wide. The working area is smaller than this, of course, at about 10 inches by 4.7 inches, but that's pretty sufficient for most at-home leatherworking.
Pros
It comes with the pressure relief pad underneath that is full-sized (if you recall my earlier photo, you can see our pad too, but it is much, much smaller). 

This machine uses a specialized bearing with steel spring wires inside. 

You won't have to buy any accessories for maintenance because it has a self-lubricating copper sleeve and doesn't need fuel. 
Cons
It weighs 82 pounds, so exercise caution and maybe have two people there when you pick it up and put it on a benchtop. 
Exclusivity: Mathowal Leather Cutting Machine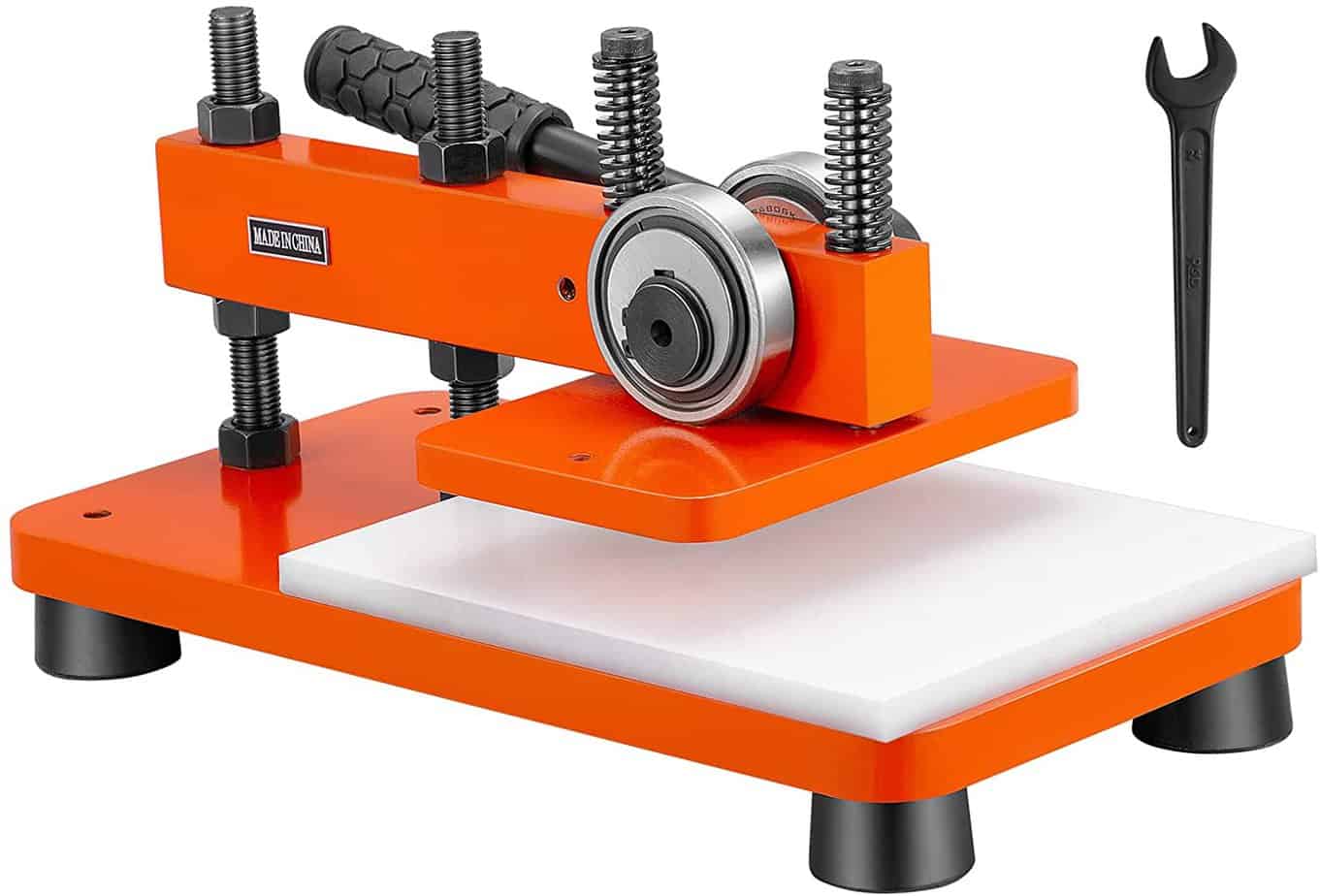 The Mathowal Leather Cutting machine is a manual leather clicker press. This lightweight, the precision machine has adjustments for height and thickness. It's a very basic manual machine that comes with a bottom plate. You still have to buy the stamps you want and to use them, you just sit them on top of the leather and slide it underneath the press. 
This is a very good, basic machine which you can use for paper cutting and cutting plastic sheets or sticker paper as well. As a manual press, you do still need to exert some pressure to get the cut you want. The one thing I don't like about it is that there's no way to secure the pressure relief pad underneath or hold the leather in place. 
However, this is a common problem in our shop, so we have literally almost 100 clamps of various types so we can clamp projects in place while using leather clicker press machines.
Pros
It can cut up to 1.5 tons. 

It is very small and portable, so you can easily store it when not in use. 

You can get black or orange to match your shop. 

The handle is made of solid carbon steel with a non-slip rubber grip, making it easier (and safer) to use. 
Cons
It is manual and quite small, so it works perfectly for small, at-home leather jobs like making wallets or leather journal covers, but it won't work for larger projects. 
Flexibility: Strongway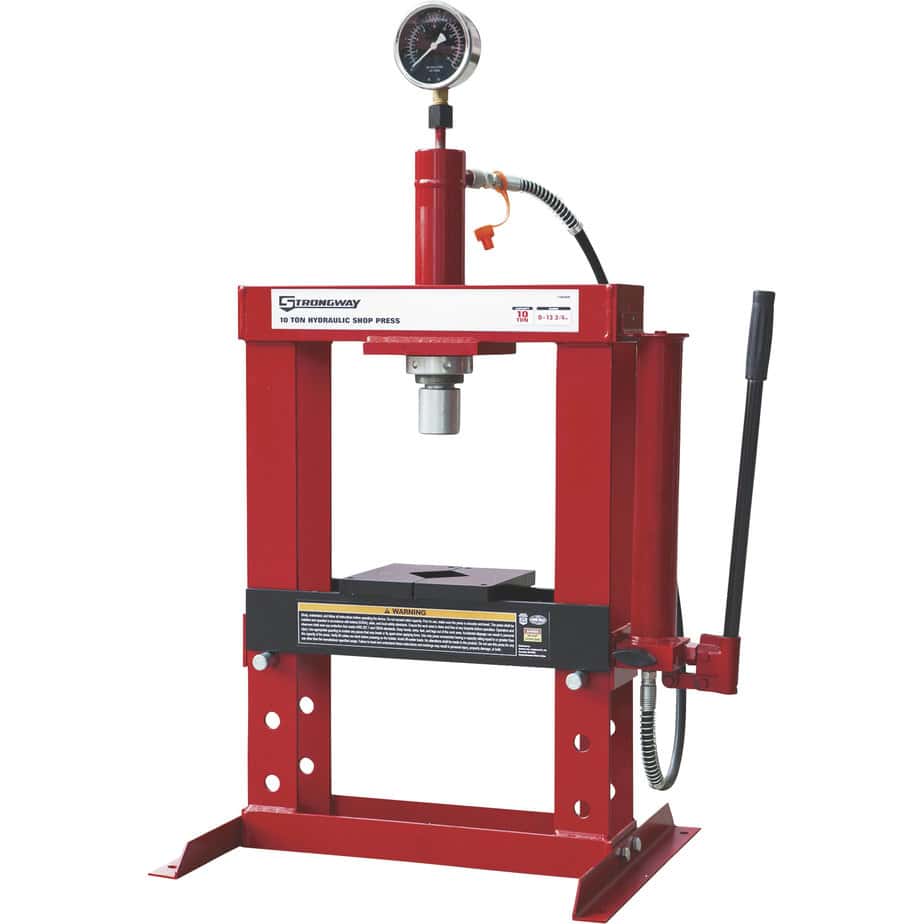 The Strongway benchtop 10-ton hydraulic shop press with gauge is an ideal addition to your workplace if you want something hydraulic which serves multiple purposes. Technically many of the leather cutting machines included on this list can serve another purpose, like cutting photo paper, foam EVA, plastic sheets, or other soft sheet material. But the Strongman can be used to straighten metal. 
The frame is constructed from heavy-duty steel. There is an adjustable lower bolster so you can change the height alongside the handle, making it perfect no matter how tall (or short) you are. It has integrated overload protection valves, so you won't have to worry about things going wrong. It sits on top of your workbench and has places to be permanently screwed in.
That said, this is great for people who want to invest in a machine that not only cuts leather but cuts everything else. Because it is a hydraulic benchtop shop press, you will have to buy the accessories for your leatherworking, namely the molds for your projects (like wallets or holsters). 
Pros
It has an extra-long handle which makes it easier to use. 

It offers ten tons of continuous pressing force. 

There is a dial gauge in US and metric ton information. 

The polished inner cylinder walls help minimize abrasion, so it lasts longer. 
Cons
It doesn't come with many of the leather cutting or stamping pieces you will need. 
Flexibility: Eastwood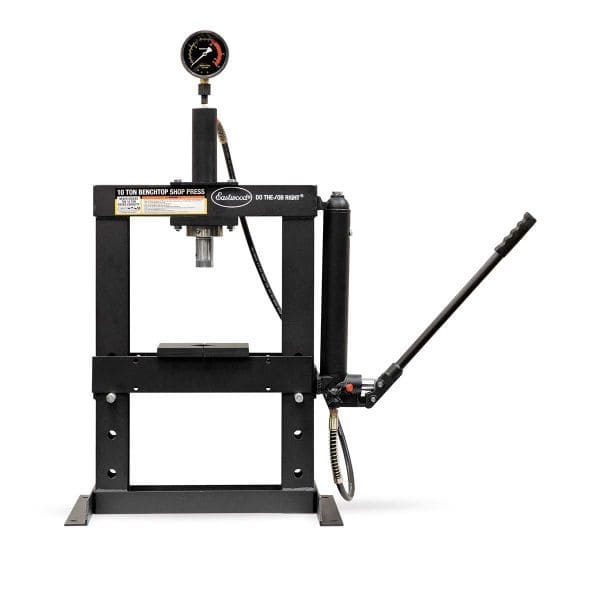 The Eastwood is another example of a shop press that can be used for leatherworking (cutting and stamping) and much more (if the need arises). This is a slightly smaller design compared to the Strongway, but it has the same capacity. It's designed for small shops or benchtop use. You get a one-year warranty with each purchase. 
You will need to buy leatherworking accessories, including the pressure relief plate that goes underneath and all of the molds or pieces for stamping and cutting. 
Pros
It has an adjustable vertical range, so you can accommodate different projects well beyond leather working.

The machine is constructed with high-quality steel and a 10-ton hydraulic system.

It has a 10-ton or 20000 lb hydraulic pump capacity, which is much more than you will need for basic leather working.
Cons
Like almost all shop components, you will have to do final assembly and invest in the hardware you want to install permanently on your benchtop if you so choose. 
FAQ
Question: How do I take care of a hydraulic leather clicker press?
Answer: The hydraulic machine you buy will come with instructions for long-term maintenance. You generally want to do regular checks for oil levels, loose bolts, lubrication, and oil leaks. You will need to invest in hydraulic oil for your preventative maintenance. 
Question: What shapes can I cut with my leather clicker press?
Answer: You can cut any shape your heart desires. The leather clicker press can be used to stamp images into your leather or cut shapes out of your leather. So the same tool can be used to cut pieces for a homemade wallet and then stamp images into the wallet. The only limit is finding the stamps and the molds. 
Question: Can I make a leather clicker press?
Answer: Technically you can. There are plenty of videos on YouTube that show you how to make a clicker press, but if you don't already have an extensive workshop, it's going to be a much better and safer investment for you to just buy one. 
Bottom Line
I recommend the Vevor leather clicker press as a manual cutting machine you can keep in your shop, but the Strongway for a hydraulic press you can use for your leatherworking and any other projects. Both are examples of top-of-the-line construction. The Vevor is perfect for the at-home hobbyist or enthusiastic who only does leatherworking a few times per year. But with only a few hundred dollars difference in price, even with the extra cost of leatherworking accessories, it might be worth it to upgrade to the hydraulic press if you plan to do a lot of leather work.
For more interesting readings, check out: